BACK TO NEWS
Industrial Profile
12/1/2005
Outerwear Designer - Andrew Gosse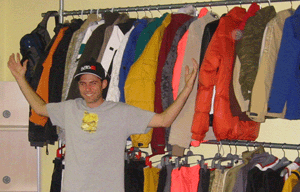 Interview with Andrew Gosse, Outerwear Designer
You've got to stay warm out there on the hill this winter!! Outerwear is consistently evolving - for a glimpse of this evolution, check out http://www.gaperhunter.com to see where it's progressed from over the last few decades. Although outerwear has been around much longer than a few decades, you'll have a good time looking at it – go look and come right back.
Ok, now that those looks are fresh in your memory grab a snow magazine and flip through it. Technology and style have definitely evolved. Outerwear Designers push that evolution along on their quest to make your next jacket, pants, and gloves comfortable, and make you look and feel good. Andrew Gosse has been at it for years - more than 11 now, dating back to his first experience piecing together a one-of-a-kind jacket for himself. Now he's working in Men's Outerwear Design at Westlife Distribution, home of 686, new outerwear brand Sepia, and some of the freshest gear you'll see on the mountain this year.

How did you get involved in Outerwear design?
I became interested in outerwear design back in high school when I went to Colorado for Christmas of '94 and saw that my cousin and friends had started their own snowboard outerwear companies making custom one-off gear for their friends out of their houses under the names A One Zero and Trickstar. The clothing that they were making was different than anything that was available on the market at that time. I loved the gear because it was way ahead of its time in terms of what everyone else had going on, and because I couldn't afford to buy new outerwear every time I wanted it.
Shortly after that visit I moved to Colorado to finish high school and ride the Rockies. It was at this point that my cousin taught me how to sew…so I could make my own custom outerwear. We'd buy bolt-ends from a store in Denver and get creative making dope gear. Being able to create my own unique pieces REALLY sparked my interest in the clothing side of the snowboard industry. Our sewing was not top quality, getting perfect fit on garments was also a huge challenge which led me to realize I would need to get an education if I was going to rapidly improve my sewing/patternmaking skills. I decided to go to design school to obtain a more in-depth and well rounded understanding of apparel design & construction and the apparel industry.

When you started school you already had it (outerwear design) in mind?
Snowboarding for me is like heroin…it's THAT addictive (or so I've heard). I knew that I wanted to contribute to the progression of the sport somehow. My dad always said, "If you love what you do you'll never work a day in your life". So yeah, the purpose of going to school was to gain the skills necessary to design top-quality outerwear.
Did your education at Art Institute International, Portland give you the practical skills necessary for designing outerwear?
The school was actually Bassist College when I started, and was bought by Art Institute while I was there. Of course FIT, Parsons, or FIDM would have been great but all were far more expensive and education is what you make of it. I was there with a determined purpose. In school they assigned projects to make everything you could imagine from dresses and blouses to lingerie. I'd do it because I had to, but I'd design/construct outerwear for every project that allowed me to choose.
School gave me a reliable foundation of knowledge & know-how to design & develop apparel. Also, it gave me an important base of sewing techniques and more refined patternmaking skills. I learned some of the more technical aspects of outerwear design by working after school. And then testing the gear that I had made first hand…
Were you able to land an outerwear design job during or right after school?
No. But I wanted into apparel so badly that I worked in a sweatshop during and right after school that was run by some burly Russian women. I worked in the cutting room for about a year n' a half.
Was it really sweaty?
Not really. It's not that hot in Portland.
Did they pay you big $$$$?
Minimum wage and I got a .75 cent / hour raise before leaving. But that was still way better than the job I had before at Pizza Hut.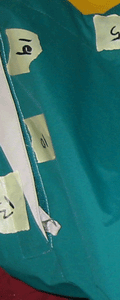 Did you get anything out of it aside from a few Russian words?
Being exposed to the manufacturing side of apparel really helped me understand why certain things work the way they do…I also learned firsthand that designing apparel involves MUCH more than sitting down, drawing a few things, and then whisking them away to be turned into garments. I don't think that the majority of the people who wear clothing think about or even realize how much time/work/research/development goes into even the simplest garments.
Then you landed your first outwear design job?
No, from there I worked in a fabric store in the "technical fabric section" for a few months. It was run by two old ladies who'd buy huge lots of bolt-ends from NYC. My job was to sort through and categorize everything that was considered technical outerwear fabric. I was also a sales associate in the 'technical fabric department'.
From there, one of the women who I had gone to school with got me a job product testing for Columbia sportswear. I'd ride in the clothes, trash them, and then tell the designers / developers what I thought was wrong with them. It was a good way to learn about the design & development process. During this time, I worked in Columbia's warehouse. I had my Apparel Design degree in hand, and was hoping to get an opportunity to be "promoted from within." I had several Interviews but never seemed to get promoted to that first Design / Development job. My first real opportunity was with Adidas working in the Team & License department as a Temp Developer to replace a woman who was out on maternity leave. Timing worked out perfectly because when the maternity gig was up, Adidas brought the Adventure category to the U.S. and I landed a full-time Product Development position with Adventure. Adventure is similar to North Face, the product range includes technical lightweight outerwear and base layers. I learned a ton there.
When did you land your first Outerwear design job?
In late 1999, Bonfire had sample sale one day so I went to check it out. I was still making my own outerwear on the side and I had a jacket with me that I had made specifically for riding with music. The music player worked seamlessly with the jacket so it would be totally hassle-free. It was a pretty tight set up. I told the Bonfire development guys about it and they wanted to take a look. About a year later my division at Adidas (Adventure) had an opening in design. I applied for it, but didn't get it and took that as a queue to continue looking for that first Design opportunity. Right after I made that decision, a design/development position opened up at Bonfire. I got it and turned in my two weeks at Adidas.
How did you end up at Westlife?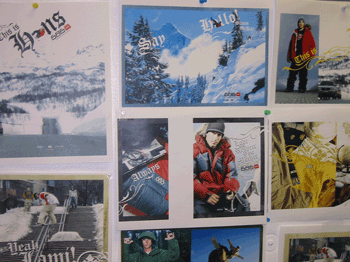 While working at Bonfire, I was conducting a little market research online. I hit up the 686 website and got a pop-up about a job opening in design. I sent them my resume not really expecting much because at that time, I was happy with my current position at Bonfire and not really 'looking'. I didn't hear anything for about 3 months and kind of forgot about it…then one day I got a phone call from Mike West (owner of Westlife). He interviewed me over the phone, and then in person. After meeting with Mike and seeing firsthand what he had going on at Westlife, I knew that it was a great opportunity.
Are there distinct differences between working at a large company such as Adidas compared to a smaller company such as Westlife?
Working for a large company like Adidas is a trip because you see different people every day. Even though you see the same people in your department, the company is so big that it would be nearly impossible to 'know' everyone. Also, the corporate headquarters for Adidas is in Germany, so the corporate headquarters has control over what happens at Adidas Portland (the North American headquarters).
When I got hired at Westlife, I was stoked to be working for a company that handled everything under one roof…including the individual who has the final say on everything. When I interviewed for the position at Westlife, Mike West informed me that I would be exposed to every facet of the business. He was right. Working at Westlife is a great experience for me because I DO get exposure to every department…as well as a better working knowledge of how my decisions will affect the entire company, versus how my decisions would affect only my department. Westlife currently employs only 20+ people, so I can maintain closer personal relationship with the people that I work with…all of whom have worked very hard to make Westlife what it is today.
What's the daily / seasonal routine like? Is there a routine?
One of the things that I like about apparel design is that every day is new and different. There is an annual cycle that we work through to achieve each collection from season to season, however; it's anything but routine. In design, I always aspire to make a better product every season…meaning learning from mistakes and improving on what can be done better. No matter how good something is, it can ALWAYS be made better. This is what we strive for…and I say 'we' because here at Westlife, it really is a team effort.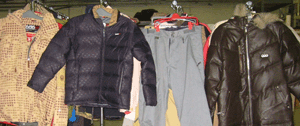 Are there major differences between designing Outerwear and Streetwear?
Turnaround time for outerwear is much longer; right now we're designing and developing a line that won't be at retail for more than a year and a half.
What are your favorite pieces you're working on right now and when will they hit the streets?
My personal favorites are the Times Line jacket and pant and the Smarty Soldier jacket and pant. We've been working with two leading accessory companies on an outerwear jacket and pant collection that really embodies the spirit of the companies. I can't really spill the beans yet. We also have a pigment died dobby material that will be in the line, which is an emerging die technology for outerwear fabric.
How do you improve your designs & final product year after year?
The best way to improve a product is to get out on the hill and use it. If you sit behind a computer and never actually get out on the hill to use the product or if you don't know how to snowboard, it will be much more difficult to make a snowboard product better. Some of the best ideas that I've had for outerwear have come to me on the chairlift. While most are thinking about their next run, I am thinking about how to make my jacket/pants hassle-free. If you're struggling with your gear, how can you concentrate on your riding? Westlife's roots lie in snowboarding and Mike encourages us to get out and ride as much as possible. Nearly everyone who works here rides, so it really is a company committed to creating the very best clothing and accessories to support the snowboard lifestyle.
Is there one element or component of outwear that drives improvement?
Fabric. Beyond that we focus on fit and functionality and delivering "much more than you'd expect" out of your 686 or Sepia sportswear and outerwear.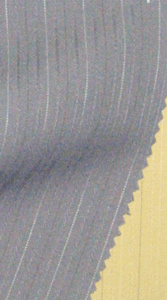 Is finding new outerwear materials like finding a gold nugget in the hills?
That depends on what you're looking for. If you're trying to hit the same 'trends' that all the other companies are chasing, it's not too difficult as nearly every company has access to similar fabric sources and mills. At Westlife, we pay attention to the 'trends' and all that…however we're not trying to bring you products that everyone else offers, we're bringing you a better product with "much more than you'd expect." 686 is not afraid to take chances or be the first. Each season we scour the globe in search of new and different materials. A good example of this is our textured dual-color pinstripe fabric that is the highlight of our late-season product release this year (05/06) in our Smarty Troop Jacket. We liked the look of a classy dual-color pinstripe, but wanted to add a little more to it. So, we worked directly with our mill to develop an exclusive 'textured' dual-color pinstripe fabric. This fabric is bomb-proof, and not only includes the timeless look of a dual-color pinstripe…it also has textured ridges to give the fabric a much better hand feel than a plain-weave dual-color pinstripe.
What is the biggest challenge you face today?
The biggest challenge that I face professionally, I would have to say, is trying to make everyone happy. One of the lessons that I've learned in my life is that you'll NEVER make everyone happy, but you can try…and try you should!! At Westlife, as with most other apparel companies, we have a large network of team riders, reps, retail accounts/customers, manufacturers, and employees. Each person at every different level has his/her own opinions about what we need to do to improve our products. Listening to what people have to say is extremely important because everyone has good feedback and suggestions. However, the key is identifying and implementing the recommendations that would be the most beneficial to our customer, as he/she will ultimately decide whether or not to support what we do at Westlife.
What's most rewarding aspect of what you do?
The most rewarding aspect of what I do is seeing a kid on or off the hill rockin' 686 or Sepia and being TOTALLY stoked on it. As I mentioned before, customers will ultimately decide whether or not to support what we do. If they choose to support us and aren't stoked on what we do, it's unlikely that they'll be a repeat-customer. On the other hand, if they choose to support us and are stoked on the product…we definitely have a repeat-customer.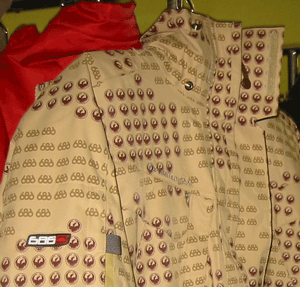 What makes the job you do important to the company on a whole?
At Westlife, product design/development is responsible for the overall look and quality of our products. We have to have everything dialed so that the final product is solid. Then everyone else can do their jobs knowing that the product is top-quality. We set very high goals for ourselves, and hopefully meet or exceed those goals season after season.
What can you tell someone who is building a career in Outerwear design within the industry, or looking to start one?
For someone just starting their career or looking to start a career in outerwear design, I would say that one of the most important things is going to school. If I had not gone to school, I don't know where I would be today, but I can assure you that I wouldn't be working for Westlife. Networking is just as important as education. If you're already part of the industry and want to move into design, network! Always have your ears open for opportunities, and don't be afraid to take chances. The greatest risk in life is not taking any risks at all…
---