Back to News
Liquid Force Rider's Boards Out Now!
December 5, 2005
Liquid Force Rider's Boards Out Now!



Watson and Shane boards hitting shops now!
Shawn Watson and Shane Bonifay have combined forces with Jimmy Redmon to once again revolutionize the industry. They've spent countless hours in the shaping room and on the water to create unique pro-model boards that fit their riding preferences and accentuate their unique style.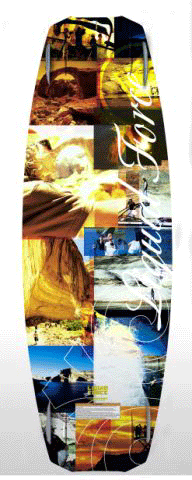 Shane proclaims, "Working with Jimmy is crazy. He's like a mad scientist. I tell him what I want in a board and he comes back with something that blows everyone's mind."

Jimmy Redmon said the following when asked about Shane's board… "I shaped his (Shane's) first pro-model when he was 13. His new shape is a culmination of almost a decade of experience, feedback and collaboration. The end result is a unique board that turns on a dime, has unbelievable pop and lands softer than any of his previous shapes."

The hybrid rocker on Shane's board allows you to ride with an explosive and aggressive approach to the wake while the quad fins on both the nose and tail, give you edging and holding confidence. Creative shaping minds designed a double concave mid section that feeds into a triple concave tail. This generates persistent speed with smooth landings. Only a pro model of this caliber and style can receive the official Shane Bonifay seal of approval. Shane's boards come in sizes of 132, 136, and 140.

Watson came to the shaping room

looking for "something incredibly lively, yet smooth and predictable." The spiral "v" bottom was shaped and combined with a double concave to break up impact and soften landings. Lifted variable edges were also shaped for catch free spins and release. With all that excitement, he needed the crisp molded fins to hold his line. We finished it off with our unique QVC tip for even more lift. In Shawn's own words, the new board is "More than I could have ever hoped for!"

Jimmy revealed the shaping secret as, "simply coming up with a unique shape that incorporates a ton of new features. Watson has always loved his Substance shape and hasn't wanted to stray too far from it, but I always knew that we could create a board that took his riding to a higher level… With his new board, I feel that we nailed it and give him much more than he or anyone could have imagined possible. The board is super fun to ride and VERY explosive. He's stoked, and we're stoked!" Watson's boards are now available worldwide in his signature sizes of 134, 138, and 142.

These hot new pro-models have been flying out of the Liquid Force warehouse and are now on the shelves of pro-shops worldwide. Go to your local shop and see, as Tony Finn say's, "The best product in the history of the sport!!!" To find your nearest Liquid Force dealer, be sure to check out www.liquidforce.com.

---