Back to News
Clark Foam To Close Factory?
December 6, 2005
Clark Foam To Close Factory?

In a move that could have long-term repercussions on the domestic surfboard market, Clark Foam Founder Gordon Clark announced today in a faxed letter to shapers that "effective immediately Clark Foam is ceasing production and sales of surfboard blanks."

Representatives from Clark Foam were unavailable for comment.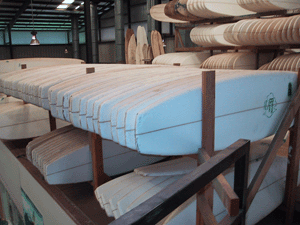 Clark Foam, based in the increasingly upscale town of La Niguel in Orange County, California, is the undisputed leader in the production of polyurethane foam blanks, a position it's held since the mid 1960s. It's estimated that more than 80 percent of domestic polyurethane surfboards use blanks from Clark Foam.

Clark's letter, which opens with the sentence, "For owning and operating Clark Foam I may be looking at very large fines, civil lawsuits, and even time in prison," goes on to say, "The short version of my explanation is that the State of California and especially Orange County where Clark Foam is located have made it very clear they no longer want manufacturers like Clark Foam in their area."

If the Clark Foam factory is closed, it could disrupt surfboard production for months, force some shapers out of business, and significantly affect the retail price of surfboards as shapers scramble to find alternative sources of surfboard blanks.

According to Geoff Rashe at M10 Surfboards, "I just found out about two hours ago. What's probably most unfortunate is that a lot of people will be out of work, depending on how many blanks are out there. I think there'll be a little hiccup for a few months while international blanks are imported."

However, that may be easier said than done. "There's nobody down here who can fill the hole," says Robert Morley, managing director of South Coast Fibreglass in Burleigh, Queensland, Australia. "I've had a lot of people call up from America looking for foam, but unfortunately right now it's the peak of our season. It's very interesting what's happened."

According to Morley, the other primary blank manufacturers in Australia are Bennett Surfboards and Burford Blanks.

The effects of the shutdown could be seen very quickly. While some of the more-established shapers have a backstock of several months of blanks held in reserve, other smaller shapers relied on the at-once delivery provided by Clark Foam delivery trucks. Today's delivery could be the last.

The retailers TransWorld Business spoke to this evening were aware of the situation, but were responding to it in different ways. Some planned to pull all surfboards off their shelves for at least a week to see how the news effects surfboard prices. Others were taking a more wait-and-see approach.

"If there is one good thing to all of this, it's that there's not a damn thing any of us could have done about it," says Dave Hollander, President of Becker Surfboards. "It just happened. Nobody to blame or second guess. Now there is upheaval, and with serious change comes serious opportunity. We will not miss it."

According to Andy Rupp, manager at Surfride's Oceanside location, "Everyone's going to figure out how much of a shortage there is, and then how much demand there is, and then probably set the prices accordingly," adding that Surfride wants to stay competitive with other prices out there.

---