Back to News
Introducing the Limited Edition Ambush Boarding Co. - DVS Kenyan Wakeskate Shoe
December 12, 2005
Introducing the Limited Edition Ambush Boarding Co. - DVS Kenyan Wakeskate Shoe

12/12/05 - Ambush Boarding Co., the world's most progressive action sports retailer, and Buywake.com, the only real online wake shop, are pleased to announce the release of their second shop-designated pro model wakeskate shoe.
Built by DVS, the manufacturer of the best shoes in the history of skateboarding, the ABC/BW.com Kenyan has all of the technical attributes that would ever make sense in a wakeskate shoe. This shoe was designed and tested by the Ambush Boarding Co., BuyWake.com, and DVS wakeskate teams and features a soft, latex-lined insole and a non-absorptive EVA midsole combined with a non-slip gum rubber outsole, so that the shoe remains comfortable while providing excellent board feel without taking on water.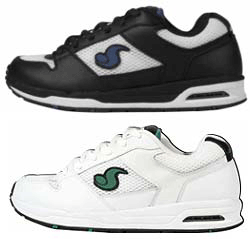 The Ambush wakeskate shoes also has an open-cell, breathable mesh exterior for the maximum in drainage and a high abrasion toe cap to stand up against grip tape. Unite these features with Sure-Fit tongue straps and a low profile airbag and you've got yourself one hell of a wakeskate shoe. The Ambush - DVS Kenyan wakeskate shoe is distinctly different from the casual skate shoe offered in other skate shops. It is a one-of-a-kind shoe built specifically for wakeskating.
Last year, with the creation of the Ambush - Dresden wakeskate shoe, DVS became the first skate shoe manufacturer to cross over to the wakeboard and, more specifically, wakeskate market. This year, with the release of the Kenyan wakeskate shoe, the progression towards wakeboarding and wakeboarding's widespread acceptance by the action sports community as a legitimate form of expression is accelerated. In light of this, we at Ambush Boarding Co. and BuyWake.com consider it an honor that DVS approached us again with the opportunity to create, endorse and market this advancement in wakeskate shoe technology and the direction of wakeskate aesthetics.
Universally renowned wakeskaters such as Danny Hampson, Jim Leatherman, Aaron Reed and Thomas Horrell (the inventor of the "sport") all endorse the shoe.
The Ambush - DVS Kenyan is available now in two distinct color-ways (Black/Blue and White/Green) exclusively at BuyWake.com, BuySkateShoes.com and Ambush Boarding Co. in Kennesaw, GA and is in limited supply.
Ambush Boarding Co., BuyWake.com, BuySnow.com, and BuySkateShoes.com are privately held, rider owned and operated corporations established in Georgia in 1997, 2001, and 2005.

---