Back to News
The Year of the Rocketfish
January 31, 2006


THE ROCKETFISH is a special fish that brings good luck and good fortune to all it comes in contact with. Small in size, Rocketfish is specially equipped with rockets that make him more powerful and energetic than fish 10 times larger. He's full of vitality and enthusiasm with a capacity for hard work that's amazing. He's the icon of a pretty special product design studio that specializes in designing things that you specialize in.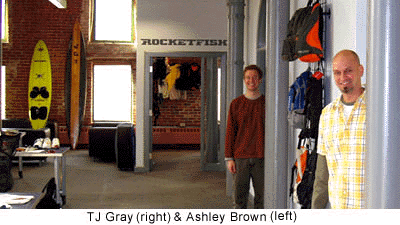 Listening and working with you, they're addicted to designing consumer products that are better than those before them. Over the years they've accumulated an impressive body of successful design work in partnership with over 30 brands in the Athletic, Action Sports and Outdoor markets.
These are the designers behind Rocketfish. Actually they're the two principals, and have a hardworking design team behind them.
TJ and Ashley are attending the upcoming OR and WSA shows. If you're attending any of these it's a good opportunity to meet each other. They can make a difference to your business -- and that's what you're looking for.
Check out the contact info below and call.
HAPPY NEW YEAR! The advent of a new year always comes with offering others well wishes for the New Year ahead. Rocketfish wishes you a happy 2006 -- one that has you laughing out loud a lot, and filled with professional accomplishments you're proud of. Make '06 even better than the year that's just passed. Make it THE YEAR OF THE ROCKETFISH.
CONTACT US... (603) 778-0398
[email protected]
[email protected]
Visit www.rocketfishtank.com


---