BACK TO NEWS
Industrial Profile
2/1/2006
Product Developer, Johnathan Limp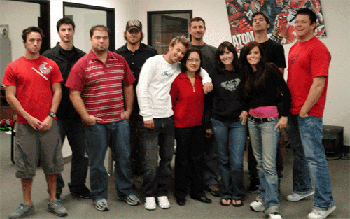 Interview with Johnathan Limp, Product Developer
Great design without great development is like peanut butter without jelly – you really do need them both together. This Industrial Profile, with Johnathan Limp (pictured in red stripe shirt with the Alloy MX family), takes a look into Product Development and Johnathan's progress from working in the warehouse 12 years ago to his position today with Alloy MX.
How did you get involved in Apparel Production?
My first job in apparel production was with a small company Loomworks Apparel which had a few different lines. I started there working in the warehouse. I wanted to do more and asked if they had anything open in other departments. That led to doing Sample production, then handling bulk production, and finally into Product Development over the course of time. Until one day I got a call from a friend at Sole Technology who worked with me at Loomworks. She asked if I'd be interested in working in the production department there. The opportunity worked out and was probably one of the best decisions I made in terms of learning more about my profession. The people, job, and company were fun. I was there for quite some time. From there I moved on and ended up here at Alloy MX.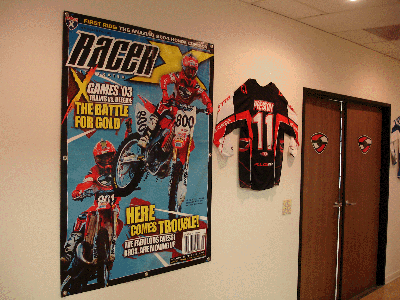 How did you end up with Alloy MX?
Alloy had a Product Development position open. Although I didn't have experience with technical racewear I wanted to work in it, and knew I was qualified in product development, product language, understanding gear and how it functions, and I ride motocross. There are certain things I understand from a user's standpoint – materials, fit, form, and function of motocross gear. So I went for it and here I am.
What's your title?
I came in as a Product Developer and I handle a lot of the day-to-day operations such as producing gear, and pretty much involved in every aspect of the business.
Are there major similarities / differences in doing your job within the motocross industry compared to the skate / surf / snow segments?
Moto racewear lines are a lot smaller. We'll produce 10 to 20 styles overall for the whole season opposed to 2 to 4 times that in the apparel segment of the surf & skate industry. We also have two completely different design seasons.
How was the transition from streetwear to racewear Product Development / R&D?
There was a learning curve. I had a general idea of all the gear. Meshing function, fit, and form all together was one of the hardest components of the process in this environment for me to adjust to. One small change to the overall design of a knee cup has a drastic effect on the rest of the pant. It's much more technical, like snowboard outerwear, than streetwear.
How did you deal with it?
Long hours, asking lots of questions! I'm in a great situation where everyone involved in the process made time to bring me up to speed. It also helped too that everyone here motos; it was easy to get credible opinions. Pretty fortunate to have a boss, President of the company who always makes time for you.
Was it a quick process?
Oh yeah. I came on in the middle of the '06 development period. I had to understand where we were coming from last season, and where we were headed. Once I was up to speed I was able to contribute to '06 and develop a system for our '07 line, which we're working on right now, that has led to improved process and workflow.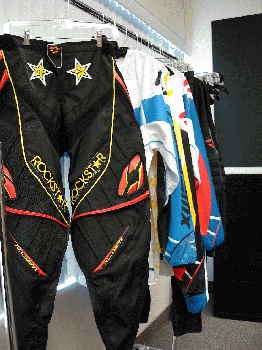 What are your primary responsibilities on the 07 line?
I deal with the entire development process from conceptual design, product reviews, function, and fit, to pricing. Pricing is a big one.
What makes pricing huge?
It's really challenging to produce a better pant, jersey, glove or anything else at a lower cost than the previous season. People are always pushing for price and strength or function / performance. Constant revisions to the construction process, materials and sampling / testing / sampling / testing / sampling / testing make it possible.
Are there major innovations or changes from one season to another?
Major innovations do happen, but not always in back to back seasons. Most of the changes or innovations that happen in a short time frame are subtle. There's always small progression in materials which are always becoming more technical, lighter, and stronger. Like the function of a waistband – we'll find ways to improve it that may or may not be noticed. Little things like that add up over time and contribute to making the lightest, strongest products available.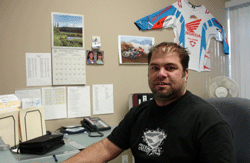 What's the daily routine like now? Is there a routine?
No, not for me. I come to work, see what my day holds, and then begin working with the design & production team to do everything that needs to get done. It's quite stressful but it's worth every bit of it. My job has changed to what it is today because when I came in doing strictly Product Development, I could see a need for more wide reaching organization. So today it's more of an Operations & Product Development role which keeps me all over the place.
What makes your position and department vital to Alloy's success?
Being a moto company and our niche being racewear, it's pretty much the lifeline. We eat and sleep racewear and making top quality products is always the first & foremost priority. Without quality racewear, we wouldn't have Alloy. Product Development time & quality is absolutely critical to the success of the company. People who are into motcross and buy Alloy products invest $1,000s in their bikes and gear – it's a large investment for anyone. So producing gear that's second to none and building that trust within the consumer is critical. People are not only buying it because it looks cool but Materials, function, and price are really important
What the biggest challenge in building racewear?
The biggest challenge is trying to produce the best piece for the best price. It has to have killer design, quality, and function with a price tag that has the quean. This season we went through at least 10 sampling sessions for our pants to make quality and cost meet at the perfect point. It's really hard because as you're bettering the pricing you have to consider how it's going to affect the quality and design of the pant.
How do you deal with those challenges?
The challenge there is really with our factories. We can make changes and have samples made again, but if we're not effective in communicating with them, the changes could result in little to no improvement. So, the way we deal with the challenge is a lot of communication with our factories. We've built a strong relationship and they understand who I am as a person / developer and what Alloy is trying to achieve. Better communication and mutual respect equals better results.
How do you measure success?
Ultimately success is determined by sales, but there's more to it. Success is when you walk in the door and you have a great place to work at. Employees that respect each other, a company environment that's passionate about what they're trying to achieve. Are we successful? I think we are. We have good people up front, honest, all care about each other. In the midst of all that we're having fun and building a business. If the doors are open tomorrow, we're a success today.
How is Alloy MX doing overall?
Alloy MX is a young company, about 4 years old, we are fortunate to be a part of a much larger organization which gives us access to so many resources and we've experienced constant growth during that time. Our product is always getting better; our team roster grows with recent additions like the Suzuki Rockstar team. As well as adding Travis Preston, Brock Hepler to our pro team. We're steadily finding our place on the map and in the market. Our dealer network is growing daily. Our success can be attributed to the people that make this company up. On the whole everyone wants to be a part of something like this and make it happen. There's a lot of passion here. If you want to feel excited about coming to work, this is the company to be at. Not many companies function like we do. Everybody has a title, but we have an open floor policy – meaning everyone is encouraged to communicate and voice an opinion. It's a really strong family atmosphere but we also know how to get down to business and execute. Not to say we don't have problems, everybody has problems.
What's most rewarding aspect of what you do?
There are a few that share the top spot. First and foremost seeing the riders on the track in the gear we make. Talking to customers, sales reps, the sales team, riders, and getting feedback that is 99.9% positive. Making specialty gear like our Rockstar team gear, seeing our team manager really excited when looking at a new piece in the line for the first time and obviously the sales numbers.
What can you tell someone who is building a career within the industry, or looking to start one?
Learn as much as you possibly can. Don't take for granted where you work. Anytime your employed somewhere that they're willing to work with you, teach you, build you – take it. Listen, learn, ask questions. I'm a prime example. I didn't go to school for production or development, but I learned from great people, and I'm in a great place in terms of my career.
---