Back to News
Comfort Meets Cool this Spring with EMU Australia
February 16, 2006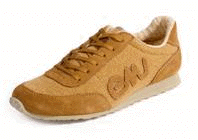 Comfort Meets Cool this Spring with EMU Australia

SNEAKER PIMPS
(San Clemente, CA) February 14, 2006 – What's a true fashionista to do when spring comes along and it's time to pack up those winter boots that she's come to know and love? When it's time to stash away those yummy, shearling-lined boots in the coolest styles and boldest colors from Australian lifestyle footwear brand EMU? That is, until cooler weather beckons? She gets Perth, that's what.
Perth is the newest creation from EMU Australia. Inspired by the city of Perth, Australia, a multi-faceted haven where you can chill out on white sand beaches or entertain the urban delights of its bustling city center, EMU's new Perth shoe captures the best of both worlds, as well, offering the utmost in comfort meticulously melded with urban style and functionality. This ultra-hip athletic-inspired shoe truly embraces the comfort and style that EMU's signature boots are known for, while being housed in a sleek, stylish lightweight sneaker. Available in must-have spring colors including white/pink, natural/natural, black/black and pink/white, EMU's Perth is the way to go this spring. And at $40 a pair, these sneaks are destined to be in every shoe junkie's closet.
Get the EMU Perth at leading retailers nationwide, including Tillys, Jack's Surboards, Alloy and more. For a full listing of retailers, visit www.EMUaustralia.net.
---