BACK TO NEWS
Quiksilver Youth Store to Open at 'The Grove' in Los Angeles
Quiksilver Youth Store to Open at 'The Grove' in Los Angeles
Authentic Boardriding Apparel Store Responds to Demand From Expanding Youth Market
(Huntington Beach, Calif.) March 7, 2006 -


Quiksilver, Inc. (www.quiksilver.com), the world's leading outdoor sports lifestyle company, today announced the opening of its new Quiksilver Youth concept store at The Grove in Los Angeles. The store will exclusively carry a fashion-forward mix of apparel, footwear and accessories from the Quiksilver Boys, Quiksilver Youth, Roxy Girl and Teenie Wahine lines.

The design of the Quiksilver Youth concept store will reflect the brand's authentic style and commitment to the Quiksilver core consumer. The store will be a gathering place for boardriders and an exciting experience for all visitors. It is a creative, youthful place that reinforces Quiksilver's position as the leader and trendsetter in the marketplace.
Designer Tatiana Barhar of Homedata worked in collaboration with Steve Jones of Quiksilver to create a unique place consistent with Quiksilver's vision.
"Quiksilver wanted to maintain a youthful, urban theme with clean lines and modern materials," said Barhar. "We achieved this by using raw concrete, industrial steel pipes with clean plywood shelving and homosote wallboards."


"This popularity of boardriding is skewing younger and it's becoming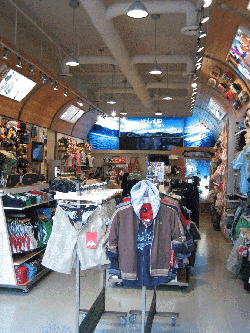 a lifestyle for the whole family," said Gregg Solomon, senior vice president of Quiksilver's retail division. "With Quiksilver Youth we have not only created a retail location, but a complete boardriding experience."
About Quiksilver
Quiksilver, Inc. (NYSE:ZQK) is the world's leading outdoor sports company, which designs, produces and distributes a diversified mix of branded apparel, wintersports and golf equipment, footwear, accessories and related products. The Company's apparel and footwear brands represent a casual lifestyle for young-minded people that connect with its boardriding culture and heritage, while its wintersports and golf brands symbolize a long standing commitment to technical expertise and competitive success on the mountains and on the links.

The reputation of Quiksilver's brands is based on different outdoor sports. The Company's Quiksilver, Roxy, DC Shoes and Hawk brands are synonymous with the heritage and culture of surfing, skateboarding and snowboarding, and its beach and water oriented swimwear brands include Raisins, Radio Fiji, Leilani and Island Soul. The Rossignol, Dynastar, Lange, Look and Kerma brands are leaders in the alpine ski market, and the Company makes snowboarding equipment under its Rossignol, Dynastar, DC Shoes, Roxy, Lib Technologies, Gnu and Bent Metal labels. The Company's golf business includes Cleveland Golf, as well as Never Compromise putters and Fidra apparel by John Ashworth. Gotcha is the Company's surf-based European brand addressing street fashion.
The Company's products are sold in over 90 countries in a wide range of distribution, including surf shops, ski shops, skateboard shops, snowboard shops, proprietary Boardriders Club shops, other specialty stores and select department stores. Quiksilver's corporate and Americas' headquarters are in Huntington Beach, California; the European headquarters are in St. Jean de Luz and Voiron, France; and the Asia/Pacific headquarters are in Torquay, Australia.
About The Grove
The Grove has become one of the most popular shopping and entertainment destinations in Los Angeles. Attracting over 18 million visitors a year, The Grove boasts sales that are 40 percent higher than industryaverages and a trade area comprising 78 zip codes. The Grove ranks asone of the highest grossing centers in the country and tenant sales growth at all Caruso centers is nearly three times that of retailers in traditional indoor malls. Anchored by a cinema that is the highest grossing in North America, The Grove is home to over 45 retailers, a dozen restaurants, a day spa and generous public areas. Rick Caruso is widely regarded as a leading visionary for creating a new genre of urban outdoor centers that serve as community gathering places. To learn more about The Grove, call 1-323-900-8080 or visit www.thegrovela.comor www.carusoaffiliated.com.
---