Back to News
Allyance Rocks Board for Breast Cancer and Helps Raise Over $14,000
March 15, 2006
Allyance Rocks Board for Breast Cancer and Helps Raise Over $14,000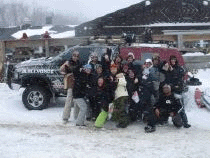 The Allyance Mountain Team made an assault on Killington' this past weekend, to support the Boarding For Breast Cancer events. Spring-like conditions and a strong, supportive crowd made the evening RailJam a success and the contributions of 10 very eliglble bachelors at the Wobbly Barn will not be soon forgotten by their many lady fans.
Kicking off the week was a charity bachelor auction at the Wobbly Barn. While slathered in Allyance gear, Dave Dixon and his staff helped 10 single women find their dream man complete with a luxury ski package including a brand spankin' new Allyance outfit. We know those sexy Allyance t's they were wearing had everything to do with their popularity.
At the end of Saturday's nighttime RailJam, Pat Fennelon walked away with first place in the overall men's competition after beating out some stiff competitors. Coming in close behind him were Josh Zawasky and Jeffrey Sponzo. Women's overall found Cassandra Herbes in first followed by Leanne Wren and Shannon Kennelly.
While the Allyance monster truck pumped video and music at the bottom of the hill, the truck's spotlights' flashed as riders from all over the East Coast showed off their jibbin' skills. All participants were well rewarded as Allyance hooked up the riders and crowd with tons of cool free gear and prizes. As always, Allyance adopted some new members to our Grassroots Am team. Look for their video sequences coming soon to our website!
Thanks to all who came out to support Boarding For Breast Cancer, together we raised over $14,000 for a great cause; once again making this a successful Allyance Mountain Tour event.
Check out
www.jointheallyance.com
<
http://www.jointheallyance.com
> for our next tour stop!
About Allyance:
Allyance is a designer, manufacturer and marketer of apparel, gear and entertainment. Through Alpha 6 Distributions, LLC, Allyance distributes premium, cutting edge styled products under the Allyance brand name, integrated with a multi-media celebrations of the Action Sports Lifestyle. The synthesis of gear, entertainment, consumer empowerment and the internet represents a unique business model within the industry.
---