BACK TO NEWS
JOIN THE BOA GENERATION!!
JOIN THE BOA GENERATION!!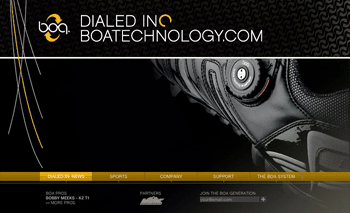 The Boa Generation is born... and we want you to be a part of it. Boa products are changing the footwear industry and the way people enjoy their athletic shoes. Everyone knows that whether you're cycling, snowboarding, or running, if your feet don't feel good, nothing else will either. That's why Boa has spent years dialing in their lacing systems... to offer you the best performance, comfort and fit for every athletic experience.
It's with that goal in mind that Boa Technology has launched a redesigned, comprehensive website: boatechnology.com to support the growth of the Boa Generation on all levels. Whether you are looking for the latest Boa, want to know if your favorite Pro uses a Boa product or need technical support, boatechnology.com is your source for it all. Log on. for regular updates on the news page to stay dialed in on the latest from the Boa Generation.
---