Back to News
Innes Clothing
May 1, 2006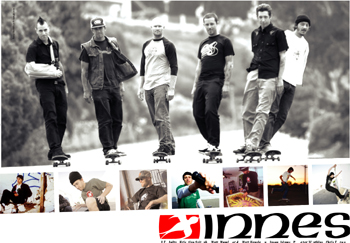 Innes Clothing
Innes Clothing was founded in 1996 by Matt & Chris Hensley. The company was successful in the beginning, but by 2002 a majority-interest had been sold to investors who did more harm than good for over 2 years. It was mismanaged – a lot of debt, not a lot of sales to cover the debt and the people who were in control didn't care.
Founder & Creator Matt Hensley could've closed the doors in 2005 after regaining control of the company he and his brother Chris created in a garage 10 years ago. He could have filed for bankruptcy and walked away. But the Hensley's wouldn't let it go down like that. It's not who they are as people. Innes survived the worst, and is back on track. Here's the full story, starting in 1996 through today - the company's past, present, and future.
Where does the name Innes come from?
Matt Hensley [MH]: Innes is the Scottish clan name of my family. The Family Crest motto is "Be Traist". It simply means to be Trustworthy. The Swallow logo comes from early sailors tattoos worn by me. It's a very old design worn to signify their commitment to loyalty, family and always to return home. These are the foundations at Innes clothing.
When & how did Innes start?
MH: We started with $30K, and thought that was a lot of money! It was in late 1995 when we really got into the idea of creating a clothing company, and by 1996 we were official. My brother Chris and I started out in the garage making Ts and stickers. We bought t-shirt bags and a heat laminator to seal the bags - we still have that original heat laminator today. We put together a team, we couldn't offer the riders money but we could offer them something cool. I called friends, talked to them and got guys to ride, Kris Markovich was one of the first guys on the team.
We saved up all our money and tried to get in to ASR in Long Beach, 1996. I'd been going to the shows my whole life as a sponsored skater and it was weird to be on the other side for the first time. The reaction was good and I got to see a lot of shop owners who I'd done demos for in the past. They were into it and we were off to a good start.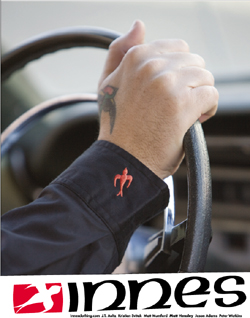 How was Innes positioned in 1996?
MH: We had a path going. Stylistically speaking I'm a skater and wanted to make skateboarding clothes, and some not so standard pieces. Sort of 75% skate clothes and 25% clothes like check button ups, mod-style, scooter-boy. I had visions of making 3 & 4 button suits and crombies. I just decided I was going to do this on who I was. I never wanted to loose the skateboarding roots, but I also wanted to make things that represented my style. It kind of backfired on me right off the bat.
How did it backfire?
MH: I was trying to make button ups that were affordable so you didn't have to spend $75 on an import. We'd make a sample; I'd try it on and my size (medium) would fit perfect so I said go with it. But it turned out the small wouldn't fit your dog. XL was like a potato sack. I was horribly mistaken. Fat guys were pissed and girls couldn't wear a small. Everyone who wore a medium was ok though. I made jeans like 501s pegged & flooded the way I like to wear'em but everyone else was going the opposite direction – making huge baggies. We were going upstream. Only a few shops liked it and everyone else didn't. I'm either retarded or ahead of my time because that style of jean is making a killing today.
I learned how to compromise. At some point you have to give in a little bit. We worked through the fit issue and some others. All the other stuff we were making was really good. Shorts, basic jeans, t-shirt designs and we were growing.

At what point did your day to day involvement with the company start to decline?
MH: I was playing in a band called Flogging Molly and I was having late nights practicing in LA. Mid way through 98 I had my son, so I promised my wife I'd be home at night to help out. Our band started doing better & better and it came to the point where I couldn't be at Innes everyday. We were going out into the world to see if people would listen to our music. We didn't get paid shit, and we actually lost money. We had to do it. So, being gone on tour I had to find someone to help with Innes. I talked to Todd Swank about helping out with day to day operations and I would stay involved with the creative. One of our riders at the time, Jamie Thomas, talked about becoming a partner with me. That building became Black Box Distribution and Innes was run out of there while I was on tour. It ran smooth like that for about a year. At some point with all the stuff going on at Black Box Jamie told me it was too much to deal with. That put me in a situation where I'm in a full time band and I've got a partner who's on the way out. What the hell was I going to do…. A lot of crazy cell phone calls with my brother while we were in a tour bus going through the Rockies to figure out what to do - this was our company, our family name.
What happened next?
MH: We brought in a new partner that didn't work out………………………
In 2005, I decided I needed to take the company back. When I walked back through those doors after re-taking control of the company, it was on. One last chance. Keep it real. Right the wrongs. That was a year ago. We've been steadily improving. We brought in a senior level consultant to help clean up the disaster, and we're set to do it right this time. This time around I'm not loosing track of who we are and why we got here. This way everyone involved with us is happy to work with us and it's a positive situation. The basics, good product, delivered on time, and good support for our accounts, team, and everyone else involved. We've taken it back from a mud-reputation to one of our best years. It feels good. It feels really good.
Now that I have some good people to lean on, it frees me up to be who I am. Now we have people and management that are a really solid foundation. We're running on all cylinders now. We have really good solid people.
When was Innes in its prime with regard to team, product, and sales?
MH: Other than right now, the time we were with Jamie Thomas was probably our best. It was right at the beginning.
How long was the company headed in the wrong direction?
MH: About three years.
Most companies would go belly up in that amount of time…
MH: When I took it over it was a matter of announcing the doors are closed... I had a decision to make - either file for bankruptcy and fuck people over or dig in and bring the company back. We made it work. We're on the way back. We've turned it around and instead of everyone being irritated enemies; they're supporting and want to see us succeed. Not just to get money back.
What inspired recent sweeping changes to the company?
MH: Reputation and the desire to bring this company back to where it should be. To do it right, in a good positive way.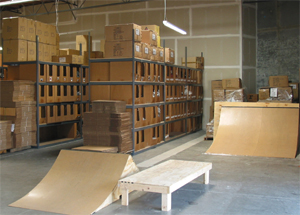 What is the current state of the company?
MH: There are still things that we have to deal with. There is still money that we owe to people. Every month we get closer to bringing everyone up to current. If we continue with our recipe as it is now then we'll be successful. Sure it's always a struggle but when I'm out skating or playing music and I meet people in the street the feeling of the brand is good. People are stoked. We're the most organized we have ever been.
What are your plans to bring Innes back to popularity?
MH: Some of it we've already discussed. We're going to get the feeling back from when we first started. Build a kick ass skateboarding company with a tinge of 60s-something going down. We're going to bring Flogging Molly into it as well. When I'm in a town on a tour, I'll visit some of the shops that carry Innes. Flogging Molly tours around the world so we're able to help build Innes through our tours. We're doing an Australian tour where we're going to skate / do demos during the day. Then drink pints and play music at night. This Australia tour is the first Innes tour in the company's history. We're going to do the same thing in Europe. We'll be there for two months this summer and we'll invite our Ams and Pros out for a few weeks to join up with us. We'll keep our ads in the mags looking good. We'll expand our team as we find new talent. We've already added two new riders to the team. Peter Watson and Chris Troy. We support what contests and flow product. Anything to support skateboarding. We're also sponsoring bands that match up with our situation; two are Street Dogs and Throw Rag. We've sponsored the Agro Lights. Anything that fits our situation, we'll try to support it and be a part of it. We're going to support our local scooter rallies. Things that make sense to our style.
Glenn Brumage, Vice President – Sales & Marketing [GB]: On a regional basis our reps are responsible for finding and organizing their flow riders. Those are the kids that will hopefully move up. They're the ones wearing the Innes flag. We've found that has impacted retailers' sales the most. The reps are being given tools to succeed; they're given a promo and flow rider budget. It's their job to manage the territory.
One of the key things we're doing is working really hard to become the kind of company that retailers love to work with. From our reps, to our customer service, to shipping, to our catalogs we're working to be a company that is always on point, no matter which one you touch on. It's not just the fact that product checks out and sell through is good. We want the retailers to love calling us.
Are there any professional teams (skate, surf, etc…) assembled?
MH: We're a skateboarding company. Generally that's most of my interest. We also sponsor bands. I think we're just going to stick with a skateboarding team. Other than that we'll have a roster of bands that we support.
GB: It's an important thing to be focused. Do what you do well. The kids / people that are buying our product and retailers appreciate us doing it well.
Who's your target customer?
MH: I don't know how to answer that. Just even that word…"who's my target consumer". I don't know if I could even give you an answer. I know I should, but I can't.
GB: It's a little esoteric. Most people that buy Innes are a little more core, more punk rock. That customer could be 12 or 30. They're non-conformist.
What are your distribution plans?
GB: We're at a point right now where we're re-establishing our relationships with all of the core skate shops across the country. They know us, they know Matt, and they know what we're about. Our distribution will stay pretty specialized, we do have small chain / regional chains, but that's about as big as we go. We believe that most people that want to wear Innes shop in a specialty store.
So you're not trying to go head to head with the big guys?
GB: No, at this point we'd get crushed. That's one of the things that I appreciate about this company. This company has a style that allows us not to have to be everything to everyone. It doesn't mean that we couldn't do a surf trunk down the line. But it's not going to be a matter of putting a logo on a pair of trunks. It will have to match up with the Innes style. We're not going to sell anything and everything with our logo on it. You won't see Innes on suntan products.
How many shops carried Innes at the low point, and where are you now?
GB: At the lowest point we probably had 200 doors. Right now we're at about 500. Reps in the field are starting to get good traction. The number keeps climbing. That's not going outside of our current dealer list. That's just rebuilding relationships.
What's the biggest challenge in Sales, and how are you going to deal with it?
GB: The biggest challenge is keeping the line tight and not overgrowing our capabilities. It's scary when you've got a company that is ramping like ours. It's easy to want to build more and more product, but that can very easily bite you in the ass. From a purely Sales standpoint, it's easy to say build more product and we'll get it sold, but there are a lot of pit falls with that mentality as well. It's not the right way to do business. It can be especially damaging to your core dealers and to your own sense of being.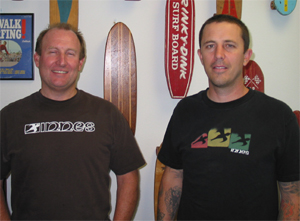 Are you going to start the tradeshows again?
MH & GB (pictured, right): We're already booked at ASR and SurfExpo. There's a rumor going around that Flogging Molly will be playing San Diego and Florida in September. It'll make the shows worth going to!
What job opportunities will you be hiring for in the future?
GB: Right now we're planning our internal growth. Immediate hires will be in Warehouse, International Sales and a go-between person to help coordinate everything and keep communication tight between Team Management, Design, and Sales. Then we'll start building up our Production staff. We're on the verge of major growth and it's just a matter of making the right moves at the right time. We're all committed and looking for people who are equally committed. For example, when we were shipping spring everyone was in the warehouse helping out, it didn't matter what your title was.
Which job categories are the most likely to be filled by people with non-industry experience?
GB: Warehouse and Customer Service are two categories where I could hire someone out of another industry that has that type of experience and understands the basics of our industry.
Which job categories are least likely to be filled by non-industry candidates?
GB: Marketing, Design, Sales, definitely need to be people with industry experience.
How can candidates without industry experience showcase their skills and value to your company?
GB: The best thing candidates can do is have a clear and concise resume that explains their skill set. Vague details don't help. We need to be able to build a picture of how this person's experience will come to life here – how it will transfer into our operation. If it's marketing, tell us what product you marketed and how that experience can be put to work at our company. If you're not from this industry, do research to know what the industry is about, and more specifically what the specific job is in this industry.
It's amazing how many cover letters don't even say what they want. A great example of what not to do is a candidate whose summary is, "I'm a high energy individual…I handle multiple demands with enthusiasm…" but it doesn't say anything about wanting to do the job I have, and being able to do it. It's astounding! For every opportunity there are a lot of applicants whose resumes fit the general mold. And if a person doesn't put together a good presentation, there are 100's more to look at.
What positions or departments are the hardest to find candidates who have the right skill set and experience?
GB: It's going to be Design. It's not going to be easy to find someone whose creative style matches up with us.
Does a person need to meet all, or almost all, of the responsibilities requirements to be considered for an opening? What about the scenario where a person has 9 out of 10 requirements, but the one missing requirement is the most crucial element of a job's responsibilities?
GB: It really depends on the position. If that position is such that the main skill set is something you gain by experience, then there's no way I could hire that person. If it's something that's not experience related it'll work. You can train someone to learn your systems. But if a job is really relationship intensive (like a Sales Rep) or is very specific, like having experience dealing with International distributors in action sports, then it doesn't matter what else a person has done it just doesn't work.
What are the first things you look for when a resume is submitted for your openings listed on Malakye, or from any other source?
GB: It's that first impression. Your cover letter…the first paragraph. It has to say what you want to do, what job you're applying for, and why you're the right person for it. If I saw a resume that had a good cover letter, and a good first paragraph, but I had a job open for something else that was a close match I might hire them for something else. "I want to work for your company" doesn't mean anything.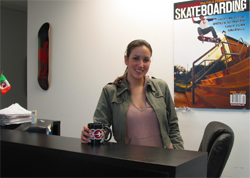 Is there a general process that happens from opening to hire?
GB: It's simple. We advertise, gather resumes, weed through them, take the top 10% and start making phone calls. Innes is a family environment. You'll have to interview with damn near everyone here to make sure it's a fit.
How can someone prepare for an interview?
GB: Prepare itself is the key. Don't be late. Make sure to know our culture. Don't under or over dress. Don't walk into the interview without extra copies of your resume and some examples of work product. Do as much research as possible on the people in the company and the company itself. Google is a wonderful thing. It's good to use it before you walk in here for an interview.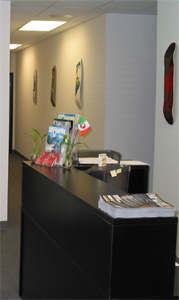 Can you provide insight to key opportunities that exist in your company for experienced professionals?
GB: As we grow we're going to need people in every department. We're going to need key people in every department, Warehouse, Design, Production, Sales, and so on. There's not a single department that we won't need to be doing more hiring.
What can job seekers do, in the short or long-term, to increase the chance of employment with your company?
GB: Keep an eye on what's going on in the skate industry and at Innes. If you're on top of it you'll have an idea that the company is going to have a position open before it comes out - something you picked up in the trades or on the grapevine. Be ready.

---