Back to News
Andy Howell Book Signing at LA FIDM
May 23, 2006
Andy Howell Book Signing at LA FIDM
Andy Howell, creative director for eggprojects, inc., will be signing copies of his monograph Art, Skateboarding, and Life at Los Angeles' Fashion Institute of Design & Merchandising Museum Shop on May 24th from 11 AM to 3 PM. Limited-edition copies with personalized, original pieces of art on the dust cover cost $80; standard copies cost $45.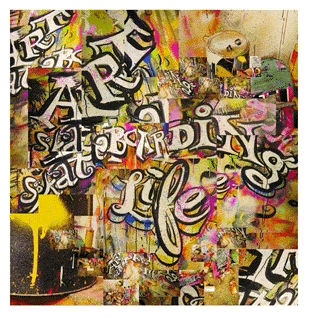 Art, Skateboarding and Life is an action-packed story told with maximum visual density. In his first monograph, Howell sets his work on the skate deck and as an artist within the context of an expansive network of artists, skaters and agitators, such as Tony Hawk, Shepard Fairey and Patricia Arquette. An intense mixture of interviews, narrative text and non-stop visuals drives this tale of Howell's journey through pro-skateboarding, the action sports industry and allied segments of the DIY movement embodied simultaneously in art, music and design.
Howell turned pro-skater in '89 and set the tone for skating during the next decade. His skateboarding philosophy was like that of his artwork: do something different, stretch the boundaries, make a statement.
During his career as a professional skateboarder, Howell received his visual communications degree and co-founded Element Skateboards and New Deal Skateboards. As creative director of New Deal, Howell ushered in the existing trend of graffiti- and cartoon-influenced graphics on skateboards and tee-shirts. In 1999, Howell turned his brand-building experience to the mainstream with the creation of Imagewerks, Inc., a branding and advertising agency.
Howell has since concentrated his creative direction on eggprojects, a brand incubator and hatchery. Alongside fellow youth-culture maven and originator of LRG Clothing Zach Mandelstein, Howell has steered the success of eggprojects brands in retailers ranging from trendsetting boutiques to the national megalith Target.
An internationally acclaimed artist who has been featured in numerous publications on creative elements of contemporary art movements, Howell has also been recognized by The Wall Street Journal, Transworld Skateboarding, Thrasher and SPIN for his guerrilla marketing tactics.
The FIDM Museum Shop is located at 919 South Grand Avenue, Los Angeles, California. Click here for more information.

Learn more about eggprojects, inc.

---