BACK TO NEWS
Industrial Profile
6/1/2006
Judi Oyama - Artist, Art Director, Skater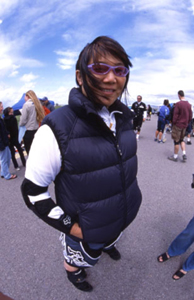 Interview with Judi Oyama

Do you remember what skating was like in the 70s & 80s through reading, pictures, or videos? Judi Oyama remembers. She was there during that time period, not watching – skating. Pools, Slalom, Freestyle were and still are her styles of skating. Judi still skates today and works in the Action Sports industry as the Art Director for Giro Helmets in Santa Cruz, CA. Her career in the industry winds through skating, working in a retail shop, airbrushing surfboards, freelancing, and more.
What was it like being a female skater back in the 70s & 80s?
It was fun, exciting and challenging all at the same time. You had to skate aggressive so you could get a run in at a park or a backyard pool. Respect from fellow riders had to be earned to find out where the secret spots were so you could skate them. Most of the time the guys you skated next to would barely speak to you. You had to be confident and know you belonged as much as the next rider. There were more local skate events throughout the state and tons of skate parks. There were many amateur series events with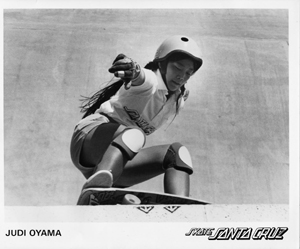 all disciplines of skating; pool, slalom, banked slalom and freestyle that made it challenging and fun. It was not uncommon to have 3-4 different set ups verses just one. You would bring multiple boards with different length wheelbases; have various truck widths, wheels in different durometers, hard and soft truck bushings on hand depending upon terrain. There were few companies that truly supported women skaters. Smaller prize monies, and judges that were easily bought off (were the main reason I only entered timed events). There weren't any women specific made products like they have today.
Do you think that girls have it easier or harder than back then?
I don't think it's easier; there are just different obstacles to deal with. Have you ever seen a female spread or interview in the larger skate magazines? Back in the early days only the skaters from Southern Cal got in print since all the magazines were based in LA. Thankfully Thrasher was born and I think CB got the cover once or twice. The first place purses are equal to what the male skaters get for just showing up and not skating.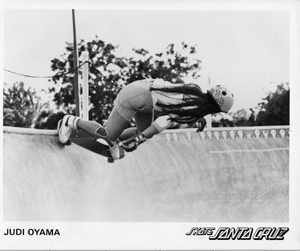 Have you seen a lot of change or evolution in the female segment of skateboarding?
The women skaters are ripping in all disciplines,transition, street, slalom, downhill, freestyle (its back) and in business. They skate stronger and faster then in my day. There are still walls and barriers that keep the women from making near the money that the women snowboarders and surfers make today. Last years X Games prize money compared to the men's was a sign that some things have not changed. When Fox came out to film at the Slalom Skateboard World Championships they only filmed the men's pro finals not the women's.
How did being a skater evolve into becoming a Designer and Illustrator in the Action Sports industry?
When I was 16, I was sponsored by Santa Cruz Skateboards, OJ Wheels, Park Riders and Cellblock brands owned by Rich Novak and Jay Shuirman, Rich has supported my skating and art since the beginning. I worked at NHS stuffing bearings in Road Rider 2's, shipping skateboard products, silk screening skateboards (checkered Steve Olson and striped Duane Peters) and did a bit of skate art.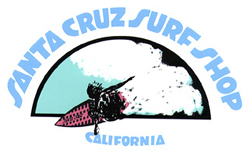 Then I worked for Santa Cruz Surf Shop which was originally founded by NHS doing everything from airbrushing surfboards, window displays, doing the clothing and skate buying, then doing all the graphics, ad's, T shirts while going to school. That's where all the networking and meeting of future clients started taking off.
In general, what was it like working in the Action Sports industry then?
Exciting. No one knew how big the industry was going to get. You were able to work with owners and sales managers more closely. They would ask you what was selling and asked opinions on color, style and function. The ones that didn't listen went the department store route and most are now gone. I've been told I'm usually two years ahead on color and style trends.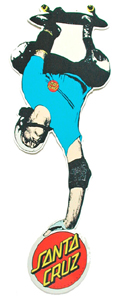 What was your first paid job in this industry as a Designer / Illustrator?
The first jobs were with Rich who gave me freedom to custom screen skateboards. The job that gave me lift off was with Bob Hurley before he started his own "Hurley" brand. He trusted my instincts and let me do his Thrasher skate ads, t-shirt designs, stickers, hangtags, color recommendations and clothing designs. I'd fly down every few months and Bob would give me all sorts of things to work on. I'd go home and send him down finished work.
What was it like designing and illustrating then? (Working freelance, in-house -- styles, deadlines, number of projects at a time versus now and then)
It was super fun and demanding. I worked on everything from logos, t-shirts, trade show booths, custom signage and even wardrobe for a surfing theme American Express TV commercial. Deadlines were tight and people were excited about the growth of the industry and they just kept bringing me work. I think I burned out after my eighth year of doing everything and got on offer to work in house. I've kept my business going for select clients and interesting projects but I've really enjoyed working in house and having a life back with weekends and less stress.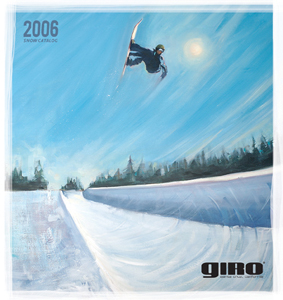 What is your current position?
I am currently the Art Director at Giro (helmet brand) I have as many if not more projects but the deadlines aren't as compressed. I work on bike half the season and then snow. I do all things print for Giro catalogs, trade show graphics, point of purchase and packaging. I work with freelance illustrators and photographers and don't do much illustration work on my projects at work, though I have gotten back into painting and drawing for fun.
In addition to working for Giro full-time, are you involved in any other activities or events within the industry? Or within any particular art communities?
I recently did a breast casting for a first ever 100 % skateboarding KEEP A BREAST KINGS & QUEENS art event that is happening this October in San Francisco. The Keep A Breast Foundation is a unique non-profit organization creating plaster forms of the female torso, customized by fine artists and auctioned to raise funding for breast cancer. This show includes many past and present skateboarders curated and photo documented by Photographer Deseriee Astorga. My casting is going to be painted by Todd Francis well known for his work at Element. After the Art Shows the castings will be sold on ebay to raise awareness and money for the foundation.
I'm donating my design time on a Self Exam shower sticker that will be given out at the Warp Tour by the Keep a Breast Foundation, printing costs donated by my friends at Bell Sports. (Thank you). I hope to eventually break through the women's skate art barrier and show some fine art in the future.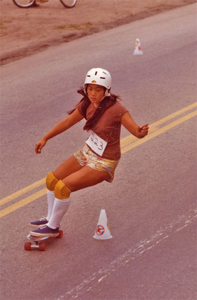 How has it changed over the years? Is it more or less competitive, and how have tools techniques evolved?
I think there are more opportunities then ever for people that are interested in the action sports business. There are more brands, larger companies; more sports-based companies crossing over to action sports. The Internet allows artists to work via ftp sites to send large files across the network. Where as before you only had the fax machine, which was usually black and white and you had to back up work with lots of notes and phone calls, now, you can send digital files to clients without the wait time of sending a printed piece overnight express. Faster computers and better software to do work on. Some of my early files use to take 20 minutes to save.
What has remained the same?
Deadlines. The industry is still fast paced, fun and exciting. The big companies are still trying to figure out how to get a piece of it and as soon as they think they know what it is, it changes.

How do you adapt to the changes?
I've kept in touch with many friends over the decades. Getting out and actually skating is another; nothing like real life R & D, standing in the bowl instead of on the other side of the fence. Since most of the work is done on the computer now, keeping up with technology and change has kept me in the game. I try to stay fresh; open-minded by reading branding and marketing books and tons of magazines.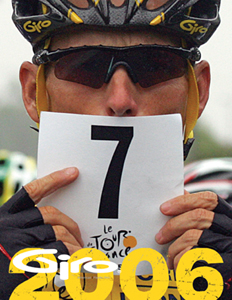 Today, 80% of your time goes to….?
Concept and design, layout, production, research, project management, organizing and collecting information to complete projects, meetings, archiving electronic files.
20% of your time goes to…?
Getting price quotes for printing, working with illustrators and photographers.
Top 5 favorite things to do when working?
1. Design and concept phase
2. Listen to my iPod music mixes
3. Networking and creating grass roots projects
4. Research and developing new ideas
5. Skating in the back lot at lunch

What's most rewarding aspect of what you do?
Working for a company that's main goal is to help provide products that allow you to play hard and stay alive.
Being at a trade show and seeing the catalogs getting handed out to loyal dealers, along with all the signage, large graphics that reflect the catalog and theme each season.
The friends that I have made truly make it special.
Most of all I enjoy helping grow the local skate community so that the new generation of skaters can have the opportunity to skate with less hassles for decades to come.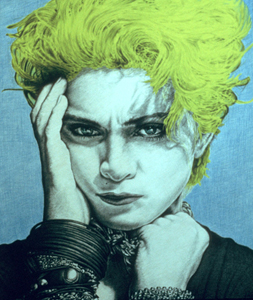 What's the daily routine like now? Is there a routine? (Madonna, Judi's rendition)
I wake up at 4:00 am and work on skateboard related community projects or paint: I want to give back to the skate community and help promote a sport that I love. I'm helping put together a Vintage Surf and Skate event in Santa Cruz and I'm in the early stages of reviving "The Capitola Classic". At 6:15 am I start waking up the household, make lunches and get my kids off to school. Then get to work. Slalom skate in the back parking lot, ride bikes or go to the gym at lunch. Go back to work and then do the family thing and go to sleep early.
What is the biggest challenge?
Time. Spending quality moments with my family and making sure I have some personal down time for myself. Saying "no" to too many other outside opportunities.
What can you tell someone who is building a career in design in the action sports industry, or looking to start one?
Never burn a bridge. There are people in the industry that I've known for decades that were once sales reps for funky brands that are now VP's of large companies. This industry is small and people move around and grow. The person selling you a t-shirt today or putting together your skateboard may be your boss some day in the future. Seriously.
Find something that you love and have passion for or you will never truly enjoy what you do. Skating taught me not to be afraid. It gave me the confidence to have a go for it attitude that has stayed with me. It taught me to listen to what's inside and not what people tell you. If I'd listened to all the people that said I wouldn't make it doing just actions sports graphic design, I wouldn't be where I am today.
---