Back to News
Naphte Makes Use of the Latest Technology to Create « Naphte Digital Magazine ».
June 6, 2006
Quebec City, June 5, 2006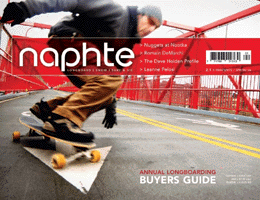 Naphte Makes Use of the Latest Technology to Create « Naphte Digital Magazine ».
In only its first year of existence, Naphte magazine has distinguished itself through its use of technological advances and its innovations – unusual magazine format, diversified and specialized written content, esthetic photographic approach – all offered in a totally creative graphic environment.
Always looking for new angles, the Naphte team has decided to put out a digital version of its magazine. It is now available to everyone on-line at the Naphte website, www.naphte.com, free. The on-line edition is very different from other Web tools in that it really stands out by combining the numerous advantages of the Web with the effectiveness of pictures found in traditional magazines. The interaction between its content and the reader presents an infinite range of possibilities. The reader can watch videos and interviews linked to the content of each of the articles or even access the limitless world of cyberspace through a simple click.

Such an approach becomes even more interesting for advertisers since they can make personal contact with readers and invite them to visit their company websites. There, readers can access all the available information, and even make direct on-line purchases.

It should be understood that Naphte Digital Magazine is the multimedia complement to the traditional magazine version still distributed in stores. In fact, our Spring 2006 issue has just recently come out and should already be on the shelves. We therefore invite our readers and advertisers to go out and get a copy and download Naphte Digital Magazine at www.naphte.com.

To send us your comments or to reserve advertising space, please write us at [email protected].
---