Back to News
INNES promotes Jessica Migdal to Sales Coordinator
July 24, 2006
INNES promotes Jessica Migdal to Sales Coordinator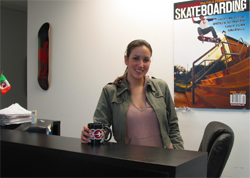 Brought on by the huge increase in support from dealers and sales over the last six months, Innes clothing has promoted Jessica Migdal from Customer service to Inside Sales coordinator. Her new duties will include riding heard on the Innes stable of outside sales reps and assisting them in maximizing their bookings and at once business. She is also responsible for dealer satisfaction.
Glenn Brumage, V.P. Sales & Marketing, had this to say. "As Innes has grown in the last 6 months Jessica has been an integral part of keeping customer service and sales organized. She has shown a natural aptitude for sales and customer service. Her new role will give us another boost in servicing our retail partners".
Jessica's comments, Coming from a shop and making the transition into the business side of the skateboarding world has been an interesting ride. I could think of no other company that I would wanted to have done it with than Innes. We're referred to as the Innes Family, because we are a family, one twisted dysfunctional family that some how makes it work. I stepped into the receptionist position thinking "how cool is this", but with my promotion, I'm more ecstatic then I have ever been. I am looking forward to working closely with all of our reps and shops as well as our international distributors. Not only did I find myself a great job but from the looks of it a great career. With the history of Innes and what this company stands for I think all my goals and expectation will be satisfied, I only hope that I can do the same for all you out there..
ABOUT INNES CLOTHING
Innes' unique style stems from the deep convictions of founder Matt Hensley. As a professional skater and member of the band Flogging Molly, skateboarding and music are his life. Innes clothing is built around "Timeless Style" not "flavor of the week".
Matt Hensley states, "I don't believe in the word "Fashion". I believe in style!"
Innes is the Scottish clan name of Matt's family. The Family Crest sports the motto "Be Traist". It simply means to be Trustworthy. The Swallow logo is a very old design worn to signify sailors' loyalty, family and commitment to return home. These are the foundations at Innes clothing. Our family is the sport of skateboarding and music. We'll always be loyal to them.
The Innes line continues to grow into a representation of vintage style.
Check out our website at http://www.innesclothing.com/
---