Back to News
Militree Founder and Artist Featured at Karmaloop Party
July 25, 2006
Militree Founder and Artist Featured at Karmaloop Party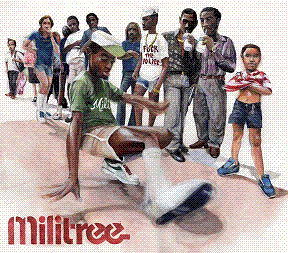 Charlie Pratt pushes the utilitarian tool of aersol spray paint to the limit by merging its wild fluidity with striking representational compositions. Building off New York's graffiti traditions, Pratt's complex and arresting urban scenes are fully accessible and deliver cohesive messages that stir the soul.
By day, he dangles high above New York on city walls, painting eye-popping ads for a wide array of clients, including Jack Daniels, Rock Star Games, Ben Sherman, Supreme and Armani. In his art, Pratt concentrates the vitality of his wallscapes onto the single panel of a t-shirt. From building size murals to record covers, Pratt has infused his work with an unmistakable style and energy that transcends his chosen medium.
Skip One founded Militree in 2002. After selling t-shirts on a local level in San Diego, Skip met Andy Howell (founder of New Deal Skateboards and Element) and Militree soon joined the eggprojects family. Growing quickly in just a few years, the brand has also added a full skate team. Militree works with high profile artists from all areas of street culture including, Shepard Fairey, Charlie Pratt, Dave Kinsey, Justin Atallian, T-Kid 170 and others.
What: Meet and Greet Militree
Where: Karmaloop Flagship Store, -- 160 Newbury Street Boston. -- 617-369-0100
When: Friday August 4th, 2006. 8PM – 11PM
RSVP: To KARMALOOP no later than Wednesday, August 2nd, 2006
---