Back to News
Todd Miller, President & Entrepreneur F54
August 1, 2006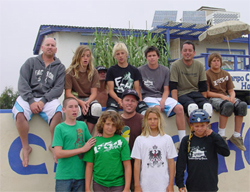 Todd Miller, President & Founder - Factor 54
In the 80's and 90's Todd Miller (pictured top row, left side) had what many of us would consider a dream job as a high-ranking professional surfer. From there he moved on to work in the Marketing department of Quiksilver and then The Realm. About 4 years ago Todd's dream had evolved and he decided to follow it by starting up his own apparel company, Factor 54 (F54).
What was your last position before starting F54?
I worked for Quiksilver in marketing for a long time and left and went to the Realm as Marketing Director, but 9/11 kind of sunk it.
What did you do on a daily basis?
Took care of the team riders, managed budgets, put on events etc…
What made you decide to start your own clothing brand?
I just wanted more say on guiding a company and its growth and I believed that starting F54 would be my best way to do that.
You've been involved in the industry for a long time, from being a high-ranked professional surfer to working in the marketing departments of the industry's largest companies. What's it like to go from a company that has enormous sales numbers and budgets to working in a startup environment?
Well it's taught me to be smart with my money. You have every body telling you one thing or another, but you just have to be smart and figure out where you're going to get the most bang for your buck.
How long has F54 been in business?
We've been around for almost 4 years. We have been guerilla marketing for a good 3 years though.
What's your daily routine like right now?
Go to work answer my e-mails, contact our customers and strategize with Ted, Dane and Andy about where we're doing things right or wrong.
Today, 80% of your time goes to….?
Dealing with customers, team, guiding and planning the future of the business and figuring out how we can do things better.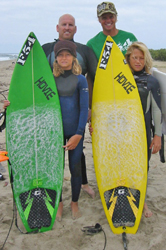 20% of your time goes to…?
Out and about marketing the brand and hanging out with my team. F54 is not just a company where you come and get sponsored and off you go, but it is a place that the kids know they are part of a family.
Top 5 favorite things to do when working?
Having meetings with my staff
Planning for up coming events
Hanging out with my surf and skate team
Talking with my customers
Figure out how to always get better

What of your past experience are you drawing from to make F54 successful?
I've been very fortunate to work for the biggest company in the industry and I have been taught many good things by someone I think of as my mentor in Danny Kwock.
How are you defining success for F54?
Success comes in many different flavors, but I guess the major factors would be keeping F54 core and being all about the kids.
Where would you like to see your company 5 years from now?
I would love to be considered a key fixture in the industry in 5 years from now. With organization and key employees I don't see why we can't be.
What's the biggest challenge of what you're doing right now?
Just getting the awareness of the brand out there and letting people know we are not just a fly-by-night company.
What's the biggest reward?
I love to see people wearing F54 and getting behind it because I know that it's something that started out as a dream and now it's a reality.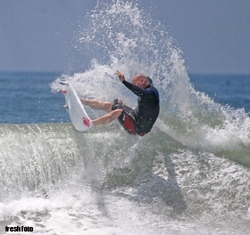 What can you tell someone who is building a career in sales in the action sports industry, or looking to start one?
You're going to have Nay-Sayers, but you can't listen to them if you believe in what you're doing. There will be plenty of fair weather friends out there too, but remember - why you are doing it? And the most important thing I've learned is: keep your overhead low!

---