Back to News
DVS Backs Rally Team at X Games
August 1, 2006
DVS Backs Rally Team at X Games

DVS Shoe Company is proud to announce it will have a Subaru STI racing in the first-ever rally car event at X Games taking place in Los Angeles August 2nd-6th. The company partnered up with championship winning Formula D drift competitor and stunt driver Rhys Millen. Millen began his motorsport career in rally over fifteen years ago and brings a tremendous level of skill and competition to the already impressive grid of X-Games rally competitors.
"With the success of our DVS/Drag Cartel Civic and the addition of Rally Racing in X Games it made perfect sense for us to join up with Rhys Millen Racing," said Brian Dunlap, Vice President of DVS Shoe Company. "Rhys is a very experienced driver and I look forward to seeing him take the DVS car to the top."
Joining already established motor sports like freestyle Motocross, rallying will be featured for the first time this year at the televised X-Games and promises to bring European stadium-style 4-wheel dirt sliding excitement to American fans. Rally car racing features a driver and co-driver racing street legal cars on closed sections of roads called "stages." The goal in rally is to accumulate the lowest elapsed driving time on a prescribed course. The co-driver navigates the course and communicates upcoming road conditions to the driver, so that a high rate of speed can be maintained around and over natural obstacles such as blind crests, jumps, hairpin turns, dips, etc. The X Games Rally will encompass two days of competition, featuring six scenic rally stages on Friday, August 4th and a "Super Special" timed event in a stadium setting on Saturday, August 5th.
Click here to visit www.DVSshoes.com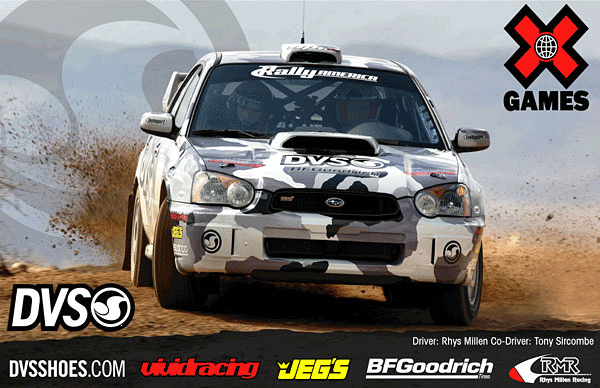 ---