Back to News
Ambiguous Clothing Unveil's New Project: Ambiguous Films
August 10, 2006
Ambiguous Clothing Unveil's New Project: Ambiguous Films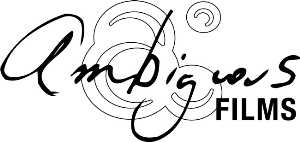 Ambiguous clothing is proud to unveil our biggest project to date, a new division dedicated to the support and promotion of young filmmakers working to make an impact and have their voices heard.
The Ambiguous Films Division will take on one filmmaker/one project at a time, supplying the artist with our full attention and resources until the project is complete – from pre-production through promotion. There will be no boundaries placed upon the artist. Creative Direction will be completely up to them. The only request that they feel passionate about their project and the images they are creating.
The Ambiguous Films Division is pioneering a new trail for non-corporate clothing companies, taking a step away from the traditional "action sports" video that focuses on surfing, skateboarding, snowboarding, and putting full resources and backing in the artist's voice. We choose to support what we know will be crucial to the world as it stands today- creative people looking to shake things up.
We are excited to introduce our first artist, Sean Michael Flynn, and his project "Numb". Sean is a student of Chapman University, Dodge College of Film and Media Arts. The Experimental Short "Numb" was written, directed, and co-produced by Sean, and is now ready for our first test screening to be held at the second annual Beautiful Decay Film Festival held at Tribeca Cinemas, Friday August 18th in New York.
"Numb" features James Duval (Donnie Darko, Chasing Ghosts, Gone in Sixty Seconds) as "Caleb", and Anne Desalvo (Felicity, CSI:Miami, Sex and the City) as Caleb's mother. Cinematographer; Roland "Ozzie" Smith, ASC. Music; Cisco Adler (Whitestarr). Please keep an eye out as we release more about "Numb" in the near future.
---