Back to News
Bobby Goodwin, Men's Apparel Buyer, Active Ride Shop
November 2, 2006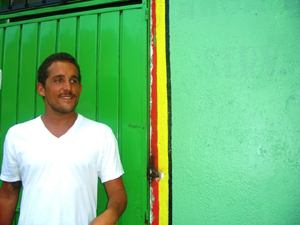 Bobby Goodwin, Men's Apparel Buyer, Active Ride Shop

Design, Develop, Market, and sell. Retail Buyers are the final stop on a product's tour from concept to customer. Bobby Goodwin is responsible for buying all Men's Apparel for 18 (and growing) Active Ride Shop locations. That is a lot of inventory, a lot of responsibility, and a lot of people are affected by his work. If you were Active, would you want to invite a complete stranger to manage that much of your inventory? No. Enjoy this story beginning with Bobby's first job as a shoe salesman at Sears to a part-time shop kid during school, to being a key player in Active's successful product mix. A story like this makes it evident how important and beneficial it is to grow talent from within an organization.

What was your start in retail?
I've only had two jobs in my life. At 16 I started working at Sears where I sold shoes for four years. Then when I was 20 I started out at Active working part-time during college at the Chino location. When I graduated college they offered me a full-time job. There was a crew of us that worked there – my cousin, brother-in-law, and _twin brother among others. We had a great relationship with the owners and they told us that over time there would be great full-time opportunities within Active whether it was Store Management or a different division of the company.

I've had two jobs, and never expected this to happen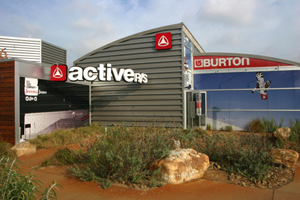 When did you first gain an interest in becoming a Buyer vs. Store Management?
I was given an opportunity to start helping out and I took it. I've always gravitated towards the surf/skateboarding and the lifestyle around it. In the shops I was always really into Visual Merchandising of the store.

After college I became the Assistant Store Manager of our Brea location. Shortly after that transition the owners asked me to help out the guy who was doing a portion of the buying for all the stores and he was also designing our private label line. Over time I took on all of his responsibilities, and took over doing private label design for Active. We both really wanted to make great things happen for the company.

What was Buying like at that point in time for you?
We had our buy segmented in to two categories - surf and everything else. I handled everything except for surf which included categories like skate, street wear, lifestyle, premium denim, etc. At this point in time companies like Obey, LRG, Krew, Rvca and Green Apple Tree were all really small portions of our buy. This premium/lifestyle line category kept growing for us and that's where it took off.
About a year into it I had buying responsibilities and also worked as a Store Manager. It was crazy, I had to input all of my orders in the back of the store and then also monitor the sales floor. About 3 years ago the owners said we want you to take over the entire buy for all Men's surf, skate, snow apparel, and all the street wear / lifestyle / premium wear. And that's what I handle today for all 18 doors as well as minor accessories / line extensions like hats, beanies, etc.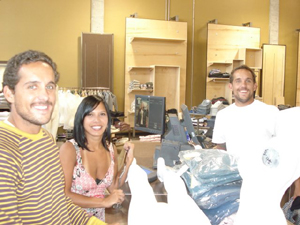 How much responsibility do you have over the Buy today?(Pictured right are Bobby, Elsie Marquez, and twin brother Tommy)
I'm 100% responsible for all the Men's apparel [also referred to as softgoods] for all 18 stores. Our Online buy is handled by a separate division but we do of course coordinate to keep it consistent throughout our stores, catalog, and online.

Are you involved or do you determine what product lines get carried, how much, etc.?
I work with the upper-management and the accounting department on seasonal budgets and open to buy. If I feel like demand for a certain line is going expand, then we can work with the numbers & budgets to make it happen. Our owner is also very influential in what we do in our buying because we'll set up marketing agreements with particular companies that include in-store autograph signings, window build-outs, demos, etc. so that affects our buying activity. We'll buy heavier in certain categories, and make sure the stores are heavily loaded with that brand.
I'm involved from beginning to end – how much of what product we put into each store, the mix, balance, moving inventory, monitoring inventory levels, it really goes on. There are so many variables that go into it. It's a pretty tricky game.

What makes it tricky?
It's the nature of apparel; we have to always keep reinventing ourselves. You never know what's going to be hot, and you don't want to over saturate your floor. Sure we have data from last year to work off of, but that's last year and trends change. It's like the tight jean trend - you never know when it's going to stop and have to do your best to maximize without going too far. There's no real calculation you can rely on. It requires constant and consistent involvement, and we have a real eclectic customer base to make it that much more of a challenge.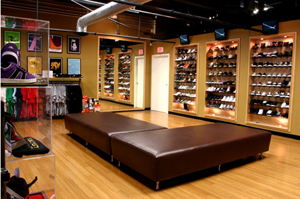 Have you noticed an evolution in your customers over the years and their taste or preference?
We're always trying to grow our customer base and we do pay attention to the evolution. There are so many different types of people who come in. We pride ourselves on being a skate shop but we also want to have products that appeal to our snowboard customer. Then there's the kid who wants to find a really cool new brand that's not well known. Then there's the guy who wants to get a nice pair of premium denim jeans. Then there's the mom who wants to shop with us. And there's the person who wants to buy only brands he's already comfortable in. We want to cover as many customers as we can, but we also do not want to betray our roots.

How do you determine the product mix you carry?
Determining product mix has a lot to do with the store. Our stores are spread throughout so many different areas of southern California that the influence within each city / neighborhood is different, and different products are in demand from place to place. Our buys are different for each store. For example, LA County stores are selling less of one thing than Inland Empire stores. That plays a huge part of the product mix, and a store's sales history also comes into it. We have to focus on consistent sell through, identify demand for new product and so on. All of our stores are different square footage as well which has a big impact. Some of our stores are small so we carry a mix that will maximize the sales of whatever brands are in that store. And then if we're going to open a new brand we have to test it in the target stores. It feels like there are millions of elements, and million factors.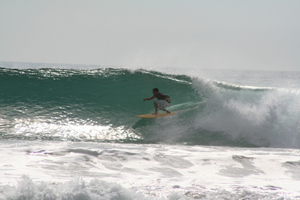 How do you keep a beat on what's going on in all your stores with store size and customer demographics varying from location to location? (A surf trip to Mexico helps Bobby stay in tune)
We maintain a very strong chain of communication with store managers. They don't hesitate to tell me what's checking, what's selling, what's collecting dust, and what people are wanting. The District Managers also communicate with me, and the owner is also really involved in what we have in the stores and what his feeling is on it. I personally go to as many locations as possible to visit stores to see first-hand what's checking visually, what seems to make sense, talk to the customers, and understand what they want. Communication is open. Even part time employees have access to communicate with me. It's been a steady, slow growth and I have personal relationships with a lot of employees in the company so that helps as well.

What is the typical seasonal or annual cycle of being a Buyer for Active?
The year breaks down into four seasons – spring, summer, fall, and holiday. Fall and Holiday are the biggest in terms of volume, but each season is equally important. Southern California is so seasonal that we go heavy into each category for the year. For example, boardshorts in the summer, snowboard apparel and snowboard outerwear in the winter. It's a non-stop cycle – if it's not viewing the line, it's developing our initial order to monitoring sell through, and it goes on.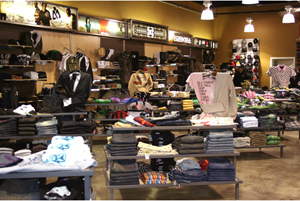 Do you do most of your Buying work at tradeshows or at a different time?
We don't write orders at the shows because it's not as easy as just writing it down. We have a complicated and specific purchasing system. I'm also always on the buy. It's non-stop. I'm either at the company's show room, our showroom, online – looking at a line in one of the stores if that's how it needs to go down. We just finished booking spring, and I'm starting summer, and at Christmas we'll start looking at back to school. Always 4 to 6 months ahead.

How do you decide what new brand to pick up and when?
I try to keep an open eye to many new brands as possible. I probably break it into two different typical scenarios. There are a lot of big vendors out there that will create new lines which we'll bring in. For example Sole Tech's newest venture Altamont. Here's why it makes sense: Sole Tech is backing it so I know the product quality is good, delivery will come on time, and all the support we need is there in terms of marketing of the brand. And Andrew Reynolds who is a big part of Altamont is also one of our team riders. This is as close to a "no brainer" as it comes for us.
For a new and upcoming brand I'm looking for it to really fill a void that I almost didn't know we have. It's tough because there will be one brand that's hot and doing something great then along comes 20 others knocking it off. You also have to know that people are going to want to buy it. A lot of smaller brands are going to have to make people want it. You have to look at the dollars, see what you have to spend and how big of a risk it is. But if it's a small company, the product looks solid, the people behind it are solid, there's some noise [marketing / advertising] being generated by it then we'll test it. We have the flexibility to try new brands, and don't want to miss the boat. It's also a unique situation for us because there might be a company that has created good demand for it's products in one geographic area of our stores, but not others. So in that case we'll test it in stores where it could do well. For example, some small companies will do well near the coast but not inland and vice versa. But there's almost no way we can open a new brand in all doors. Could you imagine if I opened a brand in all 18 doors and it tanks?

What is your involvement after making the decision to bring in X units of a product?
I'm involved with the product that I buy from the time that it's opened to the time that it's sold. And it's not uncommon for me to book a certain sweatshirt or jeans that I've been booking monthly for the past 3 years. I'm not necessarily worried about selling out, but actually it's keeping it in stock.
I'm involved with sell-through, mark downs, out of season product; return to vendor on certain seasonal items. We have to watch inventory, and turn at the correct ratio. It doesn't matter how much you sell if you're not turning it over.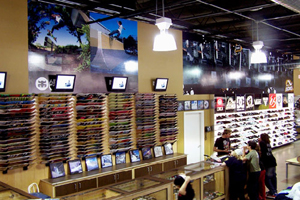 You're busy!
I am! I hired an assistant about 6 months ago, and he helps me lock down all of the details.

Today, 80% of your time goes to….?
Right now it's planning for the future. We're about to enter a huge growth period. We're opening two stores in the next month and I need to make sure we have product in the stores. I'm booking next summer right now. Future growth, new stores, keeping up with vendors, vision of the company and trying to predict the future for our Buying.

20% of your time goes to…?
Planning for right now, taking care of our employees, running sales contests, turning inventory, communication with everyone. So much of my job is planning for the future I have to make sure to not forget about right now.

Top 5 favorite things to do when working?
1. Working to develop specific product with vendors (SMU)
2. Meeting with Sales Managers, high ranking company execs, planning for the future. Laying out plans for our future and our vendors future with us.
3. Visit all of our stores
4. Tradeshows
5. Checking out new product, new brands.


What's most rewarding aspect of what you do?
I really do love what I'm doing, and I really do love the company I work for. I've grown up with a lot of the people I work with, myself, the women's buyer and our skateboard/hardgoods buyer all went to high school together. We get to do it all together, we share in the success and triumphs and toil in the hard work. I look forward to going to work every day.

What is the biggest challenge?
Staying on top of things, knowing what people want. Keeping our customer who has been with us for 15 years and also getting the new guys to check us out and become our customer for the long-term.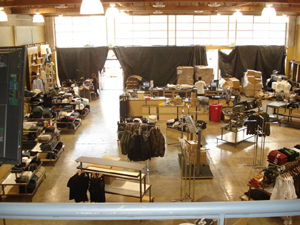 What can you tell someone who is building a Retail career in the action sports industry, or looking to start one? (Active's Westwood location in final stages before opening)
The best thing you can do is put your head down, work hard, learn about the company you're looking for, and build a niche for yourself. You need to make yourself indispensable and make your bosses want to offer you a job or opportunities. They should be scared to lose you! Education never hurts, so make sure you're educated and know what you're doing. Do what you know is right and people are going to notice.
---