Back to News
Celtek Launches New Website
November 7, 2006
Celtek Launches New Website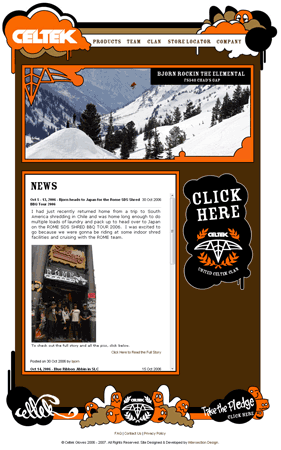 Salt Lake City, Utah – After months of development, Celtek launched its completely new website at www.celteksnow.com last week. "The goal was to create a site that's true to the Celtek brand – straight from the source of pro snowboarding, constantly updated with the latest happenings of our world-class team," says Celtek VP of Sales & Marketing, Ashley Leines.
The site offers an inside look at the Leines brothers' snowboard glove and accessory company, complete with up-to-date news, never-before-seen snapshots and videos of the team, a store locator and of course the latest Celtek products.
On the homepage you'll find the latest news about the Celtek team, including Aaron Biittner's win at the Salt Lake City Blue Ribbon Jibbin rail jam and Bjorn's recent trips to Japan and San Francisco. "I'm super stoked to have an outlet where I can share my travels and adventures," says Celtek co-founder Bjorn Leines.
The site will be updated throughout the season, with the latest antics of Erik, Bjorn and the entire Celtek team.
ABOUT – Celtek is owned and operated by Bjorn & Erik Leines, who are driven to provide innovative, quality snowboard gloves & accessories and to push the sport to the next level. The Celtek team is made up of a wide range of talented pro's, including JJ Thomas, Mikey LeBlanc, Justin Bennee, Aaron Biittner, Micah McGinnity, Zac Marben, Forrest Shearer, Chris Brown, Stevie Bell, Mark Edlund and Eero Niemela.
---