Back to News
The Quiksilver Big Wave Invitational in Memory of Eddie Aikau Holding Period Begins
December 4, 2006

The Quiksilver Big Wave Invitational in Memory of Eddie Aikau Holding Period Begins
Elite Surfers Usher In North Shore Big Wave Season and Honor Legend of "Eddie" With Opening Ceremonies and Special Pearl Jam Concert Benefiting The North Shore Community Land Trust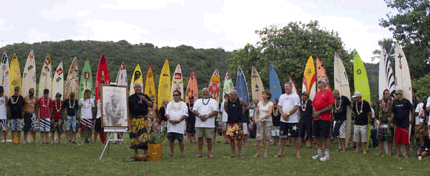 Honolulu, December 1, 2006 --- Waimea Bay came to life last night with the ceremonial blessing of The Quiksilver Big Wave Invitational in Memory of Eddie Aikau, signaling the start to this year's holding period that begins today and runs through February 28, 2007. This one-day surfing event, named after revered big-wave surfer and Waimea Bay lifeguard Eddie Aikau, will be held on one day when the waves reach a minimum height of 20 feet.
A huge crowd of elite big-wave riders, international media, Hawaii locals and visitors gathered at Waimea Bay Beach Park for the ceremony that concluded with a traditional paddle-out and circular "kuilima" (holding of hands). Among the circle of more than 50 friends, family and surfers were former Quiksilver Big Wave champion Clyde Aikau (Hawaii) - Eddie Aikau's younger brother, eight-time world and former Big Wave event champion Kelly Slater, and Pearl Jam lead singer Eddie Vedder - a frequent Hawaii visitor, surfer and event supporter.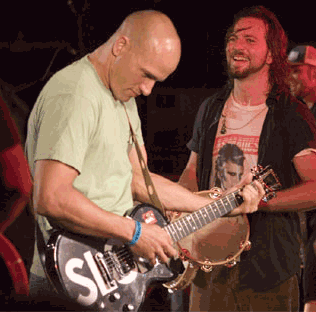 "I'd really like to thank everybody for allowing me to enter this sacred circle," Vedder said at the ensuing benefit concert at Waimea Valley that raised funds for various local non-profit organizations including the North Shore Community Land Trust - a group dedicated to preserving North Shore lands.
"This will be a memory and a feeling that will stay with me for life. Long live Eddie."
Big Island Kahu (priest) Billy Mitchell addressed the beach-side gathering with a personal reflection upon Aikau, speaking of his simple but strong passion for surfing and concern for his fellow man.
"Eddie Aikau was a man dedicated to something that was true, simple and honest," said Mitchell. "He was a man who was not altered by the money and the fame that surfing knows today, but who followed his heart's passion and true love for the ocean."
Twenty-four of the world's greatest big wave surfers will be on-call during the holding period, and will have a small window of 12 hours to report and register once the competition day is called. Invitees include defending champion Bruce Irons (Kauai) who won the event in December of 2004, Slater (Florida), Clyde Aikau (Hawaii), Andy Irons (Kauai), and Peter Mel (California).
Other beneficiaries of last night's concert were the Community Conservation Network - a group dedicated to marine wildlife conservation of the Pupukea/Waimea area; the Hawaiian Lifeguard Association's Junior Guard Program; and the North Shore's only 100% Hawaiian immersion school: Punana Leo O Ko'olauloa - dedicated to teaching and preserving the Hawaiian language and culture through its children.
Surfing legend Eddie Aikau was the North Shore's first full-time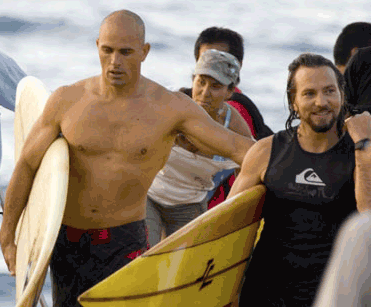 lifeguard and earned the permanent guard chair at Waimea with a sterling reputation for saving innocent tourists. In 1978, the voyaging canoe he was on capsized, leaving him and nine other crew members stranded 12 miles east of Lanai. Tragically, Aikau swam off in a heroic attempt to find assistance and was never seen again, despite the most intensive air-sea search in Hawaiian maritime history.
Highlights of the opening ceremony and Pearl Jam benefit concert, as well as information about the event can be found at www.quiksilver.com/bigwave
About Quiksilver
Quiksilver, trailblazing guide to boardriding* culture, is committed to providing tools for uncovering, expressing and expanding your personal style. Our mission is to foster the sense of individual expression and excitement - the stoke that is the essence of boardriding. We're also here to spread the word because the only thing better than finding stoke is sharing it.
* Boardriding is about timing and style. It's youthful, active, casual, and free flowing. There is no wrong way to ride a board. The goal is simply to learn, progress, improve, and give it your own interpretation.
---