BACK TO NEWS
QuikSilverEdition Launches New Website
QuikSilverEdition Launches New Website

Visit QuikSilverEdition.Com and Enter To Win Trip to Maui with Dave Kalama
QuikSilverEdition is excited to announce that the brand new "QuikSilverEdition.Com" is now live! Taking cues from the fresh new look and feel of the Spring 2007 QuikSilverEdition collection, the revamped website offers a sophisticated selection of useful features that allow web-surfers to experience the essence of the coastal lifestyle.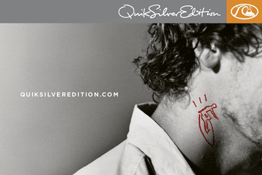 The website is carefully crafted to be subtle, straightforward and free of flash-heavy applications. QuikSilverEdition.com lets the brand's apparel, uncommon heroes and imagery weave a story of good living, all in a pleasant online environment where surfers will choose to linger. Window shop the classic Malibu collection or the all new fashions of the Santa Monica Collection. Glance at a short film documenting the 2006 QuikSilverEdition Molokai-Oahu Paddleboard Race. Or check out Art Brewer's photographs of QuikSilverEdition's legendary waterman Dave Kalama, Long Beach artist Sandow Birk or skate industry veteran and photographer Mark Oblow taken during an exclusive photo shoot to highlight the new line. QuikSilverEdition.com's simple sophistication is a virtual snapshot of the California Coastal lifestyle.
As if this wasn't enough, visit QuikSilverEdition.com now and enter to win an all expense paid trip to Maui, as part of the QuikSilverEdition Dave Kalama Kamps sweepstakes. The winner and a guest will receive airfare, three days and four nights lodging, car rental and meals, as well as a chance to surf, stand-up paddle, snorkel and canoe with world-renown waterman and big wave surfing legend Dave Kalama.
About the All New Santa Monica Collection
The all-new Santa Monica collection caters to the fashion-savvy coastal male in the 25 to 40 age demographic who identifies with Quiksilver's boardriding apparel but desires more refined styles and higher quality materials. With a unique identity, the Santa Monica collection represents more than a third of the QuikSilverEdition line and compliments the remaining portion of the QuikSilverEdition line, newly-dubbed the Malibu collection. Both detail and quality are strong underlying philosophies that were a focus throughout the creation of the Santa Monica collection. QuikSilverEdition's Spring 2007 Santa Monica collection offers a full menswear line of woven shirts, knits, sweaters, jackets, lightweight fleece, pants, denim, walkshorts, swimwear, tee shirts, sandals and hats, featuring slimmer fits, attention to trims and higher quality materials like premium 100 two-ply cotton and cashmere blends.
About QuiksilverEdition
QuikSilverEdition was cultivated from the boardriding roots of Quiksilver. The clothes are designed for the guy who's got taste. He's grown up in the boardriding culture and has always known what's cool and cutting-edge in music, art, fashion and film. The comfort he feels in his own skin is expressed in everything he does. From day to night, he wants clothes that are right for every occasion. He now likes clean and tailored lines and wants his look to be more understated and refined. He's still a thrill seeker - in shape, adventurous, not afraid to get his hands dirty, and he knows a little indulgence never killed him. QuikSilverEdition suits his persona perfectly. Think lambskin leather jackets paired with washed compact weave twill pants, or cotton/linen military jackets over cotton/soy blend sweaters.
In keeping with tradition and history QuikSilverEdition sponsors authentic heroes such as watermen like Dave Kalama, Jamie Mitchell and Shayne McIntyre, along with cutting-edge artists such as Sandow Birk. QuiksilverEdition also supports grass roots events such as the annual Oahu to Molokai paddleboard race in Hawaii.
QuikSilverEdition has set the stage for the men's sportswear collection business of the future…a unique line of casually luxurious designs that speak your language.
---