Back to News
Thomas Wolf Joins the Liquid Boardwear Team
December 21, 2006
Thomas Wolf Joins the Liquid Boardwear Team
Montreal, QC – An accomplished artist, a skater, and national snowboard champion. These are all virtues on Thomas Wolf's resume. As an artist, his mediums are photography, acrylics, abstract prints and 3D renderings. He competes in Superpipe, Slopestyle and Boardercross. Amazing indeed. But what is even more amazing about Thomas Wolf is that he does all this despite being legally blind.
He was diagnosed with retinitis pigmentosa when he was 10, by age 25 he was deemed legally blind because of his narrow visual field and nightblindness.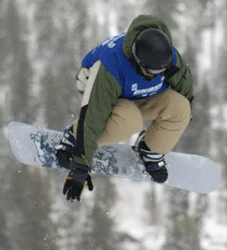 Wolf credits his wife Kimberly Nga, for inspiring him to reclaim his snowboarding habit in recent years. He says, "When Kimberly and I first met, she really wanted to try riding. We went boarding a couple of times, and she was hooked. Because this was a sport that we both loved and I had previously lost, she really encouraged me to push myself. I rode and practiced switch and using what vision I had more efficiently as she learned the basics. It was meant to be, so much so, that we spent our honeymoon at Whistler/Blackcomb for opening weekend." Wolf has not only reclaimed his passion for the sport, but has found Liquid Boardwear, Dragon Alliance, and Never Summer to sponsor him.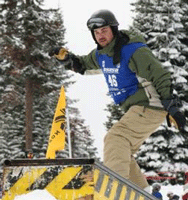 Last year at the USASA Nationals, Thomas dominated coming 1st in the Freestyle Men's Adaptive Division. This included a gold in Boardercross, silver in slopestyle, and bronze in super pipe. He is focused to repeat his success. This season should be one helluva ride.
Liquid Boardwear is super excited to have Thomas join the team. His positivity and creativity is truly inspiring. Words can not explain how amped we are to be supporting Thomas and his endeavors. He rocks.
For more information regarding Thomas Wolf, check out his website at http://home.comcast.net/~thomaswolf1070/index.htmlor check these links: http://www.foundationfightingblindness.org/coping/story.asp?id=60
http://www.ampedriders.org/index.htm
http://www.adaptiveactionsports.org/
About Liquid Boardwear: Liquid Boardwear is focused on supporting upcoming riders. Liquid Boardwear is a convergence of tech and style. It's a company reflective of its passion on snow, building real life clothing for real life riders.
---