Back to News
Erik Joule, Senior Vice President, Men's M & D North America, Quiksilver
January 1, 2007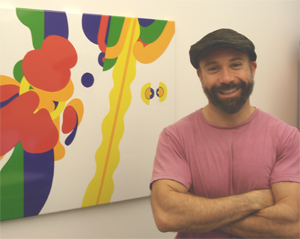 Erik Joule, Senior Vice President, Men's M & D North America, Quiksilver
On any given day you can find Erik Joule working with a team of people to "build a clear point of view, clear vision, and a good representation" of Quiksilver's Young Men's, Boys, Accessories, Footwear, EQPT, and QuiksilverEdition lines. Quiksilver picking Erik for this position is a testament to his ability & professional skill. This interview may also give you insight into a perpetual question -- "What is more important, industry experience or experience within your profession?"
Do you come from a Design or Merchandising background? Or a little bit of both?
A little bit of both. The way I grew up in Merchandising was one foot is in design & product and one foot is in analysis. I don't have any design skills per se, but I've always had an understanding of what product should look like, feel like, and be like. Merchandising is really a hybrid of many functions -- I actually went to school for philosophy.
Today Merchandising is a little bit of an esoteric term because it means something different in every company. The Merchandising I grew up in serves as a strategic visionary function, that brings Marketing, Product, Design, and Sales together that exceeds customers' needs. As a Merchandiser you move the brand forward, work as a brand keeper or brand police. Growing a business is kind of an easy thing, doing it within a brand is tougher. Merchandising gets tricky in that you have to work within the confine of a brand.
I worked under Mickey Drexler from Gap, and he along with Michael Jefferies from Abercrombie & Fitch are regarded as two of the best Merchants in the United States.
Merchandising is also rallying a team together to move towards a common goal. You're never extremely popular with any one group and you never make a decision that's going to please everyone because you do it for the brand.
Can you provide a quick career synopsis?
I went to school for philosophy. At 19 I got a job at Gap in the stock room, and then on the sales floor. When I got out of school I wasn't sure what I would do because I spent all of my time philosophizing. My boss at the time made me an Assistant Manager of the store, and later I became a General Manager. I've always had a very strong opinion on product and Gap had a Merchandising training group that would let me put it to work. The program had 12 openings and I was accepted as a Trainee. From there I moved into Merchandising. My career began on the domestic side at Gap and then I moved on to international working on Japan, Canada, and Europe. It really enabled me to understand how important it was for a brand's message to resonate across the globe. A brand can be positioned differently around the world, but its message has to be consistent and clear.
10 years later I was excited, living in Marin County with a great position at Gap. One day I was recruited by Guess to help the company work out of the urban arena to a fashion influenced line. We did that successfully for 2.5 years. And then I decided to leave business. It had been a long time since I was in product so I left the industry and worked for Disney ---- and that taught me that I really love product. I contemplated what I wanted to do next, but knew that for certain it was back to a company that wanted to do more. That led me to Quiksilver.
Quiksilver has allowed me to apply all that I learned over the past 14 years. To utilize my knowledge and skills and apply those to a place that has so much potential and a talent pool ready to be taken to the next level.
What does Merchandising mean here today?
It was much more of a product development function. It had production and development in it, but it is evolving. Today it really is becoming a strategic function that serves as a liaison between Design, Marketing, Sourcing, and Sales. Merchants have a foot in the creative and a foot in analysis. They are building a point of view, clear vision, and a good representation of the brand. It's tough to do and we've had to make some important decisions. We've had to coral the brand a little. We have to be a little more disciplined when it comes to the brand.
What constitutes discipline?
In this case there are two major categories of discipline - creative and fiscal. Fiscal is looking at how much volume are we currently doing and at what margins, and how much we want to grow. First, fiscal strategies are looked at independently from creative. But, then we transcend fiscal discipline to creative discipline to exceed expectations, take smart risks, all the while protecting the base of the business. We try not to be limited by our fiscal constraints, and focus on striking a balance between edgy creative fun things and financial discipline. It comes back to the brand and what a brand means. The product is at the cornerstone of everything we do.
Does this discipline reach across the board from socks to your marquee product of the season?
It does, yeah. To a consumer if you're going to purchase a Quiksilver product it really means the same thing whether it's a pair of socks or one of our Outerwear pieces. In general a consumer isn't thinking about which one of our teams created it, they're thinking about the Mountain and the Wave. The consumer has expectations from our brands and expects them to be exceeded no matter what part of our line it is.
Did you have experience in or knowledge of the Action Sports industry before joining Quiksilver?
No. I'm an outdoors person, but not an Action Sports person, and I won't try to pretend to be someone I'm not.
What drew you to the company?
I saw Quiksilver from the outside as more than just an action sports industry. I saw it as an outdoors company. Right or wrong that's what I saw as a consumer.
Quiksilver is a California cornerstone. I just also felt that because it was an Action Sports brand there was a certain amount of creative freedom and soul more so than what can be found in other brands. Quiksilver has a true history behind it - like Levis and Nike.
What do you feel makes Quiksilver unafraid of bringing on someone who was not born & bred in the industry?
This is going to be my point of view, not necessary the company's. I think Quiksilver grew organically to a certain point and then became large enough to warrant a change. At this point of the company's lifecycle there are different ways of looking at the business, product, and brand. Quiksilver was seeking someone with a bigger brand experience to really help them get to the next level. Quik was more interested in my professional background and my general approach to brands and product than my personal affinity for Action Sports. In the end I think product is at the core of all we do. The reason people are driven into the apple store is because the image and product is sexy and drive you to it. It's the same way with BMW, or Mercedes Benz, and it's the same way with Quiksilver.
What from your past experience are you contributing to Quiksilver at a strategic level?
Brand discipline. Understanding who the customer is, understanding who it is that we're designing for. Our customer is 16-21 and we must understand that in order to put the right product forward. At Gap we new who the customer was, very well. For many years and at many levels they stuck to that and they were very successful.
At Quiksilver we are at a point where we have to define and narrow our message to be more targeted to our customer. We're in the process now, and it really is something that is perpetual, and never done.
We're building discipline around the brand. A brand can be everlasting or come and go. We have a mountain and wave logo and you don't want to screw around with that. If you're not disciplined around that there could be big potential problems. For example, if Nike does something with the Swoosh that damages what current customers expect from it, then there's a problem. There is a way to exceed expectations within a brand's definition. You can do unexpected things, but they have to fit the brand.
How big is the M&D operation you're in charge of?
I'm responsible for roughly $280M in annual sales. That encompasses our North America M&D of Young Men's, Boys, Accessories, Footwear, EQPT, and QuiksilverEdition. A newly created brand will soon add more to the top line. Basically everything on the male side of things except eyewear watches and wetsuits. It's quite large, but its small enough you're able to take some good risks. It's not a $4-5 billion dollar division yet.
Who do you most commonly work with on a strategic level?
Two people who are inherent to our success are Natas Kaupas and Matt Andersen. We make a very strong team. We all have different backgrounds, and between the 3 of us we balance one another well.
The success of a Merchant lies in his or her ability to forge strong relationships. He or she must enable people move along towards a goal at the speed you want them to without directly telling them. You can not tell them to go to a certain location; you have to inspire them to go. It's intricate in the success of the M&D.
Do you feel like you are able to successfully embrace the Action Sports culture? Why or why not? If not, why is it good not to?
I'm able to embrace the culture. I understand it and what makes people tick. It's not necessarily in my blood, therefore my approach business and creative can be a bit more objective sometimes.
From the outside, there's so much people can relate to with this brand, it can inspire people to do different things, and take more risks. You can apply the feeling conveyed by these sports to your own trials in life. I'm trying to make sure that inspiration is evident to and seen by the common man. Someone who hasn't ridden a 40 foot wave, or dropped a gigantic cliff on a snowboard can understand the essence of the culture and our brand identity transcends to that level. It's like what happened with Lance Armstrong. Whether you're an avid biker or not his perseverance and resilience resonated across the nation. There's a lot you can learn from guys riding waves, skating, or snowboarding. What motivates them to do that? Maybe it inspires you to look at things differently and that's how you're going to inspire more people and increase brand awareness.
What similarities or differences do you notice between Quiksilver and past companies you've worked for?
Similarities – fast pace of the job, complexity, ever-changing competitive environment. That's very similar to any other product company. The types of people that work in the apparel industry, action sports or not, have a certain mentality, drive and attitude. It takes a certain type of person in M&D or marketing to succeed.
Differences – there's far more flexibility than where I've been in the past. Quiksilver empowers its people more than I've ever seen. The company is willing to give people opportunity to take risks. Processes do not drive what we do, and we're not stifled by them.
My 10 years at Gap taught me a lot of what I know. Processes were paramount to everything we did – there was a manual for everything. The company said, "Go from A to Z and this is the way, and it's the only way you're going to get there."
Quiksilver doesn't tell you. It's more along the lines of "I'm going to Z and team, as long as you get there within the time constraints its ok." It's malleable, flexible, and has an ability to change that is unprecedented at its size. On the product side of things Quiksilver is very open to change, and that's very different from everywhere else I've worked. In our business it's imperative. Years ago I heard Don Fischer, who founded Gap in '69 and was always the elder statesman, say "change or fail." That statement is truer today than in our corporate meetings back in the 90s. We have to constantly be flexible to stay relevant. In business and in life, and Quiksilver is able to do that even at this size.
How does all of this translate into what you do on a seasonal basis?
Actually, everything is managed more on an annual basis right now. Right now we're in the beginning of conceptualizing '08. We're developing our business plan, in conjunction with creative brief – and then it evolves...
We'll determine what we're going to do with specific product classifications, and eventually you have a line that's organically developing until it's narrowed down and clearly defined – everything always goes back to, or answers to, the brand and our brand's annual message.
It's not just a top down approach here either. A lot of great ideas in a corporation come from the bottom up. It's a misconception that top-down is the way things needs to be done. It's important to have ideas & direction come from the top, but we need to be very open to what's coming from everyone else that is involved in the process. Most ideas and changes really came from the teams. They're the ones that bubble them up, and challenge the statuesque.
Who sits at that table during the first meetings / discussions for an upcoming year?
The first time ideas are discussed it can be anywhere - on a plane traveling for business. Recently we pulled together marketing & design from our headquarters as well as overseas for a meeting at a house in Laguna Beach to participate in the early stages of planning. Product and Marketing have to be together and on the same page from the onset, they can't be separate. Marketing can't be a recipient of ideas and direction 6 months down the road. They have to be part of creating the story from the very beginning.
What comes out is a mission statement and creative brief.
Can you give us a day in the life during the busiest time of the year?
Throughout the year I travel a ton - at least once a month and mostly internationally to various destinations around the world like London, Hong Kong, NYC on the domestic side. In addition to traveling, I'm always managing four seasons at once - Holiday 06 is in the stores so I'm listening to feedback on it, we're in the middle of developing Holiday 07 and using that feedback to perfect the development. We just finished our summer / back to school meetings and we're in the middle of planning Spring 08.
Every day you're touching four seasons, and you're touching every department –from Sourcing through Sales. The ability to multi-task is very important. In my position I don't get into the details that much, I rely on my team. Working on so many brands requires me to have the ability to jump around from each division and attempt to provide input and leadership. Everyone needs something different, one team moral is high and one can be low. You must have the ability to adjust. A lot of what I do has to with motivating teams. Make sure they're happy, focused, and willing to take risks.
I also get out in stores a lot, and read a ton of publications from Harvard Business Review to articles on foreign policy to design magazines like Dwell. So many sources of information are applicable to design and merchandising and it's a constant process of getting educated in what's happening. Today trends transcend all. It appears in everything not necessarily just clothing. Everything has a common thread running through it. I'm constantly aware and open.
80% of your time at work goes to:
It goes to people right now, and strategy.
20% of your time at work goes to:
Operational side of things, very little, definitely not more than 20%.
I'm involved in quite a lot. But really the 67+ people that make up our M&D team are making it happen. It's their ability to challenge status quo and my ability to support them to do so.
Top 5 things to do on the job?
Talking to folks.
Listening to people from different departments. Find out what is happening, frustrating, motivating. People at the more junior experience level tend to take more risks because they don't know all the baggage that can come along with risk so it's really exciting to hear their ideas and ideals.
Product – getting involved, and seeing everything come to life. Concept boards, samples. Being hands on, I love to have new product in my hands.
Mid-term strategy. Working with Matt & Natas on where we will be 2 years form now.
Travel – I love to travel. The best thinking I do on is planes. I ponder, write, some of the best ideas we've come up with have been at 35,000 feet. Destinations are great, getting there is fun as well. You're in transit mode, not here nor there. Everyone wants to get there. Enjoy the day and moment. Enjoy traveling. And enjoy the process of creating instead of wanting to look at the end result.
What is the biggest challenge in your work?
I think Quiksilver is at a crossroad right now. We have amazing history, and people in the organization, and we have to recognize and embrace them while evolving the company to it's next phase. How do you evolve and change while using the history to your advantage? I've only been here 2 years; I'm young, and come from a different industry. I don't have the credibility of someone who's been here for 10 or 20 years. If a company did not need to evolve that challenge would go away. But at this moment evolution is needed.
Biggest Reward?
Being part of making change happen. We've been able to reinvent the way we do M&D. It's yielding positive results, and that's really exciting. And the biggest reward of all is that I didn't do it. When I came on board I said to everyone, "what have you wanted to change for the past few years?" We all worked together and make it reality. That is why change happened so quickly. They engineered it, I just facilitated. Brand and product are king as everyone knows, but people are what makes a corporation or a brand and you're only as strong as your people. The people are what make a corporation or a brand, you're only as strong as your people.
A few words of advice for the up-and-coming generation of Merchandisers & Designers?
You always want to know where you're going, but you can't let it define you. You're never gonna get where you set out to go, or at least not as you expected, and inherently you will understand it's not that important. What's important is the process moving forward. Where you're going is ever-changing, ever-fleeting and being flexible enough to know that the road and destination always changes. The road might look different on Wednesday than Monday and you need to be completely comfortable with that. Never loose your ability to change.
---