Back to News
Art For Life A Huge Success
February 5, 2007
Art For Life A Huge Success

Carlsbad, CA (February 5, 2007) - Creative Deployment in conjunction with Grind for Life would like to thank all contributing artists and sponsors for the huge success of the "Art for Life Board Exhibit and Reception" during ASR Jan.25-27 2007. Friday nights reception hosted by Premise Immersive Marketing was a tremendous success and we are proud to offer up the E bay link below so the bidding may begin on the decks with the proceeds to benefit the "Grind for life" to aid families affected by cancer.
Featuring over 35 artists work including decks from Steve Caballero, Chris Miller, Renee Renee, David Hackett, Steve Olson, J. Grant Brittain and many more!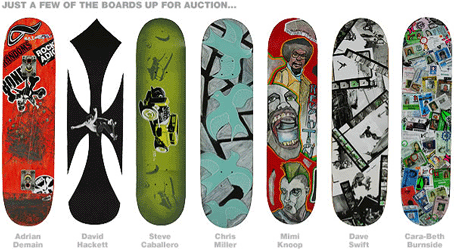 All the contributed decks will be available on Ebay from Sunday February 4th thru Sunday February 11th. Don't miss out on a chance to own "one of a kind" art designs by some of the most prolific names in skateboarding! We want to thank our sponsors for helping to make such a successful event, ASR, Premise Immersive Marketing, Lightning Brewery, Mechanical the Original Grip Tape Co., Syndrome Distribution, Sandow Media and of course Grind for Life!
Grind for Life is a 501 (c) 3 Non profit organization that assists families affected by cancer through skateboard contest series, demos, appearances and other events.
For more information go to www.grindforlife.org

###

ABOUT CREATIVE DEPLOYMENT
Creative Deployment has created a truly unique, endemic, professional and sincere "one-stop-shop" for all of your business' creative, advertising, web needs and more.
Checkout www.creativedeployment.com for more info and our complete portfolio.
For more information: [email protected]
For sales: [email protected]
---