Back to News
Ryan Runke – Marketing Guru, Rome SDS
February 1, 2007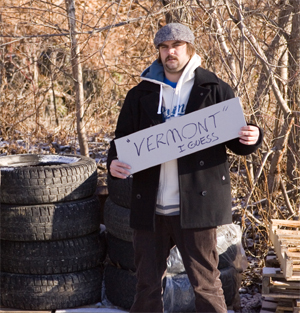 Ryan Runke – Marketing Guru, Rome SDS
Ryan Runke's commitment to building a successful career in the snowboard industry is demonstrated by where he's lived since the turn of the century – started in Colorado, then to San Diego, CA, on up the coast to Seattle, WA, and today he's in Waterbury, VT with the Rome SDS crew.
What's your current Job Title at Rome?
First things first, I'm not in job titles. If we actually put a title on everything we do at Rome everyone would have about 8. I work in marketing with a super tight, talented group of people. Everyone here has a role and no single person should get more credit than the next. Titles are only used to make other people think you're important. If you don't think I am important enough to deal with unless I flash some biz card and Job title at you then I most likely will not be doing business with you anytime soon.
When did you decide to take the leap from working in a retail shop to working with a brand? What was your first position?
I showed up in southern California with no idea what I was going to do. All I knew is that that is where I needed to be to get into the brand side of the shred game. With a couple friends at companies and some super dumb luck I landed a job at V2 optic (a small now out of business sunglass company) DBA as Version and Velvet Eyewear as the Team Manager and dealing with all other general marketing. I had no idea what I was doing but bullshitted my way through and figured it out quickly. Got to work with amazing snowboarders like Jeremy Jones, Mitch Nelson and Janna Meyen (still my best friend today)
What was the most "eye-opening" truth or aspect of the industry or your job you encountered once you were working for V2 in San Diego?
That a large amount of the industry is run by people that have no idea of what is going on in Snowboarding, skating or surfing.. I respect the way our industry has grown to a actual industry and the need for big business structure but still believe that the people making decisions need a strong background in and love for shredding. There are plenty of talented people that have come from living our lifestyle and culture that are way more qualified than some random kid with a master's degree and no background in the sport.
What made you take the leap from San Diego to Seattle?
About a year into being at V2 optic, K2 Inc came in and purchased the company like they were doing with so many others. With the purchase, Scott Mavis and the rest of the crew at Ride began overseeing all V2 operations. At this point our office was still located in Carlsbad but slowly was being transitioned to the Seattle K2 office. I was stoked to be working with Mavis (still the best boss I have ever had) and the opportunity for the K2 International Team Manager was available. I had not thought much about it and was kinda not into it at first. I think we talked about it for a couple - 3 months before it all worked out. It was just the right timing for me to move to a bigger brand or go work somewhere else completely. V2 was on the outs and I was ready to start something new. The chance to work with riders Like Gretchen and Wille was all-time so could not pass that up.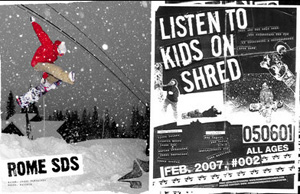 And then from Seattle to Waterbury?
Let's just say change is a good thing. It was the best decision for me and my fiancée to move out east. We both had amazing opportunities to make the move at roughly the same time. Timing is everything and it all just lined up the way it should. I am honored to get to work with the SDS. I ended up exactly where I belonged and would not want to be anywhere else. It's refreshing to work for a REAL snowboard company.
You've worked in three corner-stone geographic areas of the snow sports industry, San Diego CA, Seattle WA, and now Waterbury VT. What sets each one a part from the other, and what do they share in common?
Weather! Besides that I would say quality of living and type of people. My best friends are in SD; I love the city and culture of Seattle the best and have the best quality of life in Vermont. If I could combine all 3 would be set.
Is the transition from Team Manager to Marketing a shocker in anyway?
Not really, being a TM for a big company is good times. You kinda are on your own program and no one seemed to bother me on the day to day expect for the riders. It was nice to cruise in and out and go where I pleased. I am quite a bit busier now and can't fall off the face of the earth on some shred trip without making sure all things are covered. Just overseeing a lot more deadlines, projects and multi-tasking a bit more.
What experiences as a Team Manager are proving most useful to you as a Marketing Manager?
How to deal with people that want to be have everything handled for them. Being on call 24 hours a day if something comes up or needs to be handled. Giving your life 100 percent to your job.
Is there anything about your current position that is different than what you anticipated?
I would not say there is anything I did not expect. I would have to say the biggest change is the difference of environment for corporate world to privately-owned. There is a lot more passion at Rome. A lot more than I would guess you could find almost anywhere in this business, hence the days are a lot longer and filled with stress than you may not find other places. When the owner is working 80 hour weeks to make sure everything he touches is perfect on every level, well you have to do the same. The bar is set super high here hence why we have been so successful in such a short time.
Now that you are responsible for trade-show operations, is it as much fun as it was before?
Simple - NO not a chance. Being a TM was a breeze during tradeshow time. I would show up first day of the show around noon, hang out for a bit, start to party, that would last until about 5 am go to sleep and repeat. I would do that for a couple days and when I was over it I would get in my truck and leave. Just the amount of planning to that goes into trade shows makes me over it long before it happens. Booth design and build, travel plans, GES, merchandising etc. It is a very big group effort at Rome to make it happen. If I could loose this part of Snowboarding and /or my job I would be ok with it.
Rome SDS is blowing up in the popularity of its boards and all the new product categories being added. How do you handle the challenge of giving the proper amount of attention, in terms of Marketing, to each category?
WE have done it correct. Not launching new categories until the product is perfect and the business can handle it from sales, to marketing dollars etc.. We have this super equation to make it all work but it's kinda a company only thing I am not allowed to discuss it.
How do you use to measure the return on your efforts?
When you see the company doing well, and see kids stoked on what you're all about that is about the only way to measure if you are doing a good job. I guess that is it, I don't know - am I doing a good job?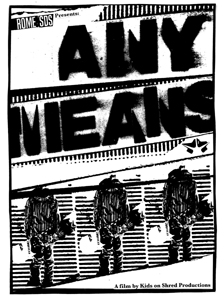 What projects are you working on now that will soon be ready for the public?
"Any Means" the Rome movie that will be out fall of 2007. We wanted to take shot at showing everyone how we see snowboarding. John Cavan (from grenade and mongo) came on board to work with us as well as group of other filmers and the Rome team to make a raw team look on snowboarding. Skating is making it so easy to see how it should be. With team movies as the main outlet and companies like Baker doing such insane independent projects we wanted to do the same thing. You can check out all the info on the project at www.romesnowboards.com
Today 80% of your time goes to?
My job
20% of your time goes to?
My personal life
Top 5 things to do on the j.o.b.?
Time Management, Budgeting, being creative, multi-tasking, always being on call.
What is the biggest challenge in your work?
Time management.
What is the best reward?
I get to travel the world, be creative and work with some of the best people, riders and artist in the world. I get to do what I love and get paid for it. Snowboarding is my life, this business is all I know. It is not a job it is a lifestyle.
If willingness to relocate is an indicator of dedication to a career & lifestyle, then you are setting the benchmark. What can you tell the next generation?
I am just stoked to be where I am at. But more so to watch the friends I have known that got into this for the right reasons all getting there shot to really make a difference in snowboarding. People like Ricky Melnik (DVS) Jeremiah Pebley (SnowPark Tech) Alex Pashley (Rossi) just to name a few kids that got into it for the right reason and are in major roles and are pushing snowboarding in the right way.
---