Back to News
Airwalk Signs Rodney Jones
February 16, 2007


Airwalk Signs Rodney Jones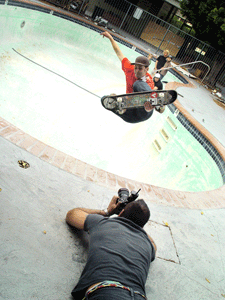 (ENGLEWOOD, CO) February 16, 2007-Collective Licensing International is proud to announce pro skater Rodney Jones to the Airwalk team. Rodney joins Airwalk after a successful 2006, where he took 9th place overall on the Dew Action Sports Tour. Maryland native Rodney has been skateboarding and competing since he was ten. His progressive street style has been a familiar force within the East Coast skate scene for years.
Rodney will be joining champion vert skater Andy Macdonald, longboard surfer Josh Mohr, surfer Anastasia Ashley and snowboarder Jimmy Dowd on the 2007 Airwalk team.
"It is cool to be a part of one of the original skate brands, throughout the years Airwalk has sponsored some of the most important riders in the industry. I am excited and happy to be on the team," said Rodney.
Traveling the world to compete, Rodney placed 2nd in the 2002 West 49 Canadian Skateboard Open, 2nd in the 2002 World Cup in Prague, and 3rd in the 2002 Gravity Games. Since then, he has graced every skateboard magazine and has landed parts in various skate videos. He has three signature pro boards with Powell Skateboards and a set of pro wheels with Bones.
"Rodney brings a new dynamic to the team, his ability and accomplishments in skateboarding are undeniable," said Eric Dreyer, Collective's Vice President of Brand Management. "We are psyched to have him on board"
Rodney is also dedicated to giving back to kids by teaching skate camps in the summer and doing demos and autograph signings whenever possible. He continues to inspire skateboarders of all ages.

###

About Collective International, LLC
Collective was formed in January 2004 and is the owner and/or license operator of the Airwalk®, Vision Street Wear®, Sims®, Lamar® and LTD®, World Snowboarding Championships®, Sugarboards®, Carve®, genetic™, Dukes®, Rage®, Ultra-Wheels®, Premise and Skate Attack® brands. Collective is based in Englewood, Colorado.
---