Back to News
The Artec Blueprint Series Wins the Volvo Sports Design Award 2007
February 16, 2007

The Artec Blueprint Series Wins the Volvo Sports Design Award 2007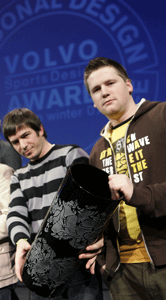 On the 12th of January 2007, the VOLVO Sports Design Award jury meeting at ispo winter 07 took place in Munich. 328 products from students, designers and the entire sporting goods industry competed in seven categories. The innovative quality of this year's products was on an outstandingly high level and due to the fact that there were more products in the competition than ever before, we are extremely proud that the Artec Blueprint Series has been awarded as the winner in the Board Equipment category.
"Snowboarding is not just a sport – it's a state of mind and style. Since the beginning riders fashioned their boards with paintings or stickers. Now the Artec Blueprint Series offers a fantastic further possibility: Your personal artwork or photo printed directly on a high performance board. A dream comes true", states jury member and founder of the Volvo Sports Design Forum Reinhard Pascher.
The Artec Team board, with its proven shape and construction, is the foundation of the personalized Artec Blueprint board. On sale for only 549,- Euro and available in three different length (154, 157, 160cm), the board features Elans patented Omega Sidecut, V2R Sidewalls, a lite Transfer Woodcore and a fast Warp Speed 8 running base.
All details regarding the 3rd Volvo Sports Design Forum can be found at: www.ispo-sportsdesign.com

---