Back to News
Donald Cassel, Founder & Owner – Dark Horse Distribution
May 1, 2007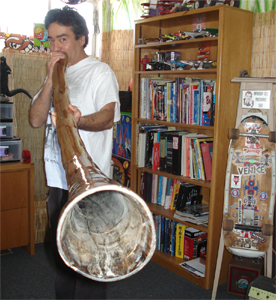 Donald Cassel, Founder & Owner – Dark Horse Distribution
Donald Cassel's entry into the skate market as a business began with the development of a new kingpin to improve grinding. That progressed to designing the whole truck and today he still hand-shapes each truck mold for Grind King trucks. It's a slow, detailed process in which he takes an idea for a new truck design and hand carves it to a perfect, symmetrical, production-ready mold.
Donald also founded Termite Skateboards, the first boards that are proportionately correct for small kids (3-12 years old) – correct concave, six ply to make them lighter. If you've seen a 7 year old on a normal size skateboard trying to ollie you understand also understand it's value and place in the skateboard market.
Over the years he also was behind several brands that were iconic in their times. Donald has brought an innovative, inventive approach to the skate industry and the products his companies produce.
How did you first get involved with skateboarding?
When I was a kid I used to skate around quite a bit, I built a half pipe in our backyard and my brother somehow acquired two pool pumps so we would go around draining pools. This was in the late seventies.
How did you keep involved in skateboarding and active in it when you worked full-time in the architecture / engineering world?
I just did it for fun when I was working, but when I split up with my business partner in a development company I realized I needed to think of something else quick.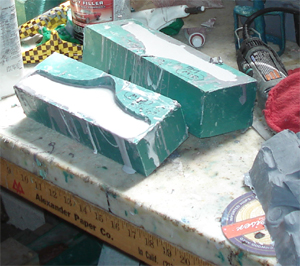 When did you decide to make a business out of skateboarding? Was your motivation a result of some particular skateboarding innovation you had in mind?
Right around that time when I ended the development company I had an idea for a skateboard kingpin (the adjusting bolt for skate trucks) that would be better for grinding. I always thought the old fashioned design that came from roller-skates was dumb because it would hang up when you did grinds. It also would get damaged and be hard to adjust.

Did you actually design the new kingpin yourself?
Being that I had a background in design and knew how to do mechanical drawings it was easy for me to design the grinding kingpin. Once I tested it and found out it worked killer, I knew I was on to something. So since what I created was a "grinding kingpin", I shortened the two words to name my product "Grind King".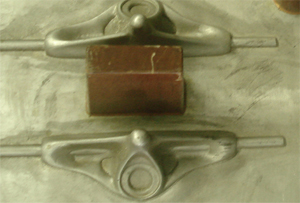 How long did it take for your business to become self-sustaining? You started in 1988, and what was the first year your only job was to run your company?
I originally thought I would just sell these kingpins as a side thing, but when I showed them for the first time at the ASR trade show I sold over a thousand of them. When I got back it became a full time job to have them made, package them, create ads, and ship'em. Then I invented some more hardware items and a couple years later started to design the entire truck with the Grind King kingpins already in them.
When did you create Dark Horse Distribution? Why that name?
As my company started to grow and I started to create new brands with different names, it was necessary to create an umbrella company that the different brands could fall under. I chose Dark Horse because of all the politics in the skate industry. Since I wasn't really part of the "club" I felt it was an appropriate name.
What are all the different business / brands you've created over the years?
Grind King, Haz-mat snowboards, Termite skateboards, Kre-per Anti-trucks, Grind Queen apparel, Society skateboards, Freedom skateboards, Venice Streetwear(partner), Plow snowboards(partner), Weasel snowboards(partner), Belladonna, Underdog shoes.



Why did you decide to make snowboards?
At that time snowboarding was just starting to really take off. The ski companies were still not embracing it, so it was easy for a skate company to jump in. I met with Mike Olsen and the good 'ole Mervin manufacturing crew. They liked what I was up to, so the next thing I knew I was makin' boards.
What happened to Hazmat?
As the snowboard industry grew, so did the greed and need of the ski industry. This made competition each year get harder and harder. To top it off my distributor for Japan decided to bootleg my product in China and make cheaper ones to sell with my name Haz-mat changed to Haz-mate. When I found out that was happening, I pulled the plug.
Why did you create Termite?
I started to notice more and more little kids getting involved into skating. Me and a friend of mine were standing around a bunch of little kids, when he said look at those "termites". I realized they did remind me of mischievous little termites so I thought that would be a great name for a kid company. What was missing from the skate market at that time were decks that were proportionally correct for skaters that size. There were some small decks, but the concaves were from the big deck molds. Termite offered higher performance decks with correct concaves and lighter six plys. This made the kids skate better and learn faster.
Does Termite sponsor skateboarders?
We do have a Termite team of awesome skaters from age 3 to 12.
Have any Termite riders gone on to be big-time pros?
Most of our riders are still to young for that, but there are definitely some huge potential.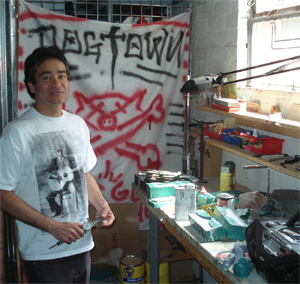 What's going on with Dogtown?
We are about to release some new things that were under development for some time. You will soon see what we are up to.
How did you get the license for Dogtown?
Jim Muir who owns Dogtown, approached me with the opportunity to have the license. Being from that generation and knowing a lot of those guys made it easy for me to say yes. Since I've always been located around Venice it also made sense for both of us. I also understand the D.T.culture much better than any of the previous licencees.
What is work like for you on a daily basis today?
I'm an idea guy, so I'm trying more and more to focus on that aspect of my business. I love to be in my workshop and create new things. Of course, there are everyday other things like meetings and business sh#! that always interfere with the creative flow.
How has it changed over the years?
Well nowadays I am trying to look at things in more of a big picture way. We are trying to systematize our operation more and create efficiency. It is easy to get complacent over time.
Are you involved with IASC? Why not?
Not yet, but I think we are almost ready to be a part of it. They really seem to try to make a difference.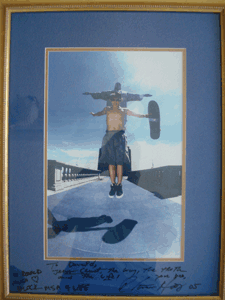 What are the best and worst notable events / conditions your generation has imprinted on skateboarding?
My generation which is the Dogtown era has undoubtedly left a permanent stain on skateboarding. The positive outcome is the attitude, art and style that was and is still cool. The negatives can be unfortunately seen in some of the heroes of that generation who could have prospered a lot more if they realized sooner that being a rebel and badboy only lasts so long before it takes its toll.
What is your take on the direction the industry is heading?
I think that change is inevitable, but nobody has a crystal ball to know for sure. I like to think optimistically about the future and look for ways and opportunities to get involved with. One direction that I think is cool and has huge opportunities ahead is to be involved in some way with eco-friendly and natural products. The Green movement has become the latest trend and that is a positive thing for sure!

---