Back to News
This week on The Daily Habit:
May 7, 2007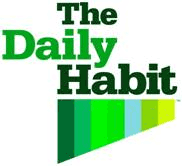 This week on The Daily Habit:
LOUIE VITO (Monday 05/07/07)
Volcom team rider and top contender in the Grand Prix series, pro snowboarder Louie Vito is on the show. Louie is all laughs but he's serious about his plans for the 2010 Olympics, kicking off the summer with the Abominable Snow Jam, and making his usual trip to Windell's Camp. Plus, Grenade and LRG team rider, snowboarder Doran Laybourn drops in to shed some light on his upcoming project with Jared Slater and Mongo Productions. And, correspondent Chris Fairbanks checks in from the final days of slope action at Big Bear Mountain. Louie's sponsors include: Volcom, Nike, O-Matic Snowboards, Monster, Spy, Technine, Boost Mobile, Vestal Watches, Kicker, Utility Boardshop, Neff, and Skullcandy. Doran's sponsors include: Grenade Gloves, LRG, Akomplice, Vans, Rossignol, Jacks Garage, Bluebird, Ogio, Aspen Snowmass, Smith, Ryme Kryme Family Ent.
JOSH SHERMAN (Tuesday 05/08/07)
We have a young phenom hailing from Breckenridge, he slays it all – backcountry, park to the pages of every major magazine. Snowboarder Josh Sherman drops in. Growing up one of the many talented riders of Breckenridge Colorado, Josh tells us how he rose among the masses and caught the cover of TransWorld Magazine. Plus, we're checking in on all the action from the US Open with Keir Dillon and Chris Fairbanks. And a great band we'll let you hear first and thank us later – Test Your Reflex performs live in the studio. Josh's sponsors include: Bonfire Outerwear, Salomon Snowboards, Smith Optics, Drop Gloves, Breckenridge, and Elm Headwear.
JAMIE ANDERSON (Wednesday 05/09/07)
She's only 16, already boasts an X Games Gold medal and is the current Burton US Open Slopestyle Champ, pro snowboarder Jamie Anderson is on the show. Coming from a big family of snowboarders, Jamie takes us back to her roots in South Lake Tahoe and brings us to date on her latest accomplishment of finishing 2nd at the 2007 Roxy Chicken Jam. Plus, Billabong team rider and pro snowboarder Stephen Duke pays us a visit. Jamie's sponsors include: Billabong, DVS, Salomon, Vitamin Water, Grenade Gloves, Electric, and Sierra-At-Tahoe Resort. Stephen's sponsors include: Billabong, Von Zipper Eyewear, Northwave Boots, Drake Bindings, Bakoda Accessories, Grenade Gloves, Ammon Watches, Elm Headwear, and Active Ride Shop.
SHANE BESCHEN (Thursday 05/10/07)
He's climbed the ranks of the WCT and now is turning heads as a progressive free surfer; Shane Beschen is on the show. This San Clemente local talks about what it has been like living his ideal lifestyle as a free surfer and his latest projects with his apparel company, Monument. Plus, getting ready for the upcoming "Pedal to the Metal" Fox BMX tour, we'll be joined by Fox team rider, Chase Hawk. And, BMX icon Jamie Bestwick gives us the scoop on his Levis teammates. Shane's sponsors include: Monument Clothing, DVS shoes, Oakley eyewear, Boost Mobile, Cyber wetsuits, and Mayhem surfboards. Chase's sponsors include: Fox, Lotek, Fit Bike Co., Boo Koo Energy, Odyssey, and Empire BMX.
TODD RICHARDS (Friday 05/11/07)
From schralping the gnar and naming tricks on TV, to making boards that slide on hills; this guys kills it – Olympian pro snowboarder Todd Richards is here. From being an Olympic competitor himself to announcing the big games, Todd Richards tells us what it has been like to experience and be a part of snowboarding's history. Plus, Jordan Morris is hauled off to get tough with the infamous Los Angeles Roller Derby Dolls. And, a great band, Tapes 'n Tapes is here to perform live in the studio. Todd's sponsors include: DC, Spy Optics, Quiksilver, O-Matic Snowboards, Vitamin Water, Nixon, Boost Mobile, Blue Bird Wax, and Northstar Resort.
"The Daily Habit" is FUEL TV's first original daily series, telecast weeknights at 9:00pm ET (6:00pm PT) while re-airing later in the evening at 12:00am ET (9:00pm PT), and the following day at 3:00pm ET (12:00pm PT) and 6:00pm ET (3:00pm PT). "The Daily Habit" encompasses the world of the action sports enthusiast, mixing the best in pop culture with today's top action sports personalities, cutting-edge music, product reviews, and comedy.
---