Back to News
This week on The Daily Habit:
May 26, 2007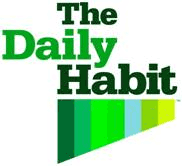 This week on The Daily Habit:
ZACK "CATFISH" YANKUSH Monday 5/28/07
Host of FUEL TV's show "Props," and one of the voices of BMX, DK team manager Zack "Catfish" Yankush is here. Catfish tells us how he's made the transition from rider to announcer and become a staple to the BMX circuit. Plus, Lost team rider and top ten WQS surfer Leilani Gryde drops in. Also, Eenie Meenie Records artist Great Northern performs live in the studio. Zack's sponsors include: Underground Products, Etnies, DK Bicycle Co., Maxxis Tires, Konig Wheels, and OBMX.com. Leilani's sponsors include: Oakley eyewear and apparel, Etnies shoes, Lost Surfboards.
JOEY BREZINSKI Tuesday 5/29/07
The manual tech wizard of skateboarding and winner of Red Bull's Seek & Destroy 2, pro skateboarder Joey Brezinski is in the studio. About to kick off his summer tour "Manny Mania," Joey tells us all about his plans with Red Bull to take over skateparks across the country looking for amateur skaters with some mean trick combos. Plus, we're plugging in the surge protectors and cranking it up to eleven with "The Bloody Hollies". And, Jordan Morris' Summer Movie Trailer Previews continue. Joey's sponsors include: Adio, Cliché, Red Bull, Autobahn, Grind King, FKD, Val Surf, and Diamond.
MIKE LOSNESS Wednesday 5/30/07
Today's guest rides for Body Glove and was the "rookie" who impressed all on his "Drive Thru South Africa" stint. Transworld Surf magazine called him the hardest working surfer in the business – the James Brown of surfing, Mike Losness is here today. Plus, you've seen his music videos right here on the Habit. His work for "Panic at the Disco" won MTV's "Music Video of the Year"; director Shane Drake drops in. Plus, the Jordan Morris Summer Movie Trailer Preview week continues. Mike's sponsors include: Body Glove, Adio Footwear, T. Patterson surfboards, Spy Optic, Dakine, and GFH Boards.
JIM RIPPEY Thursday 5/31/07
Today's guest is one of the biggest big-air launchers out there; he's got gold medals from the Van's Triple Crown, the US Open and the Innsbruck Air and Style. Jim Rippey is here. Plus, recording artist Pigeon John is back and this time he brought a band. And, known simply as "The Queen of Teahupoo", Keala Kennelly makes time out of her busy schedule shooting a TV show to stop by. Jim's sponsors include: Porter's Ski and Sport. Keala's sponsors include: Spy Optic, Billabong, Red Bull, IslandStyle, Vestal Watches, and Spyder.
RUBEN ALCANTARA Friday 6/01/07
From the new BMX film "Grounded," Etnies team rider and one of the true icons of BMX, Ruben Alcantara is on the show. Getting ready to take off for the Fox "Pedal To The Medal" BMX Tour, Ruben drops in and tells us how he came from his early days riding in Spain, to becoming a widely respected BMX star. Plus, Ruben brings some friends and fellow Etnies team riders to talk about working on the new film "Grounded". And, Edwin Delarosa gives us a tour around his local BMX stomping grounds, the Brooklyn Banks. Also, Jordan Morris and his movie trailer babes have yet another summer blockbuster movie preview. Ruben's sponsors include: FOX Apparel, Etnies shoes, Terrible 1, and Fly Bikes.
"The Daily Habit" is FUEL TV's first original daily series, telecast weeknights at 9:00pm ET (6:00pm PT) while re-airing later in the evening at 12:00am ET (9:00pm PT), and the following day at 3:00pm ET (12:00pm PT) and 6:00pm ET (3:00pm PT). "The Daily Habit" encompasses the world of the action sports enthusiast, mixing the best in pop culture with today's top action sports personalities, cutting-edge music, product reviews, and comedy.
---