Back to News
This week on The Daily Habit
June 4, 2007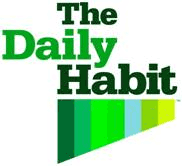 This week on The Daily Habit
JESSIE MARLEY Monday 06.04.07
He's from Huntington Beach, rides for Etnies and he's filmed timeless classics like "Next in Line" and "What's Next", surfer, snowboarder and filmmaker, Jessie Marley is here. The man behind Marley Time Productions, Jessie shares his many stories of success as a filmmaker and world traveling snowboarder and surfer. Plus, we're taking a trip to a hip Hollywood art show with Danny Masterson. And, we'll take a look at the summer movies with Jordan Morris and his trailer babes. Jessie's sponsors include: Tavik Apparel, Etnies, Vitamin Water, Toyota of Huntington Beach, and Anarchy Eyewear.
NICK TAYLOR Tuesday 06.05.07
Today, we're changing it up and taking a look inside the world of wakeskating with O'Neill team rider and rising star, Nick Taylor. Plus, we go for a ride with Bucky Lasek and...George Lucas?? After moving to the wakeskating Mecca of Orlando, Florida, Nick tells us how he quickly became the 2006 Alliance Wake Magazine's Rookie of the Year. And, get ready for a performance you won't forget from one of the hottest musical acts out there, EL-P will be in the studio. Nick's sponsors include: O'Neill, Nike 6.0, Integrity Wakeskates, and DSO Eyewear.
GAVIN GILLETTE Wednesday 06.06.07
Pat Parnell is out of the studio for the rest of the week, so today pro snowboarder Keir Dillon steps in as guest-host to interview Hawaiian native pro surfer, Gavin Gillette. Gavin made his mark at the 2007 Monster Energy Pro at Pipeline & even claimed the coveted Todd Chesser Award. Gavin takes us through his early days as a grom watching the pros charge at Pipeline, to this year actually standing on the podium himself at Pipe. Plus, we're heating things up just in time for summer with a Rusty swimsuit fashion show. And, Jordan Morris and his movie trailer babes are back for another steamy summer movie preview. Gavin's sponsors include: MCD, Globe, HIC, Oakley, and Da Kine.
TED DE GROS Thursday 06.07.07
We brought in pro snowboarder Todd Richards to guest-host today's episode with Santa Cruz team skater Ted De Gros. In his rookie year as a pro Ted's putting down solid film parts and quickly becoming a skate sensation. And, from the new film Hostel II, actress Bijou Phillips is here. Movie correspondent Jordan Morris sits down with Bijou and gets some tips on how to be a perfect onscreen horror film victim. Plus, Brayden Szafranski and the Baker team hit the putt putt course, literally. Ted's sponsors include: Lakai limited footwear, Santa Cruz Skateboards, Momentum Wheels, and Independent Trucks.
ALEX MOUL Friday 06.08.07
Pro Snowboarder Todd Richards is filling in today as guest host on The Daily Habit. Today's guest transplanted from Deathbox in the UK across the pond to the Santa Cruz skate team – one of the most recognizable Europeans in skate, Alex Moul is here. Recently doing some skating, judging and filming, Alex tells us how he has adjusted and climbed the ranks of the U.S. skate scene. Plus, Chris Fairbanks tackles the question, Goofy or Regular? And, he's been featured in this month's Rolling Stone, musical guest "Brother Ali" is here. Alex's sponsors include: Santa Cruz, Lakai flow, Indy Trucks, Spitfire Wheels, Project Hardware, and Furnace Skate Shop.
"The Daily Habit" is FUEL TV's first original daily series, telecast weeknights at 9:00pm ET (6:00pm PT) while re-airing later in the evening at 12:00am ET (9:00pm PT), and the following day at 3:00pm ET (12:00pm PT) and 6:00pm ET (3:00pm PT). "The Daily Habit" encompasses the world of the action sports enthusiast, mixing the best in pop culture with today's top action sports personalities, cutting-edge music, product reviews, and comedy.
---