Back to News
Vipe Desai, Founder & Owner – Propaganda HQ
June 1, 2007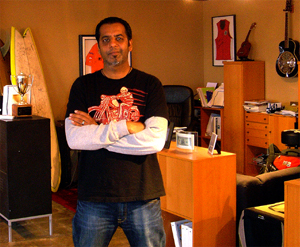 Vipe Desai, Founder & Owner – Propaganda HQ
New college graduate in a slow job market with a strong love for surfing and some retail experience led Vipe Desai to buying H20 surf & snowboard shop in Sunset Beach, Ca. That in turn led to the creation of the H20 Winter Classic contest, and today he's the Founder & Owner of Propaganda Headquarters – a leading Board Sports, Marketing and Management Agency with clients in and out of the action sports industry.
How did you get involved in the industry? (H20 - what got it all started for Vipe)
I had graduated from Pt. Loma College and was moving up to Torrance, CA to be with my family as I figured out what I was going to do. At the time I was moving back up the economy was going in to recession, the Gulf War was looming and people quit hiring. My friend Tom Cozad called me and said "hey, you've worked at a surf shop for a long time, this guy is selling his shop and we should buy it". Tom and I went for it! We bought the shop in Sunset Beach, CA and named it H2O. I was a kid who thought that owning a shop would allow me to surf more, but it didn't! Owning a business at the age of 22 was an eye-opening experience.
Over the years, the shop created a lot of opportunity. It was a great time because there was a shift going on. People wanted small shops that carried the fresh up-and-coming brands like Volcom, World Jungle, SMP, and Arnette. We were one of the first adopters of those brands. As a result of being a new shop that carried fresh new brands all the kids would hang out at our shop. This was by no means a strategy, we were in the right place at the right time and it really helped set us apart from other shops.
Your shop created the H20 Winter Classic Contest. How did that come about? (Pictured right, winners of the 2007 H20 Classic)
A couple of guys that worked at the shop and I were hanging out one day thinking of what more we could do to market H2O. One of the people was Bill Keller who was helping me run the store and our shop team. We thought it would be cool to do a surf contest, and then decided it would be even better to do a surf and snowboard contest. We started it on a whim. We were two guys who had no idea how to put together a contest. We picked a date, created hype, and somehow managed to pull it off. It was a different vibe. None of the shops were doing anything like it; it was way before other shops started putting together full scale events. The event pulled everyone together; we had an amateur division, a pro division, and an industry division. A lot of the most notable names in the business, then and now, came out and competed and had a great time. It became our annual family reunion of sorts that everyone looked forward to. It also created a little smoke & mirror effect for the shop. People thought we were a huge shop, but in actuality we were a small 2,500 square foot shop. It was doing things like that which brought us closer to doing the things that we love to do. BBQ's and autograph signings with pro's for the kids every summer the US Open came around, doing things for our customers and seeing their excitement, it all made us feel like groms.
When did you see the opportunity to transition to Marketing / Management agency from owning a shop and putting on the H20 contest?
Along the way of doing the H20 Contest I had an opportunity to meet a lot of cool people from different industries. For example, when we were doing the H20 event, we connected with the head of Interscope Records about doing a soundtrack for the H20, which was not a common thing to do then. Interscope was fired up and let us pick the songs, do the artwork and then printed up 50,000 CDs for us to pass out. I did some consulting for the Gravity Games when it first started, the Warped Tour back in the day, and X Games. Those types of opportunities to work with other people outside of the action sports industry, etc made me realize our industry was going to grow. I knew that there was going to be a need for someone to bridge the gap between the outside corporate world and Action Sports.
Along the way a friend of mine said we should start a consultancy so we created a consulting agency called The Shop. That was my first full-time run at consulting. Before that I was doing it off and on while running H20.
The first really exciting brand that we worked with was Red Bull when we helped them get involved with Action Sports at the 1998 Summer X Games in San Diego. We were able to share our expertise in Action Sports for Red Bull and demonstrate that we could connect brands in an authentic and credible way while at the same time bring value back to the industry and the athletes.
What did you do for Red Bull?
We created the Red Bull Athlete House during the summer X Games. It was a 3-story, 24-hour, VIP area for the athletes. At that time the X Games wasn't very hospitable to the athletes and we saw that as an opportunity to get Red Bull in front of the athletes. It was like a 3 story play-pen for the athletes that we ran for 5 straight days. 2 chefs working full-time to prepare fresh food, and everything else you could imagine to stoke out the athletes. Nobody was allowed in except for the athletes. If other credentialed people wanted in, we'd give them a peak but not let them get too comfortable and we didn't allow any TV cameras. This gave Red Bull a chance to really connect with athletes but also for athletes to connect with a brand that really wanted to support them. The Red Bull Athlete House pretty much helped launch the brand within Action Sports and led them to working with so many athletes and this industry. It was great working with a brand like Red Bull that trusted us but really got what we were doing.
When did the company change from The Shop to Propaganda HQ? (Lounge area of the headquarters)
I was at The Shop for at about year and I think I experienced a bit of a mid-life crisis. I know it sounds funny, 29 years old and I was having a mid-life crisis but I needed to take a break from everything. Owning a surf shop and then jumping right into something else creates turbulence in your mind and sometimes you need to unwind and not think about anything. I exited The Shop on good terms and decided to take some time off. A few weeks later after leaving The Shop an opportunity to do help reorganize SMP came up. It was short-term but a learning experience. Then I got a chance to work with Wahoo's Fish Tacos and that was immediately followed up by working with DaimlerChrysler. Before you know it I was doing almost the same thing as I was at The Shop but for myself. I could do what I wanted. So in 2000 I re-launched under my own agency of Propaganda HQ.
Was it a challenge to get Propaganda off the ground?
It was a challenge when I was starting Propaganda. I was going into the unknown and our industry as a whole didn't understand the agency business model and how they could utilize services at will. Brands handle everything in-house so there's no need to out-source marketing. But working with people outside the industry it was clear they needed a bridge to our culture. It was also a challenge getting corporate brands to believe in us, they're used to guys with suits coming in with a team pitching them on marketing strategies. We were surfers in jeans and t-shirts trying to persuade the suits that youth marketing was something that needed to pay attention to and that we could help them establish strategies and partnerships. It was a lot of really hard work in those days. But once we had an opportunity to work with outside brands a proving ground was established. We were able to help outside brands navigate opportunities with events, athletes, partnerships, promotions, etc.
What was Propaganda's first project and / or paying customer?
We were working with a couple of brands right out of the gate. Wahoo's Fish Taco and DaimlerChrysler were the first two big brands. They also introduced us to other clients by word of mouth. Wahoo's would tell people, "The person you're looking for is Vipe. Go to Vipe, he'll give you the ideas and his team will help you execute them." Then we had an opportunity to work with Dr. Pepper, HBO, Twin Fin Wines, iFilm, Op, Billabong, Surfrider Foundation and SIMA. The list just continued to grow.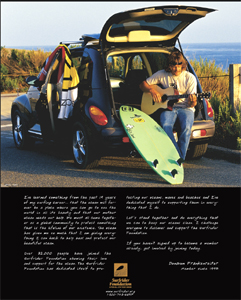 How has it evolved over the years? What new services were added and when?
Propaganda has evolved into a service oriented agency. We're always on the lookout for ways we can help launch new concepts or add value to existing efforts. When we first started I didn't think that we'd work with anyone within the industry. Along the way people realized we had expertise and they didn't have to hire us full time to get top-level work. Surfrider Foundation was one of the groups that we helped out early on. They didn't have a creative group to take care of ad campaigns, etc. We created an ad campaign for them pro-bono which lead to us to expand our Creative Services.
The other group in our industry that we've worked with is SIMA (Surf Industry Manufacturers Association) by helping them to execute portions of Surf Summit and the Image Awards. This is a perfect example of a group that needs special services at select times of the year without having to hire full-time staff.
The evolution of Propaganda is based on the needs of our clients. Over the years Propaganda has turned into a one-stop shop for marketing and brand services. We're able to turn-key concepts and ideas A-Z if needed or services can be ordered a la carte.
What was your job like in the beginning of Propaganda, during that first project?
In the beginning it was going in to the unknown. I didn't know how to start or run an agency. I just knew there was a need for it and I had a passion for putting fresh ideas together. I was really rolling the dice. I had to do everything from answer the phone to writing and pitching the proposals. That was a good thing though; I needed to learn all the steps of the process of working with clients and really made me a more service oriented person. It was really hard work, but it was rewarding to be able to apply everything I had learned over 15 years and produce results for clients.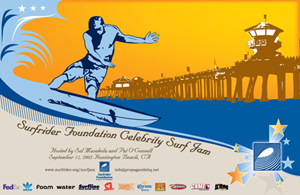 How has it changed over the years?
Along the way my responsibility shifted from having to do everything all the time to being able to create and manage the ideas. We have people inside and out of the organization that I can lean on for support. Because of having access to great people I'm able to manage and direct more than actually having to do everything.
What is your work like today?
About 25% of my time is new business development and the remaining 75% gets split up as needed for creating and managing ideas or directing approved projects. It's also about time management, with any number of given projects in the pipe, we have to be ready and available to keep things moving and addressing bumps in the road.
What's a day in the life right now, at the busiest time of any given project?
Typical day of a major project is really making sure all the ducks are in a row, and then constantly following up and making sure they're still in row. There are a lot of moving parts within any project and it's the paying attention to the critical milestones of every project that is important. You miss an important milestone and it could throw everything off. None of it is really stressful now, it's more anticipation. Once everything starts moving it falls into place. It's about making sure every move is calculated and accounted for. I start mapping out everything that needs to happen from what the final result should be, work backward through the process and make sure each step happens exactly the way we want.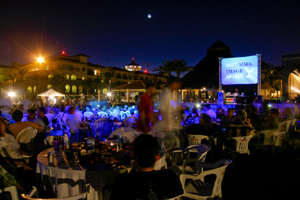 How many hours go in to completing one of your projects and how far in advance does work begin? (SIMA Image Awards)
It depends on a couple of different things. It depends on the scale of the project and the timeframe we have to work with. Once we determine the scale we determine a timeline. Let's take a look at project BLUE for example. It's been in the works for well over 12 months with thousands of man-hours during work and after work. We focus on the launch, maintenance and movement. But it's really not a matter of how many hours; it's the quality of the hours. For us, it's making sure we make the best use of our time. Not over analyzing or overworking it if it doesn't need it.
When it comes to events, people don't realize how much goes in to an event because they only see the end result. Surf Summit for example, is 4 to 6 months of detail oriented organizational work. People that attend Surf Summit see the end result, but it takes thousands of hours between 8-10 people from Propaganda and SIMA to make it happen. While we only handle the on-site production side of the work, it takes a team that knows how to manage their task and prep it to pass off to the next member.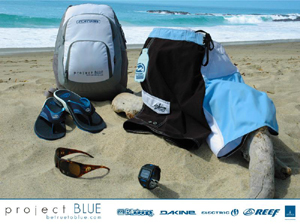 What is project BLUE?
Project BLUE is a new initiative that I started with 5 brands in our industry: Billabong, Electric, DAKINE, Nixon, and Reef. These brands will be launching products in early June that will help raise money for the Surfrider Foundation. It's been an exciting project and the brands have done a great job in championing this effort. There will be ads and promotions all year long promoting the products and the campaign.
For a number of years I've always wanted to be a part some sort of product based effort so instead of starting a brand, I started a brand that is a collaboration and will help a non-profit that is helping to preserve a natural resource that vital to the surf industry.
How will project BLUE merchandise be distinguished at retail?
The product itself will have either a project BLUE mark or it will have some color blue component to it. Electric's glasses are in a blue box and have a distinguishing logo. Reef has done a blue Mick Fanning sandal with a blue hang tag. Billabong has made a blue board short made from recycled plastic water bottles. DAKINE is doing backpacks and Nixon is making a watch with blue highlights.
Is there one regular element or responsibility of your work that someone would say, "I had no idea!"?
When you own your own business you are the janitor and the guy that is responsible for providing a stable job for the team. I like to be involved in everything. From cleaning the office to putting together the big deals. I've got to have my finger in the soup.
80% of your time at work goes to:
Having fun! It sounds corny but I really enjoy what I do and that makes it fun. I am living a dream.
20% of your time at work goes to:
Hard Work!! Nothing good is easy.
Top 5 things to do on the job?
5. Always keep an open mind
4. Respect everyone you meet
3. Always return emails and phone calls
2. Enjoy what you do
1. Make time to surf!
What is the biggest challenge in your work?
Making sure that Propaganda stays relevant. We have to constantly be in tune with what's going on in the world - our consumers, our industry, pop-culture, etc. We can never fall behind because we have to provide that up-to-date expertise to all of our clients.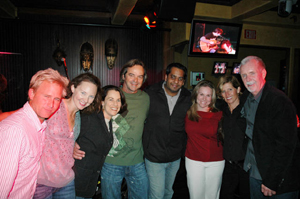 Biggest Reward? (Vipe, pictured with some of the friends he works with)
Being part of such an amazing tribe of people. Some of the most amazing people are my closest friends and at times they are the same people that I get to work with. Nothing beats working with people you enjoy hanging with.
What advice would you give to a young person who's moving up in the industry, or trying to get in the industry?
I get asked this quite a bit. It's kind of a tough question because the person asking me is really hoping I will say "abracadabra" and they will have their dream job. Depending on the age of the person asking me, if it's a young person around 18 to 20 I will recommend they cut their teeth at retail. Retail is the heart of our industry, it's where you get to see consumer's real reactions to brands, you get to see brands grow from the garage to the boardroom and network with every sales rep in the area. Every guy that worked at H2O that wanted to move into the action sports industry did and I believe it was retail experience that helped them get to where they are today.
To view more of Propaganda's work, visit:
---