Back to News
Dogtown Skateboards and the Surfrider Foundation Announce "The Green House Effect" by Glaceau
June 20, 2007
Dogtown Skateboards and the Surfrider Foundation Announce "The Green House Effect" by Glaceau
Venice Celebrates the Green Movement with Charity Event
Venice, Calif., June 18, 2007 – Dogtown Skateboards and the Surfrider Foundation LA Chapters are proud to present The Green House Effect brought to you by Glaceau. Taking place at the Venice Contemporary and Venice Grind, The Green House Effect is a celebration of Westside culture, rooting and rising into a gathering offering education, expression and entertainment. Beginning at 4 p.m. on Saturday, July 14, 2007, the event will feature a green expo, environment art show, expression celebration and party.
"Let us celebrate environmentalism with art, music, fashion and expression," said Donald Cassel, owner of Darkhorse Distribution/Grind King and licensee of Dogtown Skateboards. "The Westside has evolved into a progressive community that is becoming more aware and supportive of the positive movement that may make a difference in cleaning up our planet."
Green Lifestyle Expo and Artists/Media Reception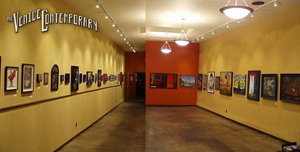 Held from 4 p.m. to 8 p.m., the environmental expo will include natural and organic products, organic food and drinks, green fashion and accessories, environmental groups, live music, educational demos and much more. In addition, a silent auction and mannequin display will offer attendees the chance to take home some of the hottest green fashions.
Rooting and Rising Environmental Art Show
From 4 p.m. to 1:30 a.m., the Venice Contemporary art studios will feature some of the regions most celebrated artists. Two rooms will feature the yin and yang of the global environment. Featured artist Wes Humpston, Dogtown's creator, will showcase his never before seen collection.
Expression Celebration and Party
After 9 p.m., the event will morph into an art, music and expression celebration featuring live DJ music, acoustic performances and live dancers and entertainers. The venue will be transformed into a creative and surreal interactive environment and landscape.
Surfrider Foundation's Ballona Wetland Project
Proceeds from the event will benefit the Surfrider Foundation, an international non-profit environmental organization dedicated to the protection of our coastal environment. Donations will go directly to the Surfrider Foundation South Bay Chapter for the Ballona Wetlands Project located in West Los Angeles. Surfrider supports restoring natural processes in wetlands such as the Ballona Wetlands to help resolve polluted runoff reaching our local beaches, threatening human health and a thriving marine environment. To meet this ambitious goal, Surfrider is working towards creating a network of "treatment wetlands" along the Ballona Creek.
For more information on the Ballona Wetland Project contact Joe Geever, [email protected].
About Quadrant 4 Events LLC
Quadrant 4 Events is a creative collaboration made up of active and concerned citizens of West Los Angeles. Q4 team includes: Maya Alarcon, Donald Cassel, Mauricio Garcia, Koit McIntire, and Juli Schulz.
About Glacéau
Formed in 1996, we are the creator of the enhanced water category and maker of vitaminwater®, fruitwater® and smartwater®. Glacéau is all about "keeping it real," and we use only natural flavors and colors in our products. (Why would you do it any other way, really?) Today more than five million bottles of Glacéau products are sold every day to thirsty people like you. Proof that when you put a better product on the market, people respond. For more information visit www.glaceau.com.
---