Back to News
Creative Deployment Adds Mobile Content Marketing to Traditional Print
July 2, 2007
Creative Deployment Adds Mobile Content Marketing to Traditional Print
Creates Poster Series For Subaru Rally USA
The posters utilize the latest in Mobile Phone technology, that was previously only offered in Asia. Japan has been on the forefront of cell phone barcode technology, allowing Japanese consumers the ability to scan information.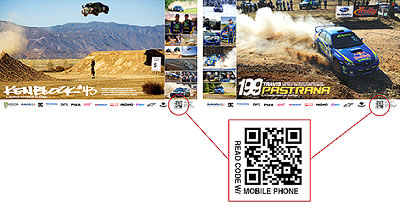 The Technology has seemingly endless applications like scanning your hamburger wrapper in McDonalds for nutritional facts, buying movie tickets, boarding an airplane with your cell phone, without requiring any paper tickets or in this case linking to the Subaru Rally Team site via athlete poster. For more info click the contact link at the bottom of the page.
ABOUT CREATIVE DEPLOYMENT
Creative Deployment has created a truly unique, endemic, professional and sincere "one-stop-shop" for all of your business' creative, advertising, web needs and more.
Checkout www.creativedeployment.com for more info and our complete portfolio.

---