Back to News
Kevin Addy joins Flow Snowboarding as National Sales Manager
July 2, 2007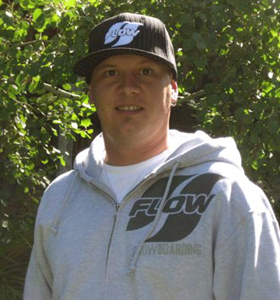 Kevin Addy joins Flow Snowboarding as National Sales Manager
June 25, 2007 San Clemente, California. Flow Snowboarding is very excited to announce the addition of Kevin Addy to the Flow crew. Kevin comes to Flow with an extensive background in the snow industry from both the supplier and retailer side. Kevin comes to us most recently from Palmer Snowboards where he's spent the last two years of his five as VP of Sales/Marketing. Before joining Palmer, Kevin worked for Specialty Sports Venture at Colorado Ski & Golf as a manager and buyer for seven years.
"I'm stoked to be joining the Flow crew! Their dedication to the progression of products in all categories is second to none. I'm a firm believer in performance and am excited to have such a strong product portfolio to attack the market with," says Addy.
"Kevin's experience, relationships, and drive will be a major asset to the Flow brand. With the continued momentum of Flow in the US market, Kevin is going to lead our sales team to the next level," says Sam Herrbach, VP of Sales & Operations. "The future is bright for Flow as we add key people like Kevin, and as we continue to bring to market innovative products that enhance the on-hill experience."
Flow is the originator of the reclining hiback binding. Since it's beginnings in 1995, Flow has been the leader in sales of this technology and now is currently the #2 binding in sales in the World. Over the past ten years, in addition to perfecting the reclining hiback, Flow introduced its own line of boots and boards, "Triple Threat Technology ". This system of boots, boards, and bindings is designed to heighten ease of use and control when used together. The Flow Team helped prove this by winning the 2006 Transworld Team Challenge, including best overall rider (Scotty Lago) and best halfpipe rider (Antti Autti).

---