Back to News
Vanessa Maestri to manage Mid Atlantic Territory for Nikita
July 3, 2007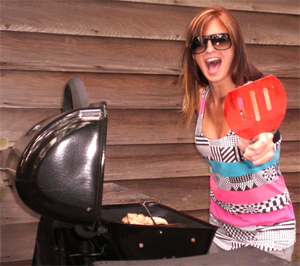 Vanessa Maestri to manage Mid Atlantic Territory for Nikita
Nikita is pleased to announce the addition of Vanessa Maestri to its rep force. Vanessa will be responsible for the Mid Atlantic Territory, and comes from a solid surf and snow background. A New Jersey native, she got her start at No Flat Earth as a buyer. From there she was taken under the wing of Joe Bragan and her repping career took off. In addition to Nikita, Vanessa represents Girl, Chocolate, Fourstar, Skatemental, Royal, Ruby, Sole Tech and Altamont.
"I've been asked to represent other brands but I've never been as passionate about anything as I am about Nikita!" Vanessa said. "From B-Girls to Snowboarders Nikita just works, I'm so stoked to be a part of this company."
As the newest member of the Nikita family, we want you to know what really makes Vanessa tick. Here are some fun facts about her:
-Vanessa's favorite mountain is Breckenridge, although she's spent many years riding at Okemo, VT.
-Her favorite movie is Almost Famous (we assume she sings along with Tiny Dancer every time).
-She loves to cry to Smiths.
-Her diet consists primarily of pizza and chicken.
For shops in the Mid Atlantic, Vanessa will be holding it down, and the buzz is, she gets the job done.
"Vanessa is one of the hardest working gals I've come across, supa kul and damn good looking, she is an avid Surfer and Snowboarder," Nikita's Amabile Dyer said. "I am at the edge of my seat to have her on board to take Nikita to the next level in the Mid Atlantic!"
---