Back to News
Carey Hart - Hart & Huntington Tattoo Co.
July 1, 2007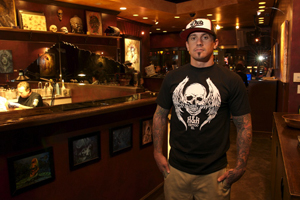 Carey Hart - Hart & Huntington Tattoo Co.

Carey Hart. You know him as a freestyle motocross star, but what you might or might not know is the man works his ass off to turn his goals into reality. (Photo Credits - Bill Thomas = Lifestyle | Simon Cudby = FMX | Kirk Bender = Supermoto)
When did you first start thinking about what you would do to transition from being a professional athlete to having your next step?
Ever since I was seven years old I loved tattoos. I'd come home from school with drawings all over my arms. They were a passion of mine.
In 2002, I moved back to Vegas and was at the peak of my FMX career, when my dream to own a tattoo shop became a reality. I wanted to get tattooed but didn't want to go to just anyone to get work done. In southern California I used to visit a shop called Soul Expressions that I found really inspirational. The lifestyle and environment that surrounded that shop made me want to start my own. It wasn't to make a ton of money; it was more about the lifestyle and something to do in my off-time from FMX. One night, I had a drunken conversation with one of my friends about the idea of opening a tattoo shop in a casino. I knew George Maloof the owner of the Palms Hotel and pitched him on the idea of opening a shop there. Six months later, we were in business.
During the launch of Hart & Huntington Tattoo Company, I suffered a near-death injury that could have potentially ended my FMX career. There was a mis-cue at the Boom Boom Huckjam that resulted in me breaking both legs and both arms, taking me off my bike for two and a half years. Not being able to ride, I poured all of my time into my tattoo shop.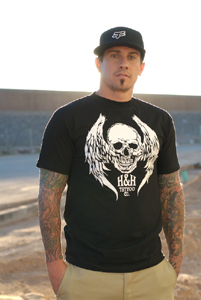 When & how did apparel come into the equation?
We started working on apparel before the shop even opened. It doesn't take a genius to know that rent is going to be a lot more expensive in a casino than what you'd pay in a strip-mall. We saw simple apparel, like t-shirts, as a way to help pay the bills. Most importantly, we wanted people to walk away with tattoo influenced clothing, reminding them of their experience at our shop. The t-shirts, hats, and stickers represent something about the shop, my peers, and me. We were putting out more black n' gray than the traditional sailor jerry stuff you see out of tattoo shops.
When did Hart & Huntington apparel take on its own life?
As the tattoo shop started taking off, the merchandise started flying off the shelf. We were like, "we're on to something". It seemed to fill a void for people who like to represent it (tattoo style graphics) on their clothing. We created a small line of about a half-dozen designs and were selling them through our website and out of shops in southern California and Arizona.
What was the next step?
It was a very slow process. I stumbled before I walked for sure. I learned a lot about the clothing industry and increasing distribution from my previous sponsors. We were getting good traffic on our online store and I had a small crew of friends who are reps in the industry who were a big help in fueling the growth.
One of my long time sponsors, Fox Racing took an interest in our clothing line and we put together a distribution deal.
How much influence does Fox have on what Hart & Huntington does?
Fox gives us input, but we manufacture and design all of our own products. My big partner on the design and manufacturing side is Josh Merrill from Liquid Graphics. It's a great dynamic between Hart & Huntington, Liquid Graphics and Fox Racing. Fox reps give us feedback on what retailers are looking for. We tailor our design work to appeal to retailers and their customers maintaining tattoo inspired designs.
Do Fox sales reps also rep Hart & Huntington?
Yeah, it's the first time Fox Racing has done this which is huge. Fox has been in business for more than thirty years and is a family-owned company. It is completely flattering to me that they believe in Hart & Huntington at such a level. Fox has been instrumental in driving Hart &Huntington apparel into the market.
Where is Hart & Huntington headed?
There are a few levels to it – tattoo shops, TV, and apparel. We are working on a TV show that we'll start shooting after X Games. We're in the process of opening our fifth tattoo shop and are looking to open four or five more next year. And now the clothing line is a monster – the clothing is a full-time job in itself. I have to balance all three and at the same time lump myself in as an athlete too. I also have a bar opening at the Hard Rock Hotel at the beginning of 2008 called Wasted Space.
There are a ton of elements to it and that keeps it exciting. I'm not just beating the street trying to open more shops. Everything is coming together as it should.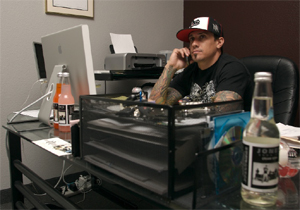 What's your role in the company today?
I'm a jack of all trades. Right now I'm heavily involved in our spring 08 designs. I'm completely hands on with every element of the brand and the shop doing everything from pushing a broom, to helping with inventory in the warehouse to sitting down with Josh to work on graphics. In actuality we're still a very small company. All three components (tattoo shops, apparel, and TV) are run by six people.
Over the last six months I've been spending a lot of time in Cabo, Hawaii and Orlando getting our new shops going. I had a break from TV and now I'm getting right back in there with more TV after X Games, where our Supermoto team will be competing.
How is it changing? Is there a key challenge you're facing right now?
It's evolving. I'm such a control freak with the business and anything that goes out with Hart & Huntington on it has to be approved by me. Sometimes it's difficult to take a step back to say "where do I want to see the company in three to five years?"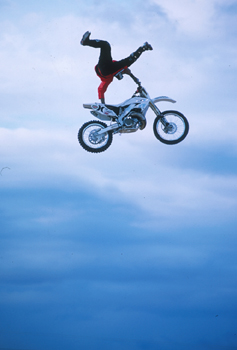 Do any of the fundamental skills you learned as a professional athlete transfer to your business career?
Definitely. One thing I have always tried to do was to understand why sponsors pay me to represent them. I didn't just sign contracts and deposit checks. I looked at all the details that went into being a successful athlete. I built an understanding of why things like grassroots marketing, signing autographs and all of that were important to the brands I represented. I tried to take that aspect of what I learned in my motocross career and put them into the tattoo shop. I'd flow my friends product, stickers, etc. and they've been really supportive of my brand & company. Now with H&H, I'm trying to do the bigger things that my bigger sponsors were doing for me through the years - building the brand.
I've always tried to be very one-on-one with everything. Whether it's someone who wants an autograph or someone I work with, I do my best to give it my full attention. I treat my business the same way as I treated my professional career. Good, positive outlook and not your dirty back alley biker situation.
What's a day in the life like right now?
It's tough! Honestly. I've definitely grown up and learned a lot over the last four years. A day in the life is up at 6AM, on my road bike; work out at the gym, at the office by 9AM, put in eight to ten hours in the office. Then I'll show face in the tattoo shop or get on a plane to visit one of our shops, and the day ends with me on the computer handling emails at ten or eleven o'clock at night.
I've also been proactive with my moto career and lucky enough to get back on the bike and put together an H&H Supermoto team with Rockstar Energy Drink. I also work very closely with my sponsors like DVS in putting together the Hart collection. I'm an obsessive workaholic and all my down time is spent with my wife who is constantly on the road too. A lot of the time I'm on a plane going to visit her somewhere on another continent. I work seven days a week, eighty hours a week.
Is there one regular element or responsibility of your work that someone would say, "I had no idea!"?
People are like, "oh he's married to a rockstar…the big FMX guy." But what they might not realize is that I work really hard. Look at my Supermoto team – I don't have a high-dollar Team Manager running the show for me – it's me. Not to sound cliché or lame but there is no job too small and I am involved in all of it.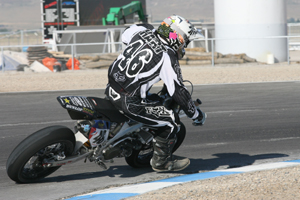 Top 5 things to do on the job? In any order.
Being able to get tattooed. That's the number one perk. It's not too often, but at anytime I can choose from fifty five extremely talented artists.
Surfing – one of my new passions. I'm no good but I love it. I'm strategically placing my tattoo shops near the beach
Learning something new – learning the apparel business, going out to do an autograph signing where I'm booking it and participating in it.
Supermoto race team – getting back to being an athlete. Getting to go out in the truck and seeing my buddies next to me in the pits. It's going to be really cool going to X Games and pull up in our own Supermoto trailer
Travel – I still like the element of travel. I like the fact that I get to go hang out in Mexico, Florida or Hawaii and see new tattoo styles and see new faces.
What's the biggest Reward?
I am so fortunate to have had such a great motocross career and still be able to maintain that part of my life. I am proud to represent the sport. And now I have a second wind. When I had my accident that took me out, I was at the top of the game but I couldn't ride for two and a half years and I was faced with a situation where I felt like I was going to be a Team Manager or swinging a shovel for my dad. I'm four years down the road and I've come full circle. The sort of opportunity I've had usually happens once in a lifetime and it's happened to me twice.
---