Back to News
Bryan Mills, Product Design Director - Gator Boards
August 1, 2007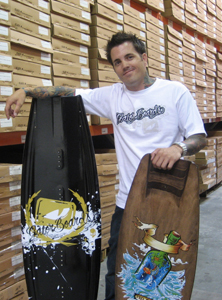 Bryan Mills, Product Design Director - Gator Boards
Bryan Mills knocked down the door to the industry as a freelance Graphic Designer. Passion, a clear goal, and drive to succeed have landed Bryan in his current position with Gator Boards as Product Design Director, in a very short time.
When did you decide to combine the sports you've done for most of your life with a full-time career in the Action Sports industry?
I grew up racing motocross, and moved here to Temecula after finishing my design degree in Arizona to pursue pro motocross/supercross racing and eventually get a full-time job putting my design degree to work in the action sports industry. I raced the first few rounds of the 2005 Supercross season and at the Phoenix round I crashed pretty hard and messed my feet up pretty bad. With a cast on my foot I realized it was time to move on and actually make money. I certainly wasn't going to do it as a professional motocross rider. My career wasn't really a career, I wasn't making much money, and it was more just for fun, spending time with my dad and my friends. I always knew that I wanted to be in the action sports industry somehow and I decided to work my way in with the graphic design degree I earned. I didn't know how to approach it or who to approach and it was almost like I was blessed by the people I met.
Through riding and friends I connected with Brian Deegan and the people at Metal Mulisha. I did some freelance t-shirt designs before getting hurt and my freelance work up to that point lead to working for the Mulisha full-time for about 7 months. Then I hopped on to Malakye looking for something more than just t-shirt graphics and I got a job with Jet Pilot. Brian Jellig from Jet Pilot took me under his wing and showed me how to do more than just 2D drawings – he opened my eyes to product design and taught me the ropes. Showing me far more than I had ever expected to learn. I was really green when I started at Jet Pilot – I just knew how to compose the graphics and I had the concept for designing apparel. I learned the hands-on workplace stuff from him, stuff that they don't really teach you in school.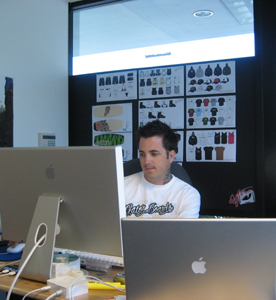 Your education is in Graphic Design, but over the past years you've also taken on Apparel Design and now Product Design. How have you adapted your skill set to meet these new segments of design?
I started out doing T-Shirts and everything that followed was almost like a crash course. I went from t-shirts to boardshorts and on down the line with more and more products. With each new challenge, I adapted myself to learning what works and what doesn't work. Learning fabrics, learning how things will turn out in sample stage and production ready stage and also paying attention to every detail that goes into making a good final product. Making that transition was tough at first but as I've gotten the hang of it I've grown a real passion for doing product design. It took a lot of soaking in from the people that I worked with and I've been fortunate to pick up information and be taught by people to create my own sort of knowledge bank to draw from. The biggest contributor was the quality people that surrounded me.
What about the mechanics, how did you learn mechanics of product design?
A lot of it was learning how materials, applications, construction, and how certain things are going to look and function as a final product. Beyond construction, you have to understand how certain designs will affect the final product's usability. Learning how things are going to look and function. In my mind it took me a little while to visualize how all these things are going to come together. I learned to spend a lot of time familiarizing myself with product, techniques, and market trends.
Are you getting in to designing boards & bindings at Gator Boards?
I've been working with bindings a little bit with one of the guys here. It's been like a crash course in designing those. I have mainly had my hands in the apparel, vests, bags and swimwear. Along with board graphics and whatever else fly's my way.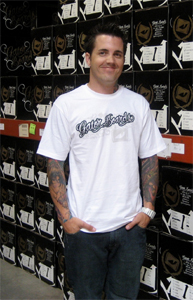 Did you take the bindings you worked on from concept to completion?
Yeah, on a couple of them we have taken them from concept to completion. Initial concept to 2D drawing, to specing out materials, to making samples.
Have you had to learn CAD?
I learned a little bit of it. But when working in the motocross industry I learned how to use Illustrator as a CAD program. I'm starting to use Illustrator more and laying things out like a CAD blue prints for our molded products. Showing cross-sections and 3 dimensional views of products.
You've progressed quickly from Graphic Designer to your current position of Product Design Director at Gator Boards. What's enabled you to make quick vertical moves?
I think a lot of it is I've always been really open to constructive criticism. And also taking advice and not being afraid to ask, "How'd you do that?" There are so many little tricks here and there that I have picked up that have helped me be more efficient. I basically made myself a sponge, soaking up everything from the designers around me. I'm always open to anything that I hear and I want to learn. I always want to be the best I can be as a Product Designer. Going into product design so green and not having a base was the best for me, because I knew the basic concept of design, and I was able to learn from people who really know product design, and do it very well.
Do you feel you've burned any bridges along the way?
Not at all, I always try to keep my bases covered. Each company I've worked with I feel like I left on good terms and in fact at each job I always made good friends with my boss and co-workers. I try to maintain a personal relationship with them and they understand that I'm trying to progress my career and I am not trying to hurt anyone or burn any bridges. Now I'm at a place where I want to be with Gator Boards, I have the creative freedom that I have always wanted it makes the decisions i have made to progress my career worth it. I don't think I've ever made a move without considering my personal and work relationships I have always given fair warning. I've always told my bosses, "I think it'll be best from my career" and they have respected my decision.
What are the major differences in what you're doing in Product Design compared to what you learned in Graphic Design school?
One of the major differences is training yourself to think three dimensionally and how the product is going to be put together. In school you learn the mechanics of software programs and the mechanics of design which semi-apply to the product but not as much as I thought they would - On the product side it's more about how you want it to look and function and taking it from concept to putting it into a design spec. It's knowing how to envision it and design it so that it comes back as a finish product the way you envisioned it.
How does the Product Design process differ from the Graphic or Apparel Design process?
The process is fairly similar as far as starting with ideation. I get my inspiration from various sources; put together my inspiration board like you'd do with anything else and start coming up with concepts. I don't think the process is very different in product design, graphic design, or web design. It's more of what you're vision for the design of the product is and getting that out of it.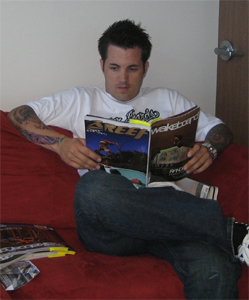 What's a day in the life like right now?
Right now I just finished our 2008 line and I came in late in the season and it was a daily press to get everything done before Surf Expo in September. Right now we're in the ideation process for 2009. I'm doing a lot of research for our line list that we'll be putting together in the next couple of months. When it comes to the line we'll do the toughest items first that require the largest lead time and go from there.
How much of your day is spent designing?
About 80% of the time – working through concepts or specing out a product for the manufacturer. Matching up fabrics to colors you want to use and how things will look together.
How is it changing? Is there a key challenge you're facing right now?
Going from being a Product Designer to more of a Director position is a challenge I thrive on. Instead of handing off a design and considering it done, I get to manage how the product is designed and manufactured and I get to spend more time overseas. I'm learning how to manage my time a lot better. Management of time is probably one of the biggest challenges for me - delegating the right amount of time to the right project is key. It used to be just design for 8 hours and go home. Now it's design and then manage the development of the product.
Is there one regular element or responsibility of your work that someone would say, "I had no idea!"?
I'd say it would be the amount of work that goes into the design of a product. If you were to show someone that doesn't know all of the "behind-the-scenes" of design, a spec for a boardshort, vest or wakeboard binding would probably make them say, "I had no idea!"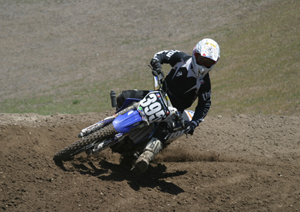 Top 5 favorite things about your job? In any order.
Seeing the products out there in the market – in stores, in magazines.

Flipping through a magazine and saying, "hey...That guy's wearing a vest I designed, or that guy won an outdoor motocross national in gear I designed."

Making revisions on samples is always really cool because you get to see a tangible piece in your hands. And manage the progression of the products integrity.

Testing the products is always a plus!

Having a lake day or track day is always rad, having some fun with the products I design.

T-shirt graphics is always really fun for me.

Advertising design is something that I enjoy also, even though I don't get to do print much anymore.
What's the biggest Reward for you as a Designer?
It goes along with what I mentioned in the top 5. Seeing my products out there on the market and in the magazines that I've invested hours upon hours to perfect. Seeing a product review in a magazine that gets a 9 out of 10. I know that every piece I work on has my name on it in a way so I want it to be the best it can be. So when it gets a good review in the magazine or a rider calls to say he or she loves it. That's the reward.
Is there anyone you'd like to give a shout out to that's helped you along the way?
First off I'd like to thank Brian Jellig from Jet Pilot. He showed me alot about product design and brought me from being a green graphic designer to pulling things from concept to completion. Doug Geller from Answer Racing taught me a ton about 3 dimensional design and motocross product design. Jon Malkemus has helped me alot with the composition of my art and with the little tricks that you don't learn in school that help my efficiency. These guys have been key, and irreplaceable in my success as a designer.
---