Back to News
Blowout SIMS Launch Event Raises Thousands for Charity
August 28, 2007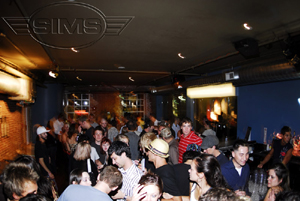 Blowout SIMS Launch Event Raises Thousands for Denver Boys & Girls Club and Snow Board Outreach Society
(Denver, CO) August 28, 2007 – They came from the mountains, they came from far away coasts and they stayed until the very last ember of the rooftop bon fire burned. On Friday, August 24, more than 1,400 people including pro riders, renowned snowboard photographers, snowboarding industry types and Colorado rebel rousers descended upon Vinyl nightclub in Denver to celebrate the upcoming snow season and pay homage to one of snowboarding's pioneers, Tom Sims. The night proved as legendary as its namesake host, who was on hand with lovely wife Hillary and the newly formed SIMS snowboarding team including X-Games Gold Medalist Steve Fisher, Gaetan Chanut, Colin Langlois, Erich Dummer, James Frederick and Leslie Glenn.
To add to the real time excitement, the all-new interactive Web site at www.simsnow.com went live on screens throughout the event, signifying the official re-launch of the brand now headquartered in Denver under the Collective Licensing International umbrella. Founded in 1976 by Tom Sims, the SIMS brand is entering an exciting new era in 2007, with an A-list professional team and a complete line of performance boards, hard goods, outerwear and accessories available at Sports Authority doors nationwide.
(Pictured Left - Tom Sims and friends) Complimentary top-shelf cocktails flowed freely under a full moon on the venue's rooftop deck accompanied by a soundtrack of live music from local punk act Frontside Five, hip hop all-stars 3OH!3 and beats by DJ golden b. The venue's second floor was dedicated to an equally packed gallery exhibit featuring Toms Sims' personal archive of snowboards and skateboards. Sims is credited with having built the first snowboard, which was the cornerstone of the display, a fascinating set-up fashioned from a wood plank, carpet grip tape and radiator hose straps. The highlight of the evening was an awe-inspiring photography exhibit featuring a body of work from renowned industry shooters Danny Zapalac, Jeff Potto and Aaron Dodds. Their pieces were sold through silent auction, raising thousands of dollars for the Snowboard Outreach Society and Denver Boys & Girls Club.
"WOW that party was one of the best parties I've ever been to, there were thousands of people there and it went off," claims Sims Rider Steve Fisher. "Like J.J. says, it was a DYN-O-MITE way to kick-off the season."
Every guest enjoyed VIP status walking away with a loot bag loaded with premium goods. In addition, two lucky guests won a full riding package including a SIMS deck and outerwear set up, Giro helmet, Scott goggles and a season pass to Echo Mountain. Big ups to SIMS' generous sponsors who made the evening possible, including Sports Authority, Giro, Scott, Bula, Gordini, Bakoda, Echo Mountain, Svedka, Bulliet Bourbon, Coors, Vitamin Water, Red Bull and Wahoos.
A consummate living legend, Tom Sims has been a leading pioneer as well as a world champion within snowboarding. In 1963 Tom built his first "skateboard for the snow" and, since then, has continued to revolutionize the sport of snowboarding. Sims introduced the first freestyle snowboard to the market as well as designing the first highback binding and the first women's specific snowboard. In addition to product innovation, Tom Sims has also led the marketing of snowboarding including his support of professional riders. Throughout the years, the Sims team has included legendary pro's such as Terry Kidwell, Craig Kelly and Shaun Palmer. Today, Tom is still intimately involved with the brand, lending a degree of authenticity to Sims that sets it apart from the rest of the snowboard market.
The SIMS 2007/2008 offering is focused on innovative, functional and durable product. The outerwear graphic details and colors are carried over to the boards and bindings, thus giving the product line a very cohesive feel. Within men's outerwear, the use of premium suiting materials, which are breathable and waterproof, adds a fresh new look. Learn more about SIMS team, product and history at www.simsnow.com.
About Collective Licensing International
Collective Licensing International was formed in January 2004 and is the owner and/or license operator of the Airwalk®, Vision Street Wear®, Sims®, Lamar®, LTD®, genetic™, Dukes®, Rage®, Ultra-Wheels®, and Skate Attack® brands. Collective is based in Englewood, Colorado.

---