Back to News
Tim Stuart Covers New England for Eesa; Leaves Family Business
September 3, 2007
Tim Stuart Covers New England for Eesa; Leaves Family Business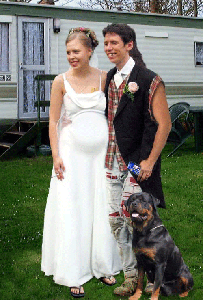 Eesa is proud to announce the addition of Tim Stuart, a.k.a., Stu to the 08 rep line-up. Stu will be holding it down in the New England territory and as a legit Masshole, Stu is destined to be a wicked pissah rep. Stu's was born a poor white kid in the slums of Pembroke, MA. to the proud parents of Darryl and Sheniqua Stuart. (Darryl and Sneniqua in the early days)

Stu cut his teeth on the family car restoration business and got his first taste of blood money. His Dad always got paid for the magic he performed on the locals rigs. In the early days some folks didn't take a shine to paying for the work, but in the end Daryl always got his money whether it was cold hard cash or a cold hard beating, either way the blood money was always collected.
(Two more satisfied customers pictured below)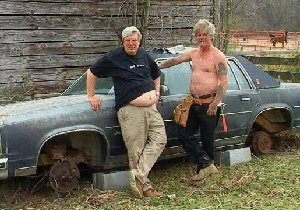 As Stu matured into a young man his Dad would send him out to collect on some of the 'outstanding bills', since Stu was more like Mom and less like Dad, he always packed his trusty 12-Gauge he lovingly called Alice.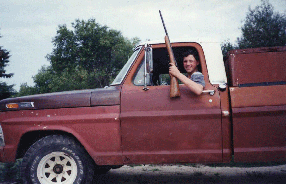 (Stu and Alice gettin' 'er done)
Stu realized that thumpin' people for money was a long and difficult row and set-off from the family compound to make his way in the world. After wandering the streets of New Hampshire for several years Stu was taken in by a family of snowboarders that showed him that there was more to life than just work. Although they completely duped Stu into working for pennies on the dollar, Stu felt like he had finally found a home at North Of The Boarder (NOTB). It was here that he met Steve Cleary and the two began to dream of even bigger opportunities. Cleary moved to Vermont to pursue a job with Burton Snowboards leaving Stu behind crestfallen and heart broken.
Many years passed and Stu thought he would be resigned to the life of a shredhead in the winter and surf-bum in the summers. While he didn't mind the lifestyle, he knew deep down that life held something bigger for him. About that time when Stu was about to kick the chair out the phone rang, it was Cleary. 'Stu, what's happening? Listen man, I know it's been a couple-two-three years and I hope the dental surgery and make-over worked out for ya. We're interested in having you be our New England rep, are you down?' Stu said he needed time to think it through and after a couple of sessions in the water called Cleary back and said the he was in fact down.
Keep your eyes peeled for Stu, he'll be tearing up the East Coast this coming winter and can be reached at [email protected] for all your Lux Layering needs from Snowflake-To-Beachbreak.
---