Back to News
"EYE SPY PINK"—SPY OPTIC and SHOPATRON SUPPORT B4BC
October 15, 2007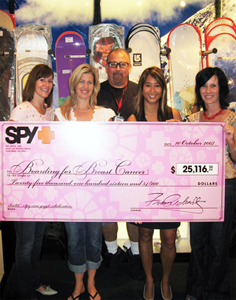 "EYE SPY PINK"—SPY OPTIC and SHOPATRON SUPPORT B4BC
Sales of Pink Eyewear to Benefit Breast Cancer Awareness
FOR IMMEDIATE RELEASE: Carlsbad, California – October 12th, 2007 – Spy Optic is pleased to announce the "Eye Spy Pink" online promotion during the month of October. For purchases of its premium pink eyewear at www.spyoptic.com between October 12th—October 31st , Spy Optic will donate $5 to the Boarding For Breast Cancer foundation (B4BC) for each promotional item sold. In addition, Spy's online sales partner Shopatron will donate a portion of its transactional fees to B4BC.
"Spy Optic was one of the first companies to produce products with proceeds for the foundation. It's amazing to see the company stand by this organization as other companies start to support this cause. Every year the program gets stronger," says Justine Chiara, Executive Director of B4BC.
On October 10th, Spy Optic presented Justine Chiara and B4BC co-founder Lisa Hudson a pink check for $25,116.54 from the '05-'06 B4BC goggle sales. The check was presented in the snowboard department of the new Surfside Sports location in Costa Mesa, California in the presence of owner and long-time women's snowboarding supporter Duke Edukas.
Spy Optic was one of the original supporters of B4BC, designing, manufacturing and selling the signature Spy Optic B4BC snow goggles from the Soldier and Bias series. From the total goggle sales each year, Spy has donated a percentage to the organization. Again this year for the '07-'08 snow season, Spy is featuring the Bias in a new signature B4BC colorway.

---