Back to News
Chris Gougeon, Product and Graphic Designer - Drop MFG
November 1, 2007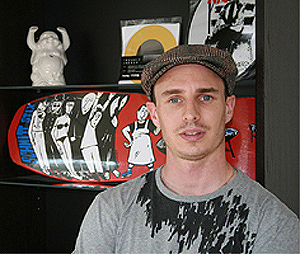 Chris Gougeon, Product and Graphic Designer - Drop MFG

Do you ever find yourself dreading the last 3 hours and 59 minutes of work? If so, you're probably sitting on your ass eating Twinkies and watching South Park on your computer, wasting both your boss' time and energy and yours. At the other end of the spectrum, you have people like Chris Gougeon who takes pride in his work, does more than what's expected of him, and somehow manages to accomplish the impossible. Who is this person you ask. Well, he's a product and graphic designer for Drop Mfg.

Chris works on product design and development, packaging, POP, t-shirt and sticker graphics, business cards, tradeshow booth development and handling the advertising campaign—that's a long list. If you think this sounds brutal, think again! This is seriously about half the responsibilities that Chris' job entails. Read on and discover how hard work and a great environment
can lead to an awesome career in our industry.

When did you first become interested in snowboarding?

My interest in snowboarding began back when the only coverage of snowboarding was in skate magazines. When I was around 9 years old, my older brother came home one day with a Performer Elite 140 and I was hooked. I would tag along with him and his friends when they would session the local golf courses and sledding hills; I'd play around on my Snurfer. At one point, I even rigged up my winter boots to it with the straps from my parent's luggage. It took me a few years to get my own board, a Kemper Rampage around 1989-1990.D

Do you still do it today?

Yes, I still ride to this day, though not nearly as much as I would like to; that's the story of everyone's life right!

Do you do any other sports?
I've been skating for what seems like my whole life, since about 1984ish. It was my first love. My older brothers got me into it. I was always just into whatever they were into, music, activities etc... and I was lucky they were into cool stuff. I also took up surfing when I moved to California four years ago; it's something I always wanted to do.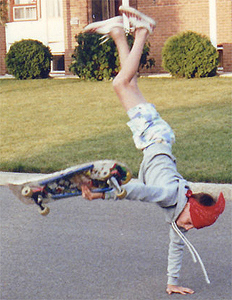 What was the scene like where you were born and raised?

The early skate scene in Montreal was super tight. Whether you were in the "Burbs" or the city, everyone knew each other. For a while there was only one shop called Footloose, so you'd see everyone there.

The snowboard scene was great too. There are tons of smaller resorts with night riding only 30 to 45 minutes north of the city; we would hit it up on weeknights. We would also hit some bigger terrain a couple hours away for full day sessions. Everybody was cool, and it was all about riding. Getting sponsored wasn't really an issue back then. We all had dreams of being pro one day, but that wasn't gonna happen being from Montreal. Moving to Whistler was still the only way to do it. Guys like Legend and Yan have changed that though.

Was there something there that made you feel a living could be made in the industry?

To be honest, I wasn't sure there was even a living to be made in this industry, other than being a rider; but I wasn't interested in anything else.

When did you decide to combine the sports you've done for most of your life with a full-time career in the Action Sports industry?

I was taking Pure & Applied Sciences at CEGEP (Quebec's equivalent to junior college, I guess?), a program I had absolutely no interest in, and my grades showed it. I was riding more than studying, and when that happened I realized I needed to set myself up for a future of some sort.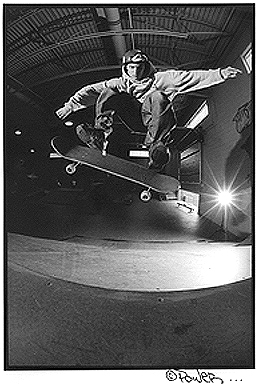 It was either move out west and pursue the one-in-a-million dream of being a pro snowboarder, or figure out how I could use my interests to work within the skate and snowboard worlds.
I had always been into drawing. Growing up, I would make up logos and graphics for my own imaginary companies, or just make up my own logos for companies I thought were cool. So I ended up going back to CEGEP, taking Creative Arts, and excelled. I still didn't know what kind of future there was in graphic design, before it became a household term via the internet boom, but I had a goal and was passion about it.

Were you formally educated in design?

I have a certificate in graphic design from Concordia University in Montreal.

What is the education process like in Montreal? Do you know if it's more / less / equally intense as it is in the states?

In the province of Quebec, you finish high school in 11th grade, go to CEGEP for two years and then to the University if you choose to. I actually chose to do a University certificate rather than a degree. It was more of a straight-to-the-work-force path and just made more sense for me. I was able to take courses that related directly to graphic design without all the compulsories like history and English that I was never going to use.

I'm not all that familiar with the U.S. system, but in my opinion the CEGEP system in Quebec forces kids to decide on a career path too early; yet at the same time, it gives them too much freedom. You're in a University environment at 17 years old. My year or so in the sciences gave me the time I needed to figure out what I wanted to do.

How did you land a job with the tight crew at Drop?
I was working for a web-design company and I answered an ad in the local Alternative Weekly looking for a designer who skates and snowboards. I met with Oli Van Roost, Dave Gellis, and Mer Van Roost (the core of Drop at the time) and we hit it off right away. I hadn't met any of them before, but as I mentioned, the early skate scene in Montreal was tight, so I guess we were the last to meet of the big pyramid of people. The more we talked, the more memories and friends we had in common.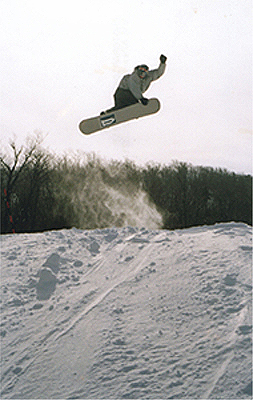 When did you first become interested in product design?
Product design actually only came about at Drop. I was always more about graphics, but when I started at Drop as an assistant designer working under Oli Van Roost and Dave Gellis, product design was just part of the whole design package. It opened up a whole new element for me.
Did you face any challenges in adapting your Graphic Design skills to designing products like packs, gloves and so on?
To tell you the truth, not really. I always felt like making the lines on a glove or a pack aesthetically pleasing relates closely to making a page layout or graphic. They're both about composition. Product design adds a third dimension to it with fabrics, insulation, fit, etc. that make it all the more interesting.
Do you think doing the sports gives you an insight to design requirements that someone who doesn't do them wouldn't have?
Yes, most definitely. Countless ideas have made their way to Drop products that we never would have thought of if we weren't out there skating and snowboarding. I consider myself a part of our target market and design things to suit my needs, which hopefully meets the needs of our customers.
Do you think the consumer is able to notice?
I think our consumers are very smart and can spot if somebody's "Frontin" from a mile away. As sports progress year after year, so do the needs of our consumers. If you don't have people that are a part of our lifestyle working for us, the needs of our consumers won't be met. Consumers are looking for, and can appreciate well thought out, innovative details that are specific to his or her needs.

What is the average day in the life like at Drop?

First thing first, I'll prepare my daughter's bottles for our nanny while my wife feeds her and gets ready for work. When I get to work, I'll go through the barrage of e-mails that came in overnight from our Asian partners. Then FedEx will normally drop off at least one new sample. After that I'll get on the phone with Dave Gellis; Dan Stanilonis, Drop's national sales manager at the Vermont office; and maybe Eric Vallee, Drop's Canadian sales manager.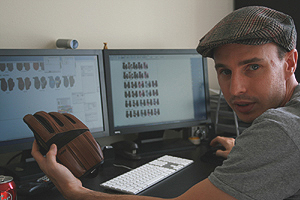 After that, I'll reply to the e-mails from Asia about the samples that may have come in, I'll see where we're at in development, and what we need to do to have our product ready on time. Then I'll talk to Mer (Drop TM) about which team riders I need photos of for the next ad.

Then I'll get into some new product development and spec work, coloring new products, maybe spend time on a new ad layout, do a bit of trend and color research, and hopefully get enough time to work on some POP designs and business cards for the crew. Depending on what comes up, I'll usually wrap up the day working e-mails, making comments to the factories about the samples that came in earlier, touch base with a couple team riders on signature product development and anything else that's lingering.

Depending on what time of year, a hundred different things can come up in a day, and they usually do.

Is there an advantage to doing your job in Southern California compared to Vermont or Montreal? What made you want to work in southern California? Is it as good as you thought it'd be?

It's been good for both myself and the Drop brand. Unlike the fashion world, where trends start east and work their way west, the snow and skate world are the other way around; a lot of things start out here. It's good to be in the middle of that as it happens. With our offices in Vermont, Montreal, and L.A., we have both sides of the continent covered. It's been good for media relationships as well. We're able to see all our magazine contacts more than only once a year at SIA or ASR.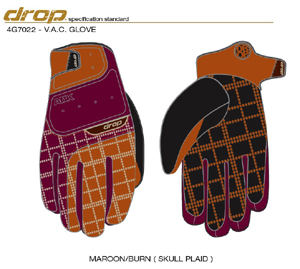 How is it changing? Is there a key challenge you're facing right now?

Product wise, staying on top of up-and-coming trends are always the most challenging part. You don't want to be so far ahead of the game that people don't get it. There's a fine line between going to too far and staying on the cutting edge. This is especially true with accessory companies that don't necessarily have the ability to dictate cool; a comfort that some bigger brands in our industry have. The current challenge is the shift toward traditional formal-wear fabrics, like herringbones, tweeds, and prints. It used to be challenging enough to pick the right colors.

Is there one regular element or responsibility of your work that someone would say, "I had no idea!"?

Like most companies in our industry, we (the crew at Drop) all wear different hats everyday to get the job done. People may not realize that I not only work on product design and development, but I also handle the advertising campaign, packaging, POP, t-shirt and sticker graphics, business cards, and tradeshow booth development. About the only thing we need an outside source on is our annual catalog and website, simply because there just isn't enough time. There's also a lot of hours spent on extremely tedious spec sheets. It's not as glamorous as it may sound; assuming people even think it sounds glamorous (Laughs).

What are the top five favorite things you like about your job?
Working on something I have a passion for within the culture I love. I don't feel too much like the "Weekend Warrior" that I've actually become.
The diversity of my job and how much it changes throughout the year keeps it from ever getting stale.
Working with a group of people I really like and consider my friends, as well as colleagues.
Being able to travel places I would have never seen otherwise.
All the friends I've made through this industry.
Knowing that when I finish my work for the day, my 6-month-old daughter Devyn will be waiting to hang with me.
I guess that's six, sorry!

What is the biggest Reward for you as a Designer?

Seeing someone on the street or on the mountains wearing something I worked on. There is nothing more rewarding than knowing the consumers are enjoying and making good use of a product I had a part in creating.
---