Back to News
Mick Fanning Goes Golden in Celebration of World Championship Win
November 6, 2007
Mick Fanning Goes Golden in Celebration of World Championship Win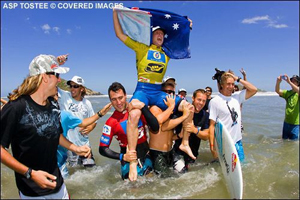 In celebration of Mick Fanning's world title, Reef invites fans around the world to share in the victory. Fanning sealed the deal on his championship year in Brazil today winning the Hang Loose Santa Catarina Pro.

"To win the world title after years of hard work feels incredible," says Mick Fanning, the 2007 World Champion and Reef Team Rider. "I've just had my head down and been really focused for the whole year. Now with the pressure off my back, I can enjoy this world title. It's a dream come true."

A commemorative Champion Fanning sandal featuring black Italian full grain leather, pig skin lining, golden accents and a metal 'World Champ' logo on the toe post will be unveiled February 2008 in stores. Fanning is sporting a similar limited edition 18K gold style of his signature sandal that Reef awarded to Mick for his stellar achievement. All of the sandals feature the exclusive bottle opener in the sole and cushioning airbags in the heels.

A stunning final heat in Brazil pulled together what has been a brilliant year for Fanning who found himself in peak health, focused and surfing at an unbelievably high level. As Taj Burrows, who was second in the ratings, walked onto the beach following a loss in the quarterfinals, it was announced that Fanning had secured the title.

The new world champion paddled back to win a semifinals heat against fellow Australian Joel Parkinson and a finals heat against Kai Otton. Determined to win the contest along with the title he powered through the six foot, rights with fast turns.

Winning the title in Brazil at the Hang Loose Santa Catarina Pro, the second to last event on the Foster's ASP World Tour, makes Fanning the fifth surfer to claim the title on South American soil. Fanning came into the event as the ratings leader, a post he held throughout much of his stellar 2007 season.

Fanning has been riding with Reef since he was 14 years old and 2008 will be his 13th year with Reef. "We're so proud of Mick! He's worked incredibly hard for this win. To hold the world title up at the end of the season is a dream for him and we're happy to stand by him on the biggest day of his career so far," says Heath Walker, Reef Global Athlete Manager.

Fanning sets his sites next on adding a Triple Crown title to his remarkable 2007 season. Starting on November 12th, Fanning paddles into the line up in Haleiwa on Oahu's North Shore as the Reef Hawaiian Pro kicks off the Vans Triple Crown. Also, don't miss Fanning's stellar segments in Reef Mixed Tape: Volume 1, in stores now!
---