Back to News
Artist David Serrano Joins The Walker Project
November 15, 2007
Artist David Serrano Joins The Walker Project

By Marlise Elizabeth Kast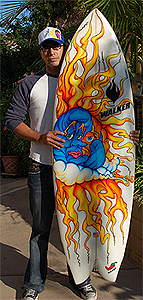 The Walker Project is pleased to announce that it has hired artist David Serrano as the latest addition to the production team.

As the company's Artistic Director, Serrano's creations will appear on a full range of Walker wake and surfboards. Serrano will also participate in the development of the Walker Project's ever-expanding apparel line.

"It is truly an honor to work together with Mike Walker," says Serrano. "His professionalism and experience are matched only by his passion for the sport."

With a background in graphic arts, Serrano is a graduate from the Pasadena Art Institute. The influence of Serrano's Chicago upbringing is apparent in the "urban jungle" style of his designs. As one of Chicago's leading graffiti artists, Serrano moved to San Diego in 2004 in an effort break into the surf industry.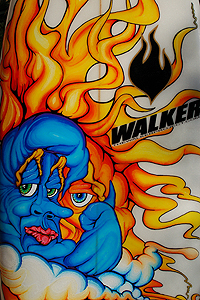 Since coming to California, he has provided designs for Flow Snowboards, ZexSports and Husqvarna. Prior to working with Walker, Serrano dedicated his time to airbrushing surfboards on a freelance basis.

Shaper and company founder, Mike Walker hired Serrano in an effort to enhance the company's artistic development. By blending both acrylic pens and airbrushed art, Serrano can turn custom designs that are truly unique. Since delegating this specialized task, Walker has been able to redirect his energy to board production and product sales.

In anticipation of the customary year-end rush, The Walker Project is offering customers a $50 discount on all boards ordered before December 1st.

Since the June release of Walker's wake surfboard line, the company has experienced a 40% increase in revenue.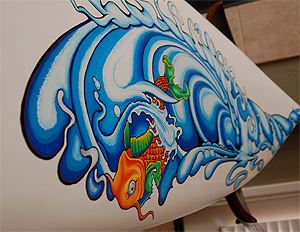 "We anticipate that Serrano's artistic contribution will help our company expand on many levels," says Walker. "Having him on our team will allow for greater customization of our boards. This is in line with our goal of responding to the needs of our clients with optimum customer service. Serrano's urban flavor and fresh perspective are exactly what The Walker Project needs to reach our projections for the 2008 season."

For more info, visit www.thewalkerproject.com
---