Back to News
K2 Sports Relocates Headquarters to Snowy Seattle
November 28, 2007
K2 Sports Relocates Headquarters to Snowy Seattle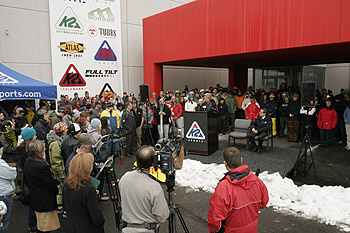 K2 Sports, America's leading manufacturer of alpine, Nordic and telemark skis, snowboards and related winter and outdoor recreational products, celebrated the completion of its new 310,000-square-foot headquarters in Seattle today with a snow-shoveling ceremony with Washington governor Chris Gregoire.

K2 began construction on the office space inside the facility located at 4201 6th Ave S in Seattle's SODO district in September 2006. During the past year the company closed its former headquarters on Vashon Island, Wash., which had been in operation since 1961, and relocated 220 employees from Vashon, and divisions in California and Vermont, into the new Seattle facility. The new headquarters houses all of K2 Sports' U.S. operations under one roof for the first time in the company's history.

"On behalf of the state of Washington, and as a long-time skier, I am pleased to welcome K2 to its new neighborhood in Seattle," said Governor Gregoire. "Our natural environment makes Washington an important destination for outdoor enthusiasts and I am pleased that K2 recognizes the benefit of making Washington their home."

K2 Sports is in a rapid growth mode and has acquired multiple winter sport brands over the past three years, including market-leading Tubbs and Atlas snowshoes, Karhu Telemark skis, Line twin tip alpine skis and Full Tilt ski boots. K2's more popular brands include K2 skis, snowboards and skates; Ride snowboards; Morrow and 5150 snowboards; and Madshus Nordic skis.

"K2 has been synonymous with outdoor fun in the Northwest for years, and we are happy the company chose to locate its headquarters in Seattle," said Mayor Greg Nickels. "More than fun, K2 is bringing new family-wage jobs to our city and joining a thriving community of great manufacturers in our industrial center."

The urban location brings new efficiencies that facilitate K2's recruiting efforts and provide easy access for all modes of transportation, according to Robert Marcovitch, president of K2 Sports.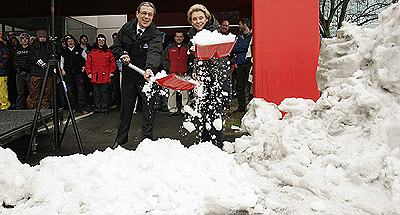 "K2 is already experiencing the benefits of centralization with simplified communication channels across our network of employees, suppliers and dealers," Marcovitch said. "The new space offers the company greater exposure, and simplifies the distribution process. It's designed to allow tremendous flexibility as we grow."

Well positioned with a diverse stable of brands, K2 was acquired in August 2007 by Jarden Corporation, a New York Stock Exchange-listed consumer products company based in Rye, N.Y., that owns popular brands such as Sunbeam, Coleman and Mr. Coffee.

During the past four years, K2 Sports has achieved unparalleled success through improved product offerings, innovative marketing programs and multiple brand acquisitions. The company is globally renowned for its non-traditional advertising, graphics and high performance products throughout its portfolio. With wholly-owned subsidiaries in Canada, Central Europe, Japan, Korea and Scandinavia and distribution in more than 60 countries, K2 Sports continues to assert its position as a global leader across multiple categories of sporting goods.

K2 Sports remains dedicated to passionate action sports enthusiasts around the world who are looking for unique and authentic lifestyle experiences. Hundreds of K2 Sports employees wake up every day around the world dedicated to the company's mission of putting smiles on peoples faces as they enjoy the wonders of the outdoors.

For more information on K2's product lines, visit www.k2sports.com
---