Back to News
Becky Archibald: Group Manager, Employment & Employee Relations - Sole Technology
January 3, 2008
Becky Archibald: Group Manager, Employment & Employee Relations
- Sole Technology
Interview by Josh Lewis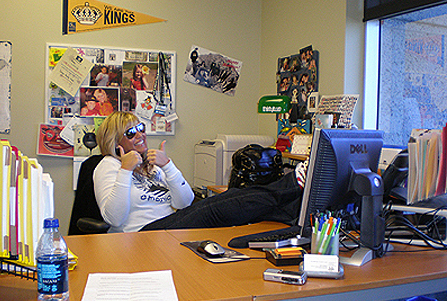 Have you ever had a "corporate" interview with a heavy metal rockin', bandana wearin', Bruce Lee and Magnum P.I. lovin' personality queen? Well if you've had the honor of meeting Becky Archibald, the group manager of employment and employee relations at Sole Tech, the answer would be yes indeed—if you caught her back in the day of course! Now Becky devotes her time and energy to what counts the most, helping people find a home at Sole Technology in Lake Forest, Calif.

Whether you're a recent college grad looking to start out, or a seasoned veteran looking to find another spot in the industry, Becky Archibald drops some useful knowledge, tips and information on how to land a stellar job in the action sports industry.

How did you land a job at the infamous and world renowned Sole Technology?

Well, being infamous myself, they recruited me. I was working at a staffing company and Sole Technology was my biggest client. So for two years I helped hire people for Sole Tech; they were basically outsourcing all of their hiring to me. The whole time my boss Diane, the vice president of HR, kept saying you "gotta" come work here, you "gotta" come work here.

At the time, I had just recently changed jobs, so I felt I needed to see that other job through. Well after the two year mark, which was the time limit I had given myself, I was on it. Diane gave me an offer to come in and do the recruiting in-house—I was over at Sole Tech immediately!

When I heard I didn't have to wear suits or nylons, and I could wear flips flops and come in casual, it was on. So that's pretty much how I landed it. It was kind of like having a relationship for a couple years that turned into a marriage if you will (laughs)!

They were like dude, whatever it takes, we'll get you here; no, I'm just kidding! It was just a good relationship. I was already an extension of what they wanted, so they decided to bring me in. It just made perfect sense; I was excited to learn more about HR, in which I had the opportunity to grow.

What was the state of your department when you first joined Sole Tech and what were your initial responsibilities?

Oh my gosh, it's changed a lot. I'm coming up on my five year anniversary in March. When I started there were three people in HR, and I was the fourth person added. I was totally focused on recruiting. I was—what was my title—the recruiting manager. I managed recruiting, but no one else. I didn't have anyone reporting to me, so the title was a little deceiving, but I just went with it.

When I started at Sole Tech, I was hiring everybody. My job included interviewing, looking over resumes and offer letters, doing background checks, and stuff like that. My first year in, I think I hired 93 people by myself. That was pretty insane! It was like "whoa," this is going be an interesting ride.

Over the years, we've grown significantly and I was able to hire two recruiters and an HR administrator who reported to me, and recruiters focused on hiring. The recruiters were split so that one would focus on more creative positions, and the other on more technical positions. This is where their strengths lied, so we wanted them to focus on hiring people with similar backgrounds because they really understood how to hire the right person for the job. The creative person hired people for the marketing and sales type positions, and really just kicked butt.

About a year afterwards, I hired the second recruiter and she was focused on IT accounting because that was her background and it worked really, really well. The HR administrator came to help with administrative support and specific projects. The receptionist started reporting to me to, which was great because this offered support to our team. The receptionist is pretty much the frontline of talking to anyone who's coming in to the company, so it was a really good thing for me to be able to hear what was going on in and around the office.

As far as our focus now, we have one recruiter who covers everything because our other recruiter left to pursue her master's degree. Based on the number of positions out there, we felt that one recruiter could handle it all. So it's grown significantly. We've also added a payroll manager, a training manager, and we also added an HR manager out at our distribution center in Fontana, Calif.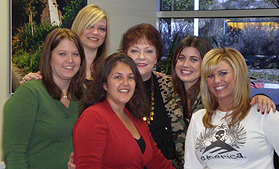 What are the major responsibilities of your current position as Group Manager of Employment & Employee Relations?

Well I started with a focus on recruiting, but now my focus is the whole process. I'm more focused on strategic things like programs, employee morale, the employee referral program, and internships, which are handled by our HR administrator—she's amazing. Ultimately that reports to me and I oversee it. I also deal with performance reviews now. It's a biannual process, it's really intense and a lot of work, but we feel it's really valuable; people need to hear how they're doing.

We have smart goals that are tied to peoples bonuses, so we want to make sure we're holding people accountable, making sure they're achieving them and given the resources to do so. So I oversee the performance review process, and I also oversee disciplinary action as well. So whether it's coaching, counseling, write ups, and ultimately termination, it all falls under me. I can hire you, and unfortunately I might also be the person that has to fire you as well. Luckily I don't have to do that too often, and it's certainly the least favorite part of my job. So pretty much from beginning to end, I'm a part of it.
Run me through an average day in the life of Becky Archibald?

Well, I come in and get my coffee and have my Eggo waffle with peanut butter. That's like religious, I do that everyday! No jam, just straight up peanut butter; I try to do protein. When I get fancy on the weekends, I'll throw in some jam. After that, I'll go immediately to my e-mail, even though I do have a Blackberry and I'm pretty much looking at it 24-7. Everyone in HR says I'm absolutely addicted to it. I'm always checking, but I try not to be as bad as that. I don't know if I've cured that ailment yet.

So I'll look at e-mails right away to see if there's anything urgent pending concerning employee relations issues. This could deal with someone who resigned, or if someone needs coaching, counseling, write ups and things like that. Those are really unplanned, so I need to be able to respond to those e-mails right away.

I interview on occasion. It depends on the level of the position. I'm pretty much not doing interviews anymore; it just depends on the opening. I go to meetings with the hiring managers and recruiters to talk about what the position is all about, and make sure we're all on the same page. This way we can get an understanding of what they need and make sure their expectations are realistic; if they're not, we'll adjust them.

I work on compensation at times. I'm not the person who makes the final say on what people get paid, but I do give input. I do reports, and also send out open position reports on a weekly basis. So I check what we have open, its status, the movement, and see if we have enough candidates.

I send out an HR weekly update which announces all the new hires. I conduct new hire orientation. I don't do that everyday, that would be really intense, but I do that once a month—it's super fun! I introduce the people to our culture and our executive team to get them assimilated to our environment. That's definitely one of the highlights of my job! I love doing new hire orientation; it's awesome.

Kind of like a new hire boot camp?

Totally! We make them run and do drills, but other than that it's totally fun. I get out the whip and keep them in line! No, I'm just kidding.

It seems like there could be some really fun aspects to employee relations and maybe some not-so-fun aspects as well. Do you have a good story for either extreme?

Employee relations is fun because helping people is the biggest reward. I got into HR and recruiting because I like talking to people; I'm totally a people person. To elevate that to the next step, you're able to chat with somebody that's feeling burnt out, help them with their problems, and help them get to the next step in their career. Seeing their enthusiasm and passion to make their way up the ladder is exciting.

The challenging part is definitely the fact that people don't always get along. Being the mediator is sometimes difficult because you can see both sides, and you have to really see both sides of the story. It's hard because you just want everyone to be happy, and the reality of life is that people don't always get along. It's not always perfect, and sometimes it's just not going to work out. I think that's the most difficult aspect.

So it's hard when it doesn't work out, but for the most part we're able to work through it. Most people are reasonable and put the effort forward to compromise; so that's the good news. We try to work it out, and we usually can. There have been a few occasions when it doesn't, and that's a bummer.

For the love and curiosity of Malakye candidates, what is the process for selecting applicants to be interviewed?

We get in all the resumes and go through and screen them. We're really looking for qualifications and experience. The more qualified someone is to do the job, the less we're going to have to train them. They're going to be up and ready, quicker and more productive.

First and foremost, we go through and take a look at their experience. If you definitely have the qualifications and skills, you're going to get put into the "let's give them a call file." If you don't, then we're going to put you in another file like "not a fit for this position." It doesn't mean you can't apply to other things, it just means for that particular role you don't have the experience we need. We look at all the resumes as a whole, so if there's a group that has experience and you don't, unfortunately you're going to be out. Let's say there's another position and no one has the experience, then we're going to look at their computer skills, job stability and things like that.

So to get an interview, first and foremost we're looking for experience and skills. Second, we're looking at job stability, making sure that you have a stable work history. We understand that not everyone is going to have the most perfect, pristine job history, and that's fine. If we notice you have some short stays with companies, we'll probably call you and ask you about that. Based on what your answer is, we'll determine if it made since why you were there for a such a short time, or we'll probably get a sense that you're just kind of a flake—we'll be cautious.

It costs way more money to hire someone than people realize. A lot of money is wasted on employee turnover. So for us, hiring is really critical. We really want to get the right person. We want them to come in, we want them to last, and we want them to grow with the company.

Industry experience definitely helps, but it's not always needed. It depends on the position. Background is really critical when it comes to marketing because it's important to know and understand the culture. Finance is maybe not as important, but we are a company of skateboarders built by skateboarders, so we really try to find those people if we can. That's who we really like to hire, but it's not a company of 100 percent skateboarders. There are quite a few people that don't, but we force them to their first day! No, I'm kidding.

If we have a big group of qualified candidates, we might also look at geography. If we have 10 people close and they're all qualified, we'll talk to them first. From there we'll do phone interviews to see if you sound sharp, interested, flexible, excited about the opportunity, and so on. If everything sounds good, at that point we'll call you in for an interview. So it's a pretty intensive process, but we have to do it because we really are looking for someone to fit in our environment. It's like a family here!

What's the best advice you can give a candidate wishing to get their foot in the door at Sole Tech?

The first thing that pops into my head, I don't know if this is the best advice, but I don't want people to get deterred. Don't feel rejected and that you can never work for Sole Technology because we didn't pick you for that one position. Also, immediately when asked that question I thought, be patient. We've had people apply multiple times who didn't get hired because they weren't the exact fit for that position, but ultimately got hired because finally that "one" position came along to fit that person.

I also think people should really focus on building their career. Get in with a company, stay there, and get some longevity—kind of think with the end in mind. I know it's hard to think about when you're first entering the working world, but think of where you want to be 10 years from now. If you know your strengths in a specific area, focus in on those and try to think, "OK, when I grow up I want to be this," and then work it backwards.

For example, you want to be the head of finance. In order to be the head of finance, it's likely that you're going to need analysis experience in finance, so you should probably have a CPA and things like that. Look online at the job description and qualifications of some top executives, and then work backwards. Think with the end in mind, and then you can start your career on the right path.
What is your biggest pet peeve when sorting through a never ending barrage of candidates?

Don't send your resume multiple times for the same positions. We got it guaranteed. Trust me, we have your resume! Don't keep sending it. We got that you're interested and super excited. That's great, we love it. If you don't hear from us, you're probably not qualified for the position, or you're qualified but there's someone else more qualified that we're pursuing at the time. Be persistent, but not too persistent.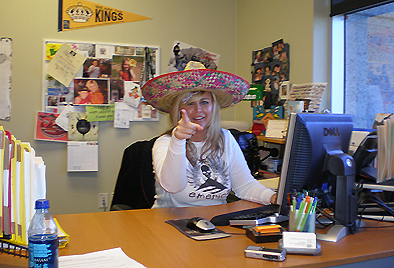 My other pet peeve is a crappy attitude! When people say they know so and so, and think they're now in for life, that's not the way it goes. We're hiring the most qualified people. We love referrals and they're super important to us, but don't come in assuming that. However, if you come from a referral "and" you're qualified, you're golden.

What's the most rewarding aspect of your job?

Besides my paycheck! It's fun when you get to hire someone that's stoked on working for Sole Technology. That's the best feeling, I love that! That's definitely the most rewarding aspect. When someone's been on the job and you get to promote them, that's so awesome, it's great! Solving challenges is another part of my job. It's exciting to take someone who is kind of in a bad place, and then turning the situation around and having them be stoked again.
OK, you know we want 'em. What are the top five things you love about your job—Go!
1. The people at Sole Tech.
2. The Dress Code.
3. The best events and perks imaginable.
4. Challenge & Reward.
5. Huge growth opportunities—I've learned a ton.

Fab Five: Which Would You Prefer?

1. Thelma & Louise, or Laverne & Shirley?
Thelma & Louis: kick ass cars and guns! And Brad Pitt—naked! You know, the obvious part…sorry.

2. Bruce Lee or Jackie Chan?
Oh! Bruce Lee all the way. That dudes freakin' awesome. He's the shit!

3. Tom Selleck back in '85 (Magnum P.I. Days), or Antonio Banderas now?
Oh my god, I love that one! Tom Selleck with the bitchin' big mustache by far. The handle bars, the "shorty" shorts and the Hawaiian shirt. I love it—love Magnum P.I. I'm all over it.

4. One night out with Axl Rose or an eternity with Joe Millionaire?
Axl Rose! I was kind of a heavy metal, hair band fan back in the day. It's embarrassing to admit, but I still like it. No regrets!

5. An interview in Vogue, or an Industrial Profile for Malakye.com?
Well since I have been offered both (laughs), I'm going to go with the one that really ties to my heart strings and say an Industrial Profile with Malakye. Now give me $50! Send me the check; you know where to send it!
---