Back to News
DROP Announces "DPI SERIES" with Premiere Collection Featuring Artwork by Mark Gonzales
February 5, 2008
DROP Announces "DPI SERIES" with Premiere Collection Featuring Artwork by Mark Gonzales
DROP's Pure Inspiration Series to Feature New Artists Annually

DROP, one of the industry's leading accessories manufacturers, unveils the newest addition to its collection: the "DPI: DROP Pure Inspiration Series", a creatively-driven program pairing signature DROP gloves, accessories and apparel with some of the top artists in the action sports world. Kicking off the campaign for winter 2008/2009 is a limited-edition collaboration with skateboard heavyweight and renowned artist Mark "Gonz" Gonzales.

The DPI collection featuring artwork by Gonz will include the HD glove, the BOUNDARY II SHORT glove and mitt, the BANDANASK, and the GONZ t-shirt in exclusive Gonz colorways. After launching in January at SIA, the series will be in stores internationally in Fall 2008.

"As a way of paying homage to our roots, every year we will work with a creative individual who has inspired and continues to inspire DROP, our lifestyle, and what we do," said Chris Gougeon, senior designer, DROP. "Kicking off the program with Gonz is the perfect way to unveil what we consider one of the most exciting initiatives in our ten-year history."

As a skater, Gonz is recognized as the forefather of modern-day street skating, with many firsts to his name, including handrails, skating switch and ollying the 'Gonz Gap' at San Francisco's Embarcadero (named after him once he cleared it), among others. Along with his skateboard career, Gonz is a world-renowned and accomplished artist and published poet. A lot of his work has appeared as board graphics for himself and other skaters. He has also had shows at the Alleged Gallery in New York as well as many other galleries worldwide. After more than 20 years as a professional skater, Gonz continues to inspire and push the skate and art envelope.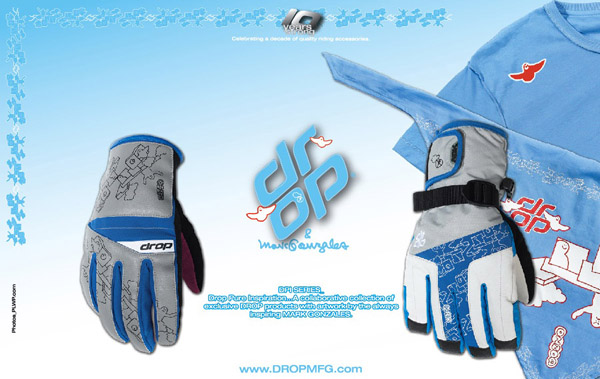 For more information on DROP, visit www.DROPMFG.com <http://www.dropmfg.com> or call 866-DROPMFG.
---