Back to News
DROP and NOMIS Unveil New Collaboration
February 11, 2008
DROP and NOMIS Unveil New Collaboration for Winter 2008/2009
DROP Team Rider Simon Chamberlain Lends His Signature Style to a Limited Edition of His Favorite DROP Glove
DROP, one of the industry's leading accessories manufacturers, and NOMIS Design, brainchild of Simon Chamberlain and his brothers, have partnered up to launch a limited-edition collaborative glove as part of their 2008/2009 winter offerings. Recently unveiled at SIA in Las Vegas, the NOMIS/DROP Co-Lab will be in stores internationally in Fall 2008.
The NOMIS/DROP Co-Lab features two new exclusive NOMIS colorways of Chamberlain's favorite DROP glove, the V.A.C.. Featuring 'Simon's signature NOMIS plaid' and the 'NOMIS buffalo plaid', they can match up perfectly with many pieces in the recently launched NOMIS outerwear line. The V.A.C. is a staple of DROP's 'Lofat' series and features a DP Stretch Twill/Molded Neoprene Shell, Aquabloc® Waterproof, Windproof, Breathable insert, Chamude palm with durostick silicone printing and a moisture wicking microfleece lining.
"NOMIS is a perfect match for DROP," said Chris Gougeon, senior designer, DROP. "With innovative prints and cutting-edge colors throughout their line, they truly have their finger on the pulse of young riders today. It's also about time Simon got his own signature glove."

"I'm so excited for the new gloves, they turned out amazing," said Chamberlain. "I'm so stoked that DROP wanted to do a co-lab, it's a true blessing, and we're going to help everyone keep their hands warm while shredding the pow in true style."
For more information on DROP, visit www.DROPMFG.com <http://www.dropmfg.com> or call 866-DROPMFG.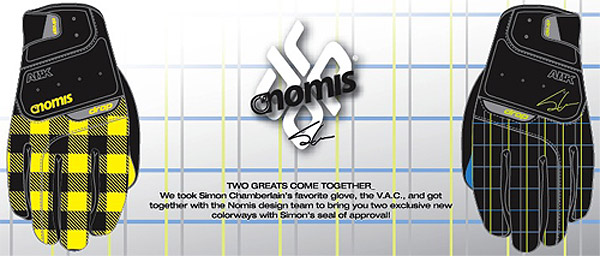 ---